Japanese American groups are slamming Sen. John Kennedy, R-La., for comments he made last week comparing the ongoing impeachment inquiry of President Donald Trump to the shameful, discriminatory incarceration of Japanese Americans during World War II.
The senator told reporters last Tuesday that it appeared as though the Democrats "are going to give about as much due process to the president as the federal government gave our Japanese American friends during World War II," referring to the forced removal and incarceration of 110,000 people based solely on race without evidence of wrongdoing, charges or hearings.
Since then, several Japanese American civil rights and social justice groups have spoken out against Kennedy, calling the lawmaker out for making an "offensive," unparalleled analogy. Tom Ikeda, executive director of Densho, a nonprofit that preserves Japanese American history, said Kennedy's comment was "using someone else's traumatic, painful history as a way to avoid accountability."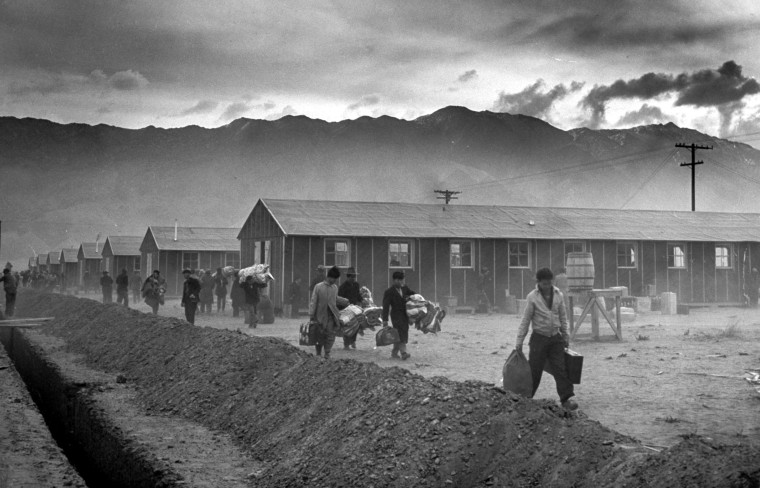 "There is no universe in which a public investigation into the president of the United States, one of the most privileged and powerful people in the world, is equivalent to a half-century of racialized hysteria, surveillance and discrimination culminating in the extrajudicial roundup of an entire immigrant community," Ikeda said.
The senator did not return NBC News' request for comment.
Kennedy's comments come after Republican lawmakers had objected to closed-door impeachment inquiries, claiming this style of hearings would not give Republicans the opportunity to call their own witnesses. While House impeachment investigators opened the hearings up, with this week marking the second week of public hearings, Kennedy, along with other Republicans, still expressed dissatisfaction.
However Japanese American groups say that the legislator's due process argument is deeply flawed.
Carl Takei of Tsuru For Solidarity, a Japanese American activist initiative, pointed out that the president is being represented by attorneys of his own choosing and has been given opportunities to defend himself throughout the process. Japanese American families during World War II, however, were denied those rights. In addition to incarceration, people were assessed based on a "loyalty questionnaire" devised by the War Department and the War Relocation Authority in 1943.
"For our families, there was no such opportunity" for due process, Takei told NBC News. "All of us were rounded up by the government and given no choice but to go into concentration camps where we were not only forced to prove our loyalty after we were locked up, but also the government instituted the military draft inside the camps."
Furthermore, if Trump does in fact get impeached, he will not meet the same fate as Japanese Americans. He will not have to leave his businesses, be "forcibly removed from his home, sent to a concentration camp, and lose nearly all of his possessions except what can be carried in one suitcase," David Inoue, executive director of the Japanese American Citizens League, said.
Inoue said that while Kennedy seems to understand that what happened to Japanese Americans was unjust, he does not comprehend the "differences between the mass incarceration of Japanese Americans and the current House proceedings." Inoue added that there are certain injustices that can be correctly compared to the forced incarceration, including the travel ban, which initially targeted only Muslim-majority countries, or the mass incarceration of immigrant families and children at the border, stemming from the administration's zero-tolerance policy.
"These are much better analogies to the Japanese American experience than the false one put forth by Senator Kennedy," Inoue said.
But Takei said he feels given Kennedy's track record in supporting the Trump administration's family separation policies and the indefinite detention of migrant families, the lawmaker is not truly understanding or empathetic to the plight of Japanese Americans.
Last year, Kennedy told The Advocate that he would prefer families be detained together and admitted that indefinitely holding migrant families could be unlawful. But he still backed the hard-line Trump administration policy, telling the outlet "let the kids stay in the detention center (with their parents) until somebody challenges it."
Advocates condemn his stance, noting that detention causes irreparable damage to families.
"We know that imprisoning parents and children causes deep harm that is passed down from generation to generation because we experienced it," Takei said.