Japanese Prime Minister Shinzo Abe is being called out for not using the occasion of his visit to the United States to acknowledge, apologize, and accept responsibility for Japan's complicity in the kidnapping and sexual enslavement of 200,000 young women and girls, mostly from China and Korea, euphemistically referred to as "comfort women" during World War II.
Abe has long been criticized for his revisionist and nationalist views of history, including his 2006 claim that there was no evidence of Japanese government coercion or involvement in the "comfort women" system, and his continuing efforts to rewrite history textbooks on the subject.
His visit was greeted by protests in San Francisco, Cambridge, and Washington D.C., including protesters and former "comfort women" wearing masks with a black X to represent how they have been shamed and silenced.
While speaking at Harvard University's Kennedy School of Government, Abe was asked directly by Korean American student Joseph Choi if he still denies the Japanese military's involvement in the sexual slavery of "comfort women." He answered by referencing the Japanese government's work to reduce sexual violence against women today, acknowledging only, "When it comes to the comfort women issue, my heart aches when I think about those people who were victimized by human trafficking and were subject to immeasurable pain and suffering."
When Abe addressed a joint session of Congress, he expressed remorse for U.S. deaths during World War II, but he did not directly address the "comfort women" issue or the 2007 US House of Representatives Resolution 121 calling for the Japanese government to formally acknowledge, apologize, and accept responsibility for its role in creating the "comfort women" system.
"In yesterday's speech, Prime Minister Abe referred to 'miracles of history' and 'hope.'" Rep. Mike Honda told NBC News. "He had his own chance to make a 'miracle of history' and give 'hope' to the surviving comfort women by simply admitting the Japanese Imperial Army's responsibility and offering a full, unequivocal apology. Instead, he skirted the issue, making vague references to actions against other Asian nations."
According to Rep. Honda, time is critical because of the 200,000 "comfort women," there are only about 100 still living, including 87-year-old Ms. Yong-Soo Lee, invited by Rep. Honda from South Korea to attend Abe's speech.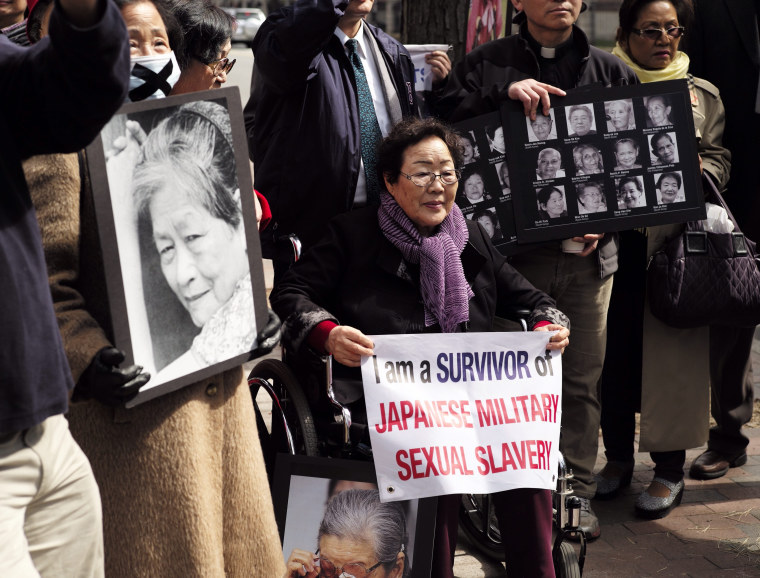 "[Abe] said he wants to lead an effort to rid the world of violence against women," continued Honda. "This is not possible until he acknowledges, and apologizes for, the violence his country committed against over 200,000 girls and women during World War II. I hope that he will find the time, and conscience, to do this soon. But I am disappointed that he did not take advantage of the unique opportunity he had yesterday."
Rep. Judy Chu concurred on why a true apology is so important in a statement. "As the Prime Minister said, it is a tragic reality that women are the ones who usually suffer the most in war. But healing these wounds requires honesty and an admission of responsibility. Shirking that responsibility and attributing it instead to the cost of war amounts to a pardon of those who made decisions to dehumanize these women and is license to future generations to use war as an excuse."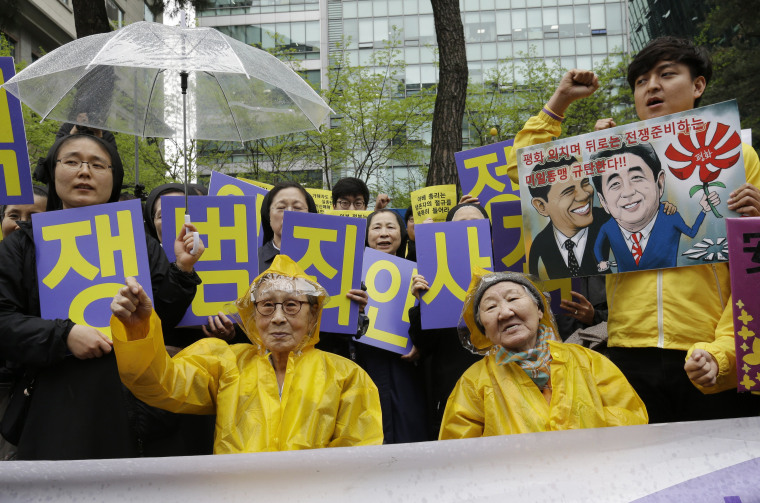 Like NBC Asian America on Facebook and follow us on Twitter.