Jeremy Lin has a heavy heart these days.
With Asian America weathering heightened anti-Asian sentiment amid the pandemic, and the number of hate attacks rising sharply, Lin, the former NBA star now with the Beijing Ducks of the Chinese Basketball Association, said the environment felt wildly different just a few months ago.
"I felt like there was progress being made and many things that I experienced in my career and things I wanted to stand for — it felt like everything was moving in that direction," Lin told NBC News on the phone from Beijing. "Now it feels like everything's back to square one."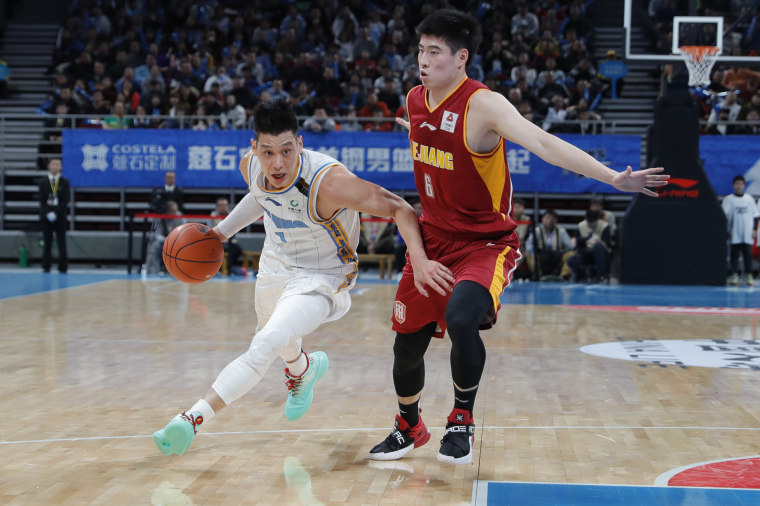 Lin, who's been vocal about Asian American issues in the past, made history himself last season as the first Asian American to win an NBA championship with the Toronto Raptors.
His achievement was part of a tangible shift for Asian Americans in a variety of fields these past few years, with inroads being made in media representation. Hollywood, in particular, an industry often described as an exclusive club, seemed to be more inclusive, with the South Korean thriller "Parasite" winning the Oscar for best picture and the emergence of shows like Awkwafina's "Nora From Queens" on Comedy Central.
Lin's trailblazer status in the basketball world made him not only a rarity but also a target of racism himself. In the past interviews, he's said that he has been called a "chink" or an "oriental" in games by players and coaches alike. But given the current climate, Lin said he felt it necessary to write an essay in the Players' Tribune about the issues Asian Americans are confronting, stressing the need for positive action, empathy and unity across groups.
Now faced with an onslaught of harassment and discrimination both online and in person, Lin acknowledges that it may be difficult for Asian Americans to feel pride. He recommends that they seek to "disassociate" themselves from some of the negative attacks to avoid internalizing them. However, that doesn't mean people should ignore the current situation, either.
"There's a famous saying in the NBA that I love. It's, 'Not everything is right when you win and not everything is wrong when you lose,'" Lin said, taking a few moments to gather his thoughts. "To be Asian American in today's political climate, it seems like it's a big 'L' all across the board. But to be able to disassociate ourselves [and understand] not everything is wrong when you lose."
As much as Lin stresses the importance of intercommunity support, he's also cognizant of the uncomfortable situation many across the U.S. are dealing with and how Americans, regardless of race, are still grappling with the mental and physical strain of the virus. And thus, allyship doesn't require herculean acts of compassion, he said.
"To me, if you are not proactively harming or stereotyping and being racist toward the Asian American community, to me you are an ally. It's a desperate time," he noted.
He applauds those who further promote the causes of better representation and solidarity, however he says that allies should, at the most baseline level, refrain from exhibiting any hateful behavior toward any groups.
"Just accept us as humans," Lin said.
Lin speaks from a unique place. He has not only seen the pandemic take hold in both the U.S. and China, traveling back and forth between two countries, but he has also had the experience of living extended periods of time in both cultures. (The Chinese Basketball Association, like the NBA and other major sports leagues, has suspended play because of the pandemic.)
In Lin's roughly 10 years in the NBA, his identity threw questions around what it means to be an Asian American into the national conversation. His own relationship to his heritage evolved throughout his years in the league as well. While he once ran from Asian American issues in an effort to avoid being seen solely for his race rather than his athletic ability, he has since become increasingly and unapologetically vocal, now representing the group as a badge of honor.
Lin admits that his time in the Chinese Basketball Association has further complicated his earlier interpretations of the term "Asian American." He says it's a concept he continues to wrestle with.
"The only thing I can say with complete certainty is that this is where my faith comes in. To identify as a child of God is the basis of who I am as a person," he explained. "But as an Asian American, I grew up in America, playing basketball and all anyone wanted to tell me is that I wasn't American. … Now I'm playing basketball in China and I'm considered a foreigner. I'm just as confused as everybody else."
For much of his professional career, Lin's "Asian Americanness" has been analyzed, examined, picked apart. He mentions that at times it seems like "everyone has an opinion" on something that's still nebulous both to him personally and to the greater Asian American community. The misdirection of anger toward Asian Americans in the U.S. has also muddied these notions of identity, he said.
"It seems like everything is being undone and we're going back to the drawing board to redefine what it means to be Asian or what it means to be American or what it means to be Asian American, and that's the part that I can't say I understand yet today," he said. "I can say I am committed to figuring that part out and committed to be a voice in helping to figure that part out."
As Asian Americans continue to steel themselves through the public health crisis, Lin noted that other groups have shown love for the community and he urges Asian Americans to exhibit the same empathy beyond the confines of the race. Lin has, in ways, materialized his own philosophy. Earlier this year, he donated one million Chinese yuan ($142,000) through his foundation "to get medical equipment to Wuhan." And this month, he pledged $500,000 to support communities confronting food insecurity as well as health care workers in need of personal protective equipment. He also announced plans to match all donations up to an additional $500,000.
"If all I'm known for and all I've done is to bring solidarity among Asian Americans, then I would have failed," he said. "My goal is to bring solidarity among people. … As Asian Americans, I think we can really rally around each other."
He added: "The more that we do that, the more that we understand each other, and the more Asian Americans can stand for social justice and not just Asian American social justice."