Since he was young, Sammy Chand had aspirations of a career in hip-hop and music production. But when he first started out, he faced resistance from both inside and outside his community, including racist comments that spurred the creation of his own music label, he told NBC News.
"Even in my early ventures in the hip-hop scene, people didn't like to see an Indian kid rapping," Chand, founder of Rukus Avenue, said. "The social resistance to what I did was an impetus to starting my own platform, my own record label. I think these things can victimize you, but sometimes we can reach down deep and find it as a source of inspiration to move forward and succeed."
"All the artists had songs — if it wasn't directly to do with bullying — was still about self-empowerment and topics that us, as Asian Americans, have to grapple with when we're living in America today."
Chand is not the only one who has faced bullying at a young age. According to the Department of Justice, one in five students in 2013 reported being bullied while at school.
It's that statistic that convinced Chand to partner with the White House Initiative on Asian Americans and Pacific Islanders (WHIAAPI) to produce an album against bullying titled "#ActToChange" after the initiative's anti-bullying campaign.
"For a long time, bullying was treated as an unavoidable part of growing up, but more and more, we're seeing how harmful it can be for our kids, especially when it follows them from their school to their phone, to their computer screen," President Barack Obama says on the album's opening track.
"#ActToChange" launched on Dec. 7 in conjunction with the Fast Forward 2060 exhibit and event, which took place in Washington D.C. and highlighted the Asian-American community under the Obama administration. It features 25 tracks of music and spoken word pieces from a compilation of artists and personalities, including Surgeon General Vivek Murthy, singer-songwriter Nadia Ali, folk band Run River North, actor George Takei, and Dia Frampton, among others.
Chand said his involvement with WHIAAPI started last year, when he was invited to help organize and attend an Act to Change event in Los Angeles.
"Being part of it, I was exposed to the movement of what was going on by the White House Initiative and how they were supporting the specific Act to Change campaign," Chand said. "I remember sitting in the room thinking to myself 'As a music executive, how can I contribute to this?' and sure, I've had a background in hip-hop and kind of started the Indian hip-hop scene many years ago, and I knew this was something that if I was able to galvanize all these artists that I've known through the years and bring them together, it could be quite powerful."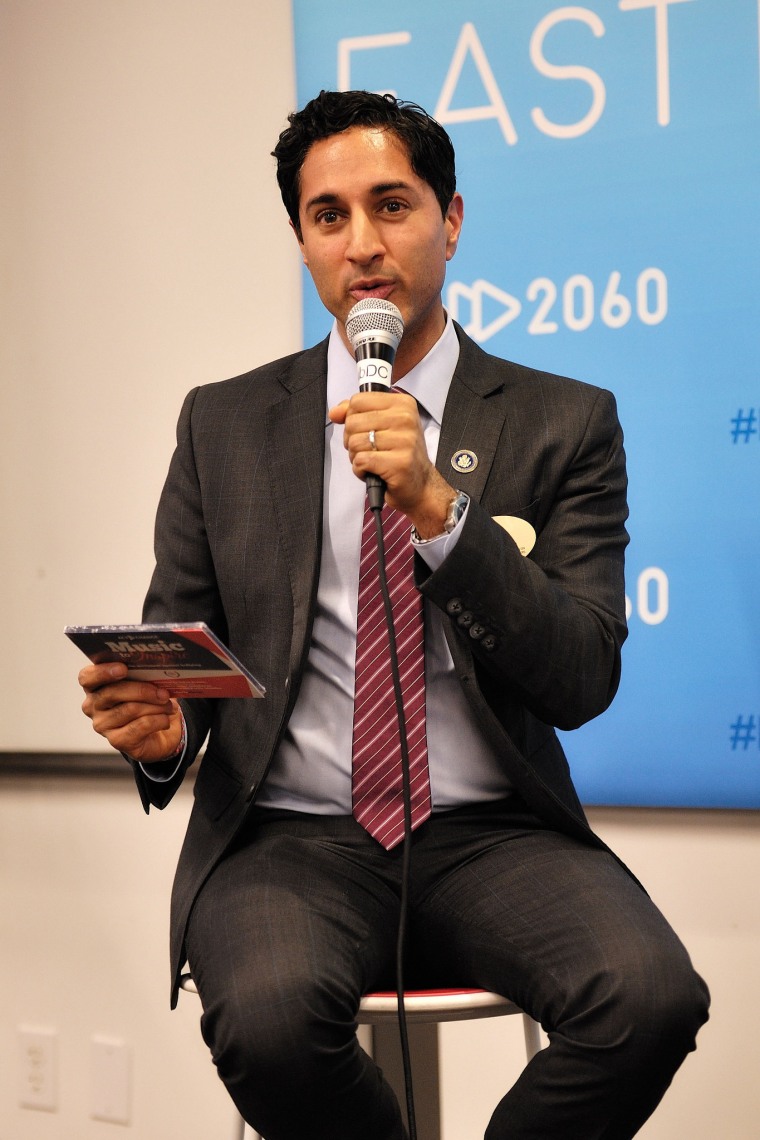 In October, Chand said he had a conversation with actor Maulik Pancholy — a member of WHIAAPI's president advisory commission — about producing a song titled "Act to Change" for the campaign. When Chand shared a rough cut of the song with Pancholy and Rebecca Lee — the communications director for the initiative — they wanted to take it a step further and create a full album. The album took just 30 days to produce, according to Chand.
"I knew a lot of the artists for a very long time and was able to make a bunch of phone calls in the course of a few weeks and reach out to them," Chand said. "We were excited to get all the participation, and everyone involved was excited because it was a personal topic for them, and everybody had been affected by bullying and shared a story."
"All the artists had songs — if it wasn't directly to do with bullying — was still about self-empowerment and topics that us, as Asian Americans, have to grapple with when we're living in America today," Chand continued.
Celebrities who make an appearance include Pancholy, who speaks about how growing up, he struggled coming to terms with being gay; Takei, who recounts how people perceived him and his family after being imprisoned in a Japanese-American incarceration camp during World War II; and Brooklyn Nets point guard Jeremy Lin, who shares a story of when he was called a racial slur while playing college basketball.
RELATED: Asian-American Students Targets of Bullying: Federal Report
"I was playing basketball and it was a big game for the Ivy League, and in the middle of the game, I remember the other team calling me a chink," Lin says on the album. "I remember at the time I was getting really upset and it took me out of my game and we ended up losing by a lot and I remember in that instance, I allowed their negative energy to really spiral me out of control."
Chand said while the project was intended for the Act to Change movement and Fast Forward 2060, the album coming after the results of this year's presidential election is a coincidence that makes its message even more powerful.
RELATED: Hundreds of Hate Crimes Reported Since Election: SPLC
"Since Nov. 8, we've noticed a spike in hate crimes and people being so rash with their very harmful opinions about other people," Chand said. "There couldn't be a better time for our youth to have this record there and know that there are people out there are thinking about them and some amazing folks coming together addressing exactly what is going on in our community right now."
Chand said that the three things he hopes to see accomplished with the album are for adults to realize that bullying is a problem and approach it in a more sensitive and compassionate way, for educational institutions to understand the kind of environment they should create for their students, and to ultimately change the power roles of the bully and the person being bullied.
"We picked songs that would fit that, and the song 'Act to Change' itself is really about that and how we need to change the connotation of bullying and cannot empower the kid that is doing the bully — it's the bully who is the weaker one, and the one being bullied who holds the power," Chand said. "We really have to change that."
Follow NBC Asian America on Facebook, Twitter, Instagram, and Tumblr.