Asian-American Twitter accounts were ablaze this weekend surrounding the news that Jeremy Lin had been traded from the Houston Rockets to the Los Angeles Lakers.
Jeremy Lin's story has resonated with many Asian Americans across lines of ethnicity and gender, sports fan or non-sports-fan, immigrant or American-born, as evidenced by his loyal "Linsanity" fandom.
As Karthick Ramakrishnan, professor of public policy at the University of California-Riverside, points out, the Lin trade makes clear business sense. "Los Angeles is the largest Asian-American market, 5 times larger than Houston's," he wrote for AAPIVoices.com, a data journalism project focusing on Asian-American issues.
"I'm excited to see him go to the Lakers and even excited to buy and sport some Lakers swag for the first time in many years," said University of Michigan Asian/Pacific Islander American History Professor Scott Kurashige, who grew up in Los Angeles and has been following Jeremy Lin's career since Harvard.
"Lin has a chance to make a huge impact in that town—not by trying to relive 'Linsanity' but by being a solid player constantly trying to improve his game," said Kurashige. "As long as he performs at that level, Asian Americans will undoubtedly rally behind Lin and the Lakers, but he'll gain the respect of many more beyond that."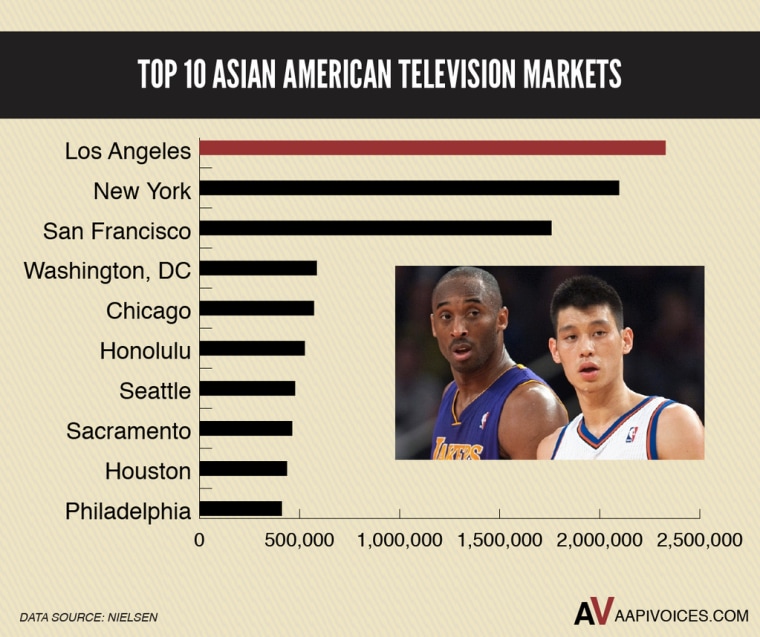 IN-DEPTH
SOCIAL