PHILADELPHIA — Joe Montano, Jr., the Northern Virginia regional director for vice presidential nominee Sen. Tim Kaine, died suddenly at his home this week in Virginia. He was 47 years old.
The cause of death was not immediately known, according to the Loudoun Times-Mirror.
Montano, a Filipino American, was planning to attend the 2016 Democratic National Convention in Philadelphia. News of his death saddened the Virginia delegation at a time of celebration for the state's Democrats, who have seen their former governor and current senator become the party's nominee for vice president.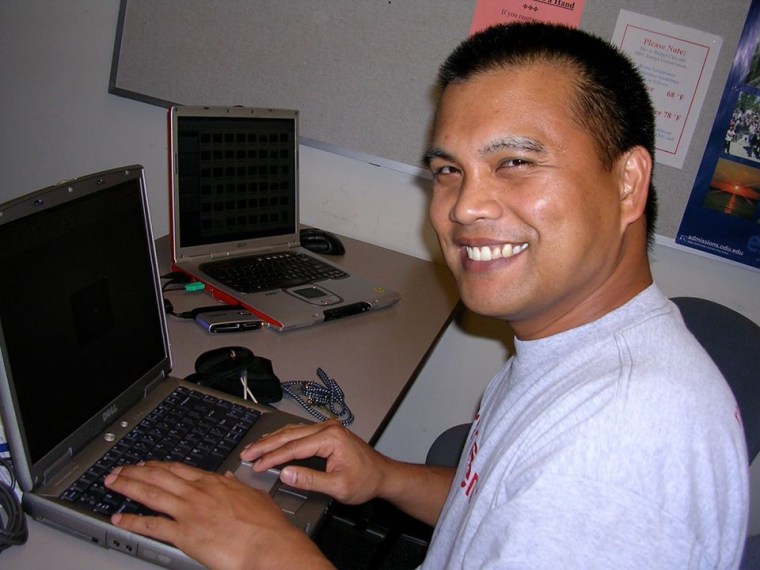 "Joe was an outstanding representative of this office, enthusiastic servant of the people of Northern Virginia, and admired colleague by all who worked with him," Kaine said in a statement. "We will remember him by his positive energy, tireless work ethic, and infectious smile."
Kaine spoke about Montano Wednesday at a Virginia delegation breakfast, pausing as he became visibly choked up while recalling "the Joe Montano spirit."
"That proud patriotic American, proud patriotic Virginian Democrat was about outreach and bridge building and bringing people together," Kaine said.
Details on funeral arrangement and memorials were not immediately known. Montano is survived by his parents Lori Montano and Jose Montano, his sister Amy Lopez, and his brother Ben Montano, according to the Madison County Democratic Committee website.
Montano attended many community, political, and business events on behalf of Kaine's office, according to the Loudoun Times-Mirror. Before that, he worked with Obama for America, the Democratic Party of Virginia, and the Democratic National Committee, according to a post on the Convention's official Medium channel.
Virginia delegate Suchada (Sue) Langley, who knew Montano since 2004, told NBC News that he was someone who really believed in outreach in the Asian American and Pacific Islander community.
"He wanted to make sure diversity is part of our movement," she said. "He tried to get all of us involved in all activities."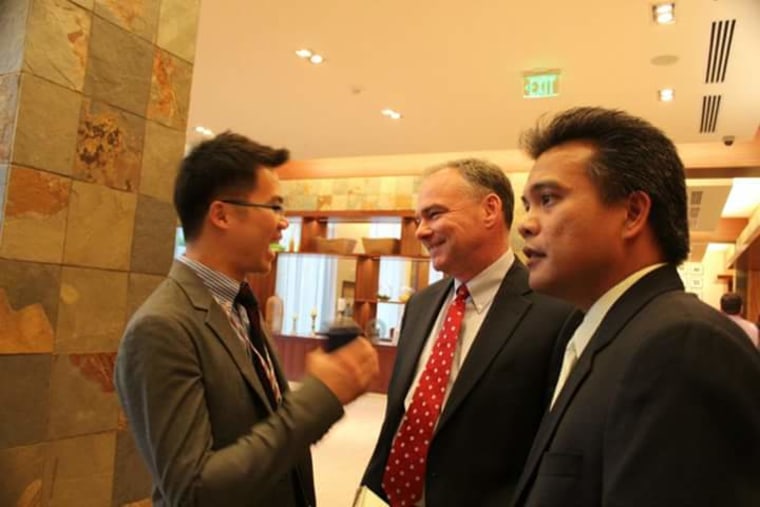 RELATED: For Asian-American Delegates Ahead of DNC, Clinton-Kaine Ticket Viewed Favorably
Langley said she heard that only a few days before Montano died, he had arranged for Kaine to visit with Muslim Americans at the All Dulles Area Muslim Society, also known as the ADAMS Center, in Sterling, Virginia.
"He knows outreach to Muslim Americans is so important," Langley said.
Dewita Soeharjono, chair of Democratic Asian Americans of Virginia, told NBC News that Montano, whom she also knew since 2004, was always there to answer her questions and was a mentor to her.
"He's one of my BFFs," she said.
Montano was one of the architects of Democratic Asian Americans of Virginia, which became a caucus in 2013, and was very passionate about helping the AAPI community, Soeharjono said.
"The thing that really struck me about him [was] when he walks into the room, you can hear his laugh," she said. "He had a loud laugh, so we know Joe is here."
Follow NBC Asian America on Facebook, Twitter, Instagram, and Tumblr.