The U.S. Department of Commerce has been ordered to reinstate a Chinese-American scientist who had been accused of spying for China, a ruling that comes more than three years after those federal charges were dropped.
The April 23 decision from Chief Administrative Judge Michele Szary Schroeder of the U.S. Merit Systems Protection Board, an agency that hears employment-related appeals by federal employees, said Xiafen "Sherry" Chen is to be given back her job as a hydrologist for the National Oceanic and Atmospheric Administration, which is under the Commerce Department.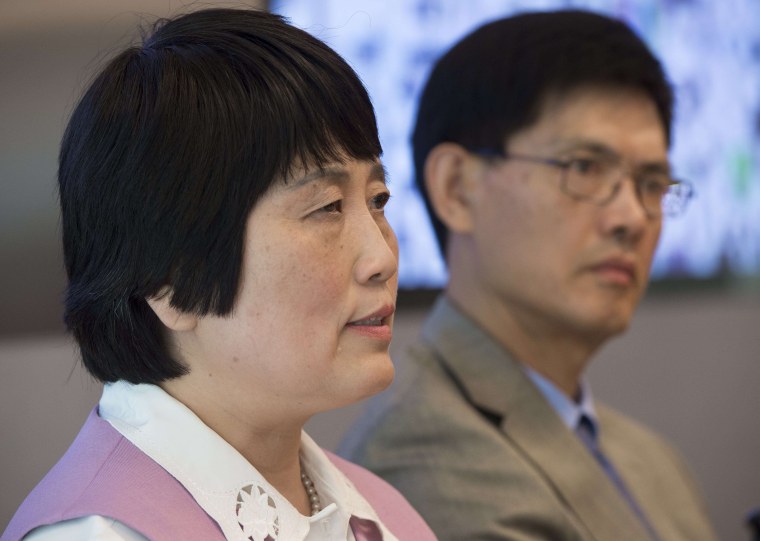 Chen was terminated in March 2016, a year after federal criminal charges against her were dismissed. A removal letter cited charges of conduct demonstrating untrustworthiness, misrepresentation, misuse of a federal database, and lack of candor, as reasons for removal.
Schroeder wrote that "preponderant evidence" wasn't presented for three of the four administrative charges. She also said she believed Chen's assertion was correct that she was the "victim of a gross injustice."
"However, the gross injustice was caused not by discrimination or retaliation, but by the agency's mishandling of the situation on a number of different levels," Schroeder said in the document, which NBC News obtained through a Freedom of Information Act request.
While the judge ordered Chen's reinstatement, she also imposed a 15-day suspension without pay for one sustained charge, conduct demonstrating untrustworthiness, according to the 132-page ruling.
That charge — which was not connected with the China-related ones — resulted from an email exchange Chen had had with a former colleague about getting him some information for an academic paper that was not secret or proprietary, according to the ruling and her attorney, Stephen A. Simon, of Tobias, Torchia & Simon.
Chen's agreement in the email not to tell anyone that she was providing this information amounted to untrustworthy conduct, the ruling said.
The judge's order for reinstatement must be carried out no later than 20 calendar days after the initial decision becomes final.
Overall, Simon said they were very happy with the ruling.
"After all these years, she's finally got a judge who very thoroughly said that this was all totally unwarranted," he said.
A Commerce Department spokesperson said in an email that they will appeal the ruling.
Chen's ordeal began after she took a trip back to China in April 2012 to visit her parents and family in Beijing for three weeks, the judge wrote.
At the request of her nephew, Chen, a naturalized U.S. citizen working for the National Weather Service in Ohio, agreed to meet in China with a former classmate who served as the vice minister for water resources in Beijing, the document said.
The two spent most of the meeting discussing a contract dispute involving the nephew's father-in-law, but the vice minister also asked Chen about her work in the U.S., the judge wrote in her order. Questions included how the federal and local governments shared costs to repair aging dams and the total water volume in the U.S.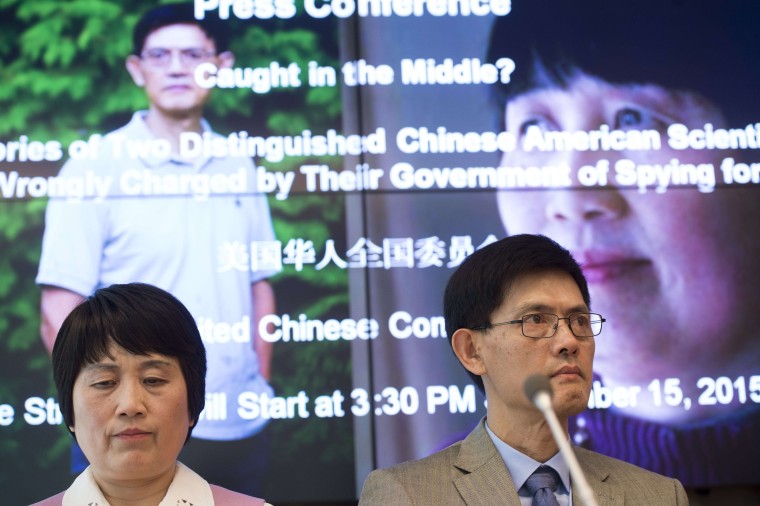 After returning back to the U.S., Chen initially searched a U.S. Army Corps of Engineers website on dams during her lunch hour to find answers, the ruling said. At that time, she did not search the government-restricted databases because she did not have a password. Also, she knew those sections would not be the place to find answers for the Chinese official, the judge wrote.
Chen did think that parts of the database requiring a password may have information that could help with her own work, so she inquired with a colleague about accessing them, the ruling said.
That coworker shared an "office" password with Chen and sat down to show her the database, the document said. The pair downloaded one file related to Ohio dams, part of Chen's work.
As for questions related to the Chinese official's inquiry, all of which the ruling notes was public information, Chen sent an email to her supervisor asking for help, the document said.
The supervisor, in turn, contacted someone at the U.S. Army Corps of Engineers for assistance. The corps employee, who spoke briefly with Chen by phone, subsequently alerted a corps' security officer about their exchange.
"I'm concerned that an effort is being made to collect a comprehensive collection of...water control manuals by a foreign interest," the employee wrote in part in an email, according to the judge's order.
Department of Commerce special agents later interviewed Chen for around seven hours, and the investigation was handed over to the FBI, the ruling stated.
A federal grand jury indicted Chen in October 2014 on two counts involving unauthorized access of the database and two counts of lying to federal agents.
But the Justice Department dropped the criminal charges in March 2015. A U.S. attorney spokesperson said at the time, "We are exercising our prosecutorial discretion."
Chen was still fired a year later.
Schroeder, in her ruling, found that preponderant evidence had not been presented to show Chen knowingly provided special agents investigating the case with incorrect or incomplete information.
She also faulted one of the agents for failing to pose clear questions and follow up on Chen's responses. That would've allowed him to determine when Chen had been looking at public portions of the government's National Inventory of Dams (NID) website, as opposed to those protected by passwords, the ruling said.
The judge noted the existence of a language barrier at times between the agents and Chen, whose first language is not English.
"Although I found that Ms. Chen initially accessed the NID without using a username or password during her lunch hour on May 10 to see if there was public information available that would be responsive to Mr. Jian's inquiries, I found no evidence that Ms. Chen used the password protected government database to assist Mr. Jian," the judge wrote, referring to a Chinese government official.
In addition to her reinstatement, the Merit Systems Protection Board decision also requires that Chen receive back pay.
Simon said that Chen, who, according to the ruling, joined the National Weather Service in 2007 and received excellent performance reviews, is looking forward to making her return.
"She loves her job, she loves her work," he said.
Follow NBC Asian America on Facebook, Twitter, Instagram and Tumblr.