Following an eight-month investigation, the U.S. Department of Justice announced Tuesday that it is suing a New Jersey township for denying an Islamic group's application to build a mosque.
The complaint, filed in U.S. District Court in New Jersey, alleges that Bernards Township engaged in religious discrimination against the Islamic Society of Basking Ridge when it disapproved a plan in January to construct a 4,252-square-foot mosque in a residential part of town.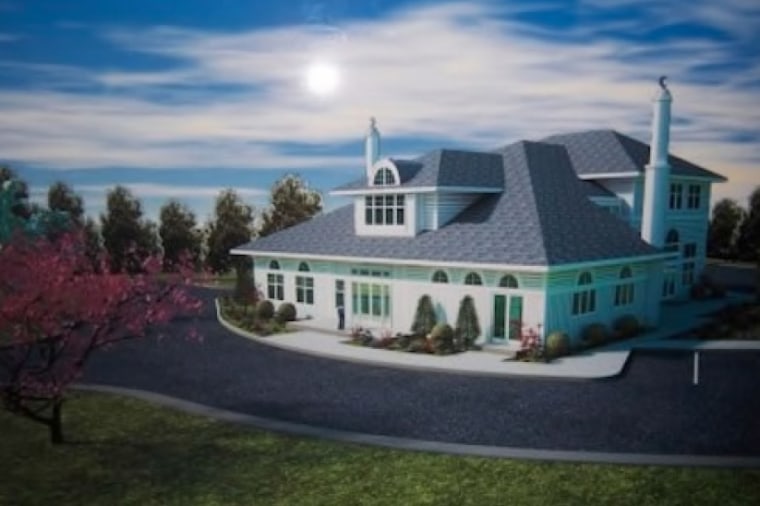 It also accuses the township of applying different standards and procedures to the Islamic society compared to other religious and nonreligious assemblies, of violating a federal religious land-use act by amending its zoning laws, and of imposing a "substantial burden" on the society's religious exercise.
"No congregation or community should ever face unlawful barriers to practicing their religion and observing their faith," principal deputy assistant attorney general Vanita Gupta, head of the Justice Department's civil rights division, said in a statement.
RELATED: Islamic Group Files Lawsuit Over Denied Mosque After Years-Long Planning Battle, Vandalism
In response to an NBC News request for comment, Bernards Township Mayor Carol Bianchi, through a representative, referred to a news release issued last week.
In it, Bernards Township said it believed the Justice Department filed the lawsuit "to coerce the township to settle" a private lawsuit filed by the society in March "in a manner which does not address proper land use planning."
"Staff, professionals, and Planning Board and Township Committee members complied with the DOJ investigation and submitted to numerous and lengthy interviews," the statement reads. "The Township strongly believes the DOJ investigation, including the interviews, was not conducted in an objective manner designed to seek the truth, but rather only to support and bolster the ongoing ISBR civil lawsuit."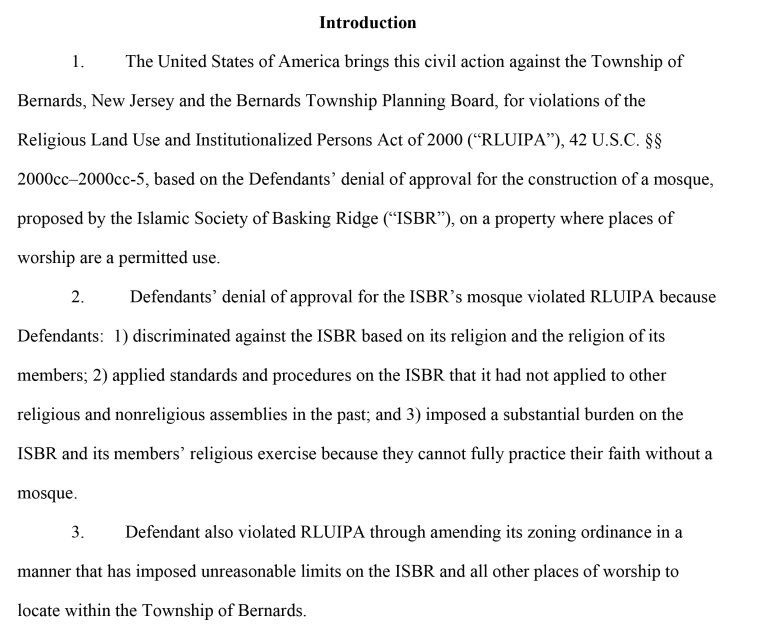 The Islamic society's complaint, filed in federal court on March 10, levels the same allegations against Bernards Township as the Justice Department's suit, claiming its "application was denied because defendants capitulated to and adopted the anti-Muslim animus of their community constituents."
Over nearly four years, the township held a total of 39 public hearings, during which time the Islamic society says it was targeted by anti-Islamic sentiment, court documents said.
A flyer, for instance, was allegedly distributed in the community asking whether terrorist acts are "something they taught in your mosques and at home," and the society's mailbox was defaced with three-inch stickers to change its acronym from "ISBR" to "ISIS," according to the lawsuit.
The complaints also maintain that the proposed mosque was held to different standards than churches and synagogues. For parking, for instance, the zoning code requires houses of worship to have 50 spaces, according to the Justice Department lawsuit. But the township planning board instead adopted a recommendation from a traffic engineer, who suggested 107, court papers said.
That, the society alleged in its lawsuit, "laid the groundwork for each of the board's bases for denying ISBR's preliminary and final site plan approval."
Both suits also accuse Bernards Township of violating the Religious Land Use and Institutionalized Persons Act of 2000. While the society's proposal was still before the board, the township committee passed an ordinance in October 2013 that changed the zoning rules for houses of worship, the society's lawsuit said.
"Our community deserves its own place to pray, and we will ensure we get it by standing up for our constitutional rights in Court."
The approximately four-acre property, on which a single-family home still sits, had met all of the zoning requirements for a house of worship in a residential area, the lawsuit said.
The plaintiffs alleged the "hard or impossible-to-meet" new conditions were an effort to ensure the society would never be able to build a mosque once its pending application was denied.
In April, Bernards Township passed a resolution to review the proposed mosque under the previous zoning ordinance. The society, however, responded by asking a federal court to quash it. The next month, nearly three-dozen religious, civil, and legal groups signed onto friend-of-the-court briefs in support of the Islamic Society of Basking Ridge.
Bernards Township has maintained that its decision to deny the society's application was based solely on land-use considerations.
Meanwhile, without a mosque, the group's congregants are left to travel 25 minutes by car for daily prayers, a distance that for many members is too far, the Justice Department's complaint reads.
"Our community deserves its own place to pray, and we will ensure we get it by standing up for our constitutional rights in Court," Islamic Society of Basking Ridge president Ali Chaudry said in a statement.
Follow NBC Asian America on Facebook, Twitter, Instagram, and Tumblr.