The Justice Department is demanding Harvard University to release a trove of records for its investigation into the school's use of race in admissions.
The new investigation is probing the school's compliance with Title VI of the 1964 Civil Rights Act, which bars institutions that receive federal funding from discriminating based on race, color or national origin.
The case is specifically connected to a federal lawsuit that was filed in 2015 by a coalition claiming that Harvard illegally discriminates against Asian-American applicants in its admissions process.
A letter from the DOJ dated Friday threatens to sue Harvard if it fails to release the requested documents by Dec. 1. In the letter, Justice Department officials accuse Harvard of using "a strategy of delay" and said the university "has not yet produced even a single document."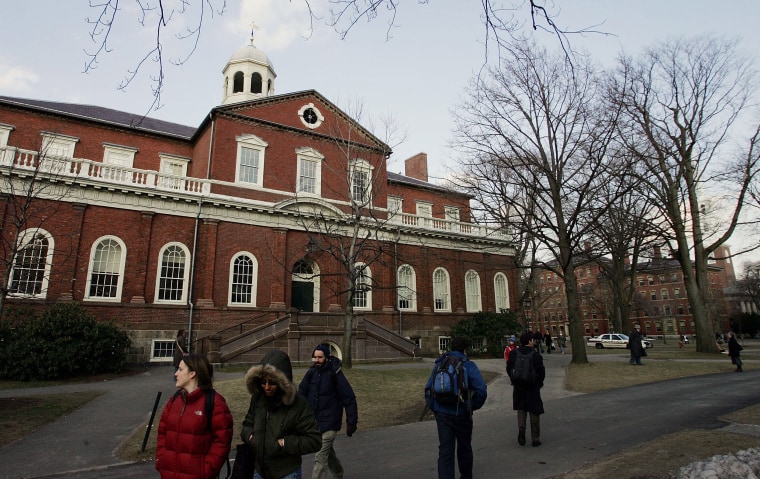 "The Department is left with no choice but to conclude that Harvard is out of compliance with its Title VI access obligations," the letter reads.
The Supreme Court has consistently ruled in favor of affirmative action in higher education, most recently in June 2016, when the court ruled, 4-3, to uphold the affirmative action program at the University of Texas at Austin.
Harvard spokeswoman Anna Cowenhoven said in a written statement that the university "will certainly comply with its obligations under Title VI."
"In the process, we have an obligation to protect the confidentiality of student and applicant files and other highly sensitive records, and we have been seeking to engage the Department of Justice in the best means of doing so," Cowenhoven said.
The Wall Street Journal first reported the investigation after months of indications from the Justice Department that it would legally challenge affirmative action policies at universities.
"The Department of Justice takes seriously any potential violation of an individual's civil and constitutional rights, but we will not comment at this time," Justice Department spokesman Devin O'Malley told NBC News in an email.
The Justice Department's move could potentially result in Harvard losing federal funds, Kimberly West-Faulcon, a Constitutional law professor at Loyola Law School, in Los Angeles, told NBC News.
"If Harvard is discriminating against Asian Americans, it is most likely white applicants who are benefiting from that discrimination," West-Faulcon said.
The implications of losing federally sponsored student loans could be widespread for low-income students of all races, specifically those who need to borrow to pay for school, West-Faulcon said.
West-Faulcon also contended that Asian Americans have long been used as a "wedge" between communities of color in order to obscure affirmative action's intended purpose of providing opportunity to students from disadvantaged backgrounds.
"If you want to fix discrimination against Asian-Americans, you don't fix it by eliminating affirmative action for African-Americans and Latinos," she told NBC News. "The DOJ's goal is to attack affirmative action. Whether that'll be effective remains to be seen."