Federal authorities have launched an investigation into a zoning board's rejection of a proposed mosque in New Jersey, the Justice Department confirmed to NBC News Tuesday.
News of the probe comes less than a week after Bayonne Muslims filed a federal lawsuit against the City of Bayonne and its zoning board. Court documents allege the board yielded to community animus and discriminated against the group when it denied its application in April to build a mosque.

Justice Department spokesman William Skaggs confirmed the investigation, but declined to provide further details.
John F. Coffey II, law director for the City of Bayonne, told NBC News the city does not comment on active investigations and litigation.
Bayonne Muslims argues in court papers that despite four out of seven zoning board members voting to approve its application, the body ultimately barred the group from converting a former factory and warehouse it had purchased into a mosque.
RELATED: Muslim Group Sues New Jersey City Over Denied Mosque
Three public hearings between January 2016 and March 2017 attracted large crowds of Bayonne residents, many of them opposed to the mosque, the lawsuit said.
Some opponents yelled at Muslims to "go back to where you're from," while one urged the board to evaluate Muslims' beliefs because some passages in the Quran direct them to kill, according to court papers.
The group claims its application was treated more harshly than those filed by Christian churches in meeting zoning requirements for houses of worship in residential areas, court papers said. It also accuses the zoning board of insisting that Bayonne Muslims provide far more parking for its proposed mosque than what is required under law, according to the lawsuit.

Meanwhile, a New Jersey township agreed last week to settle a lawsuit filed by an Islamic Society whose application to build a mosque was also denied.
Terms of the settlement made public Tuesday revealed that the Islamic Society of Basking Ridge will be able to build its mosque in Bernards Township, an affluent community 40 miles west of New York City.
RELATED: New Jersey Township to Pay $3.25M Settlement Over Denied Mosque
The township also agreed to pay the society $3.25 million, an amount that covers damages, attorneys' fees, and litigation costs.
The Justice Department filed its own federal lawsuit against Bernards Township in November, arguing that it violated the Religious Land Use and Institutionalized Persons Act, known as RLUIPA.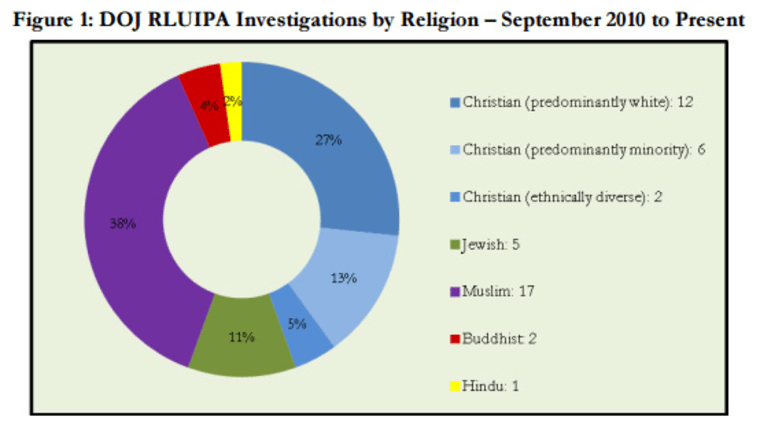 The act, among other things, prohibits zoning and landmarking laws that discriminate against assemblies based on religion or totally exclude them.
It was unclear whether the Justice Department plans to take similar legal action against the City of Bayonne and its zoning board.
In recent years, the number of RLUIPA suits filed by the Justice Department involving mosques or Islamic schools has risen sharply — from 15 percent, between 2000 and 2010, to 38 percent, between September 2010 and July 2016, according to a Justice Department report.
Follow NBC Asian America on Facebook, Twitter, Instagram and Tumblr.