The Justice Department is weighing its next moves in a federal lawsuit that challenges a 2015 rule extending work authorization to the spouses of certain United States visa holders.
The case, now before the U.S. Court of Appeals for the District of Columbia, addresses whether the Department of Homeland Security has the authority to permit the husbands and wives of H-1B visa recipients on track for green cards to work in the U.S.
The controversial H-1B program attracts foreign specialized workers to come to the United States for employment, many of them from India and China. Supporters argue that it brings in overseas talent in fields like engineering, computers, and science, but critics say it gives away American jobs to lower-paid workers.
RELATED: The US Government Changed H-1B Visa Rules. Here's What It Means for Tech
In a motion filed Feb. 1, the Justice Department asked the circuit court for an additional 60 days "to allow incoming leadership personnel adequate time to consider the issues" in Save Jobs USA's appeal of the spousal-work rule.
The court granted the request and gave the parties until April 3 to file motions on how the case should proceed. Oral arguments were originally scheduled for March 31.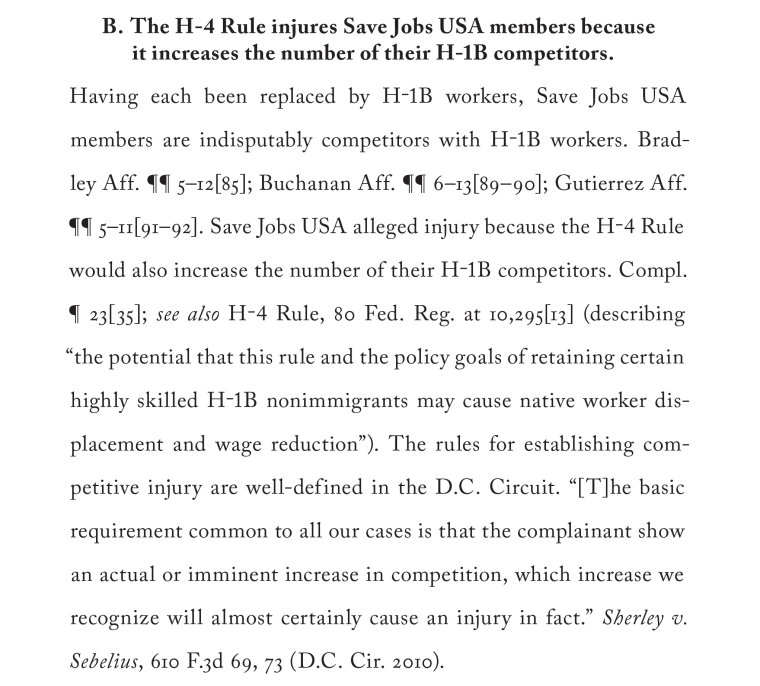 William Stock, an immigration lawyer from Philadelphia and president of the American Immigration Lawyers Association, told NBC News the Justice Department's motion was not unusual.
"Courts are frequently happy to put off a case if it looks like something else is going to either make the case moot or resolve the case without the court needing to decide," he said.
RELATED: Concern Grows Overseas as Congress Weighs Bills Targeting H-1B Visa Program
Save Jobs USA sued the federal government in 2015 after it announced a regulation granting employment authorization to husbands and wives of some H-1B recipients. The group is comprised of laid-off computer workers in California who claim their jobs were filled by programmers from India on H-1Bs.
Spouses of H-1B holders receive what is called an H-4 visa. The rule grants work authorization to H-4 recipients if their husbands or wives are applying to become lawful permanent residents.
Save Jobs USA argues that the Department of Homeland Security lacks the authority to enact such a rule. It also said in court papers that the regulation "clearly allows aliens to compete with Save Jobs USA members in their job market because it allows 179,600 aliens to work anywhere in the United States—an injury in fact to participants in the entire labor market."

But Immigration Voice, a national nonprofit, said in its motion to join the appeal that overturning the rule would hurt many of its more than 100,000 members. Many have or are planning to apply for H-4 employment authorization or have spouses doing the same.
The group cites the possible hardships to two H-4 recipients and their families in seeking to intervene. It also worries about the Department of Homeland Security's "willingness to provide a zealous defense of the District Court's order and of the rule more generally," according to court papers.
"If Save Jobs USA were to ultimately succeed in its goal of enjoining or invalidating the Department rule, Intervenors would lose their legal right to work in the United States — a clear and direct economic injury," the motion reads. "Absent work authorization, Intervenors could not legally earn an income and may have to leave the United States."
Stock, the immigration lawyer, said the lawsuit was originally tossed by a lower court because Save Jobs USA failed to show it had standing to bring the action.
Meanwhile, last week U.S immigration authorities put the brakes on a program allowing H-1B applicants to pay extra to request faster approval to work in the U.S.
While some worried this signaled a step toward ending the H-1B program altogether, some experts say the temporary suspension is to help clear a backlog of pending cases. "Premium processing," as it is called, was also halted last year until May 16. But this time the suspension, which takes effect on April 3, is for six months.
These latest developments have put an already jittery pool of H-1B applicants and recipients further on edge.
This comes as bills sit in Congress to reform the H-1B program, created in 1990. The government sets an annual cap of 85,000 H-1B visas, which includes 20,000 for foreign workers with U.S. advanced degrees.
In 2016, the cap was reached in just one week, for the fourth consecutive year, with more than 200,000 H-1B applications filed.
A lottery is used to decide who receives the visas, which are good at the sponsoring company for up to three years. H-1Bs can be extended for an additional three years.
In fiscal year 2014, citizens of India made up 70 percent of the 316,000 H-1B petitions approved by the U.S. Citizenship and Immigration Services, according to the Migration Policy Institute.
The window for the next round of H-1Bs opens on April 3, Stock said.
Follow NBC Asian America on Facebook, Twitter, Instagram and Tumblr.