When Marshall Bang first moved from New York City to Seoul, South Korea, to pursue his dream of being a singer, some of the people who welcomed him to the country said that gay people didn't actually exist.
"People would literally say there's no such thing as gay." Bang told NBC News, "[They said,] 'It's a western thing.'"
But now, after five years making headway in the Korean entertainment industry, Bang is preparing to break into the K-pop market as its first openly gay singer.
"I'm bracing myself for the unknown. I don't know how people will receive me or my music," he said. "Even if there is that one person who ends up listening to my music and finding out that they're not alone, then I feel like it's worth it for me."
"At the end of the day, people can say whatever they want about me, but they can't touch the music."
South Korea's views on LGBTQ issues made headlines earlier this year, when a watchdog group accused the South Korean army of targeting gay soldiers. Less than a week later, South Korea's now newly elected president came under fire for alleged anti-gay statements made during a pre-election debate.
Though he's looking to pursue a career in Korea, Bang's music is intrinsically tied to his experiences both as a Korean American and a gay man.
"A lot of immigrant children, third-culture kids, mixed-race children, and people who are in the LGBTQIA community, we kind of have to grow up quicker," he said. "We're kind of forced to deal with our identity issues a lot sooner than I feel like the general public would. I feel like in doing that and simultaneously doing music it fed into each other. Which is why I feel like the music that I'm making now is so important not just to me but just to everyone in general."
Bang draws inspiration from his life experiences as well as from the likes of Luther Vandross, Marvin Gaye, Teddy Pendergrass, Patti Labelle, and Whitney Houston.
"A lot of my musical influences are black musicians, and I feel like a lot of the music that's popular today has been paved for us by African-American or black musicians," he said. "I'm forever grateful to be able to do this music. I will forever pay homage to them for paving the way for a little gay Korean kid to be able to do R&B music."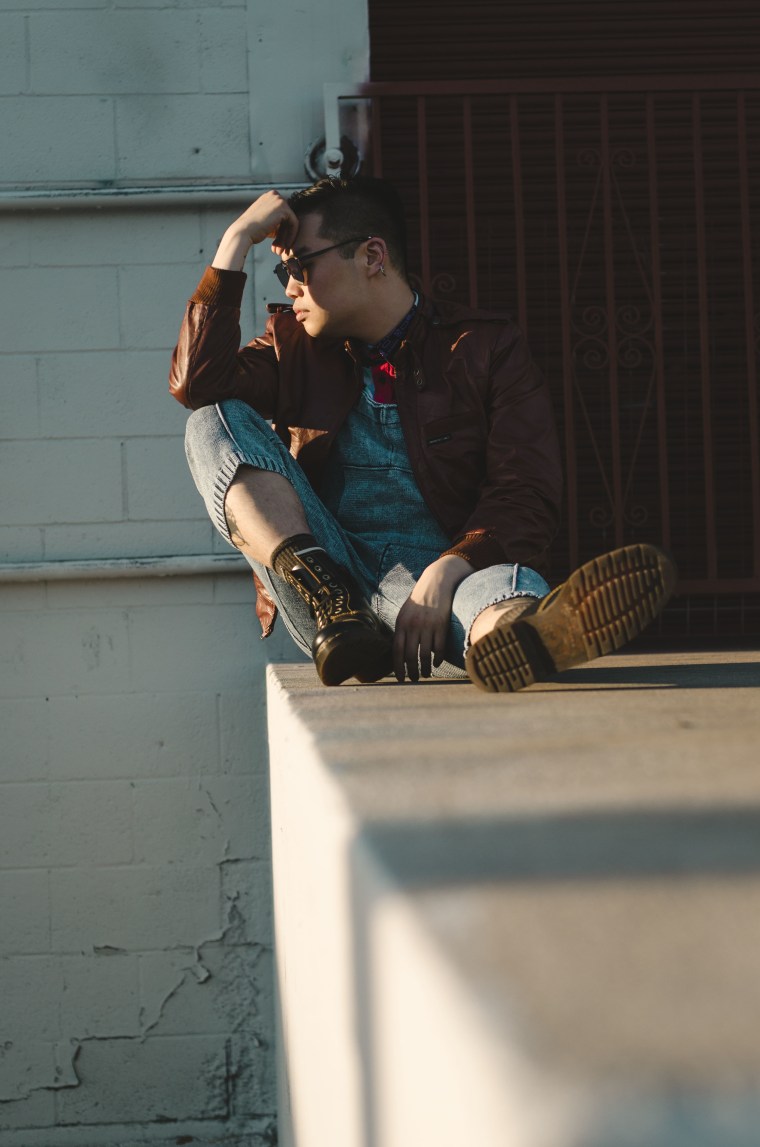 Bang has yet to release his own solo work in Korea, but in 2015, a friend working at the publication Time Out Seoul asked if she could write a piece about him, a public coming out. Bang agreed, even though he was aware it would affect his impending career.
Until then, Bang had come out to his family, but his mother, an evangelical Christian pastor, was in denial. She still is, Bang said, though she is beginning to understand that he will likely never have the lifestyle she imagined for him.
Bang struggled with his sexuality throughout childhood and college, repressing his feelings as something sinful, he said. He didn't have any gay friends or experiences with the LGBTQ community until after graduating from college.
While growing into his own sexuality as, what Bang called with a laugh, "a baby gay," a medical scare after college changed things and led to his first encounter with the larger LGBTQ community.
Bang was told that he had developed laryngopharyngeal reflux, often called silent reflux, and the beginning of a polyp in his throat. He would have to stop singing or risk losing his voice entirely, his doctor told him.
"That freaked me out," Bang said. "And that kind of put me in a tailspin. 'If I'm not going to be a singer, what do I do next?' Because my identity was wrapped around being a musician and singer. So I actually went into hair styling after that."
While at cosmetology school in Los Angeles, Bang encountered a new world filled with people from all sorts of backgrounds, including his first gay and transgender friends.
"When I met these people, these fabulous, fabulous people who were unabashedly proud of their identity and who they were, it was scary at first because I had to hide it for so long," he said.
As he became more comfortable with himself, Bang delved into biblical texts to reconcile his sexuality with his faith and upbringing.
"People always fling the same six or seven verses about homosexuality in the entire Bible when there are a ton more verses against divorce," he said, explaining how his studies helped him accept his faith and his sexuality. "But divorce is way more accepted socially than it is being gay."
Bang's voice returned just as he needed it to, when a Korean producer found his old videos on YouTube and asked him to appear on MBC network's "Star Audition – The Next Big Thing 3," a Korean singing competition.
"In a way, I took it as a sign," he said. "'Oh, okay. God, the universe, the source, is giving this gift to me.'"
After his stint on the show, Bang decided to stay in Korea and pursue his career as a singer. In March, he was featured as the vocalist on Djfriz's "Resist," using his stage name, "MRSHLL."
Djfriz, who has worked with some of the biggest names in Korean hip hop and R&B, and Bang got together to create the song two years ago. The delay between its creation and release didn't bother Bang; he has an overall positive outlook to everything that he's faced.
"I feel like all my experiences in my journey so far have led me to where I am today," he said. "I'm so grateful and thankful that I'm where I'm at."
"A lot of immigrant children, third-culture kids, mixed-race children, and people who are in the LGBTQIA community, we kind of have to grow up quicker."
But Bang still has concerns at his burgeoning reputation as the first out K-pop singer. "Even within the gay community here in Korea I don't know if they'll accept me," he said. "It's kind of like, 'So who made you our representative?'"
While he was unable to give any specifics regarding his label or his debut date, Bang is aiming for a summer release. He's already being touted as the first gay K-pop singer, even though the majority of his music is R&B-tinged. He doesn't mind the moniker, noting that at its core, K-pop is Korean popular music and includes things like hip-hop, rap, R&B, and dance music.
Bang said he knows Korea is a tough audience to break into as an out and proud singer. But he hopes that his songs will help him win people over.
"At the end of the day, people can say whatever they want about me, but they can't touch the music," he said.
Follow NBC Asian America on Facebook, Twitter, Instagram and Tumblr.