Jessica Jung has been busy.
Two years ago, Jung separated from popular K-pop group Girls' Generation, which she had been a part of since their 2007 debut. After her departure, Jung has been forging a new public identity, separating Jessica Jung — the hands-on musician, entrepreneur, designer, and actress — from Jessica, former Girls' Generation member.
And for the 27-year-old entrepreneur, opening the U.S. flagship store of Blanc & Eclare, her fashion brand, in New York's SoHo neighborhood is part of that distinct identity. Jung this month also released her second solo album, "Wonderland."
"I'm doing what I love right now," Jung told NBC News by phone from Seoul. "I've been in the music industry as a singer for the last 10 years. Fashion has always been a passion of mine, so I'm just really happy that I can pursue both things."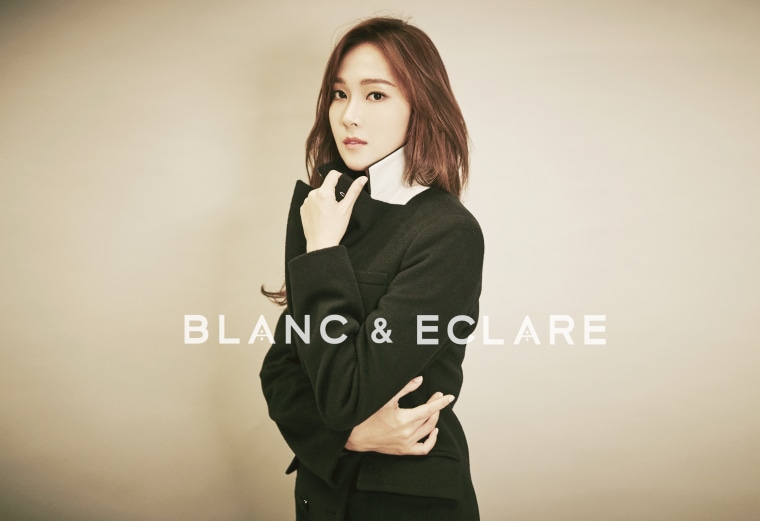 Blanc & Eclare isn't just a celebrity side project for Jung, who was born and raised in San Francisco and moved to Korea at the age of 11 to train for her music career.
She began the line designing sunglasses and grew it as incrementally as possible for a two-year-old brand that already boasts more than 60 physical locations worldwide. After adding a denim line, she expanded into outerwear, skincare, and ready-to-wear clothing, which launched just this year.
Jung described her products as "modern classic," accentuated with "fun details."
"It's something you can say is quite classic and basic, but what I like to do for my personal style is to layer basic items and make them look effortlessly fashionable," she said. "I like to keep it very clean and classic, with a little fun in there."
Jung is conscientious of her international fan base, noting that what may be popular in Hong Kong or Macau will be different from what's trendy in New York. At the same time, Jung maintains focus by staying true to her own instincts.
"I've been in the music industry as a singer for the last ten years. Fashion has always been a passion of mine, so I'm just really happy that I can pursue both things."
"My brand reflects my personal style," she said. "I think my inspiration comes from wanting to make clothes I want to wear and enjoy."
Opening a store in New York had "always been planned," Jung added.
"It was one of my dreams because SoHo is one of the most fashionable, trendy places in the world," she said. "I'm so happy that we finally opened up."
Jung calls the last two years a "learning process." In addition to her budding fashion empire, Jung, who has been performing for her entire adult life, took the opportunity to be involved in the production of her music as a solo artist.
Her first album, "With Love, J," was released in May and was Jung's first professional foray into writing and producing her own songs. The album hit number one on Korea's Gaon Music Chart and entered Billboard's World and Heatseekers Albums charts.
"I wanted to find myself," Jung said. "I wanted to know what kind of sound I like and what suits my voice, and what my fans really like. It took me a long time to actually finish up the album."
"Wonderland," her second release, is a continuation of Jung's self-discovery.
"It's really fun because I can participate in it. I write the lyrics, the melodies," Jung said. "It's just very different from before, but very interesting because now I can kind of tell where I am, what I like, what I sound like, genuinely."
Jung is also one of Korea's performers with the most international appeal. She appeared in a Chinese romantic comedy this summer and will also act in an upcoming Chinese biographical movie about former NBA player Stephon Marbury starring the basketball player as himself.
Jung attributes her multicultural upbringing for her ease in maneuvering languages and cultures.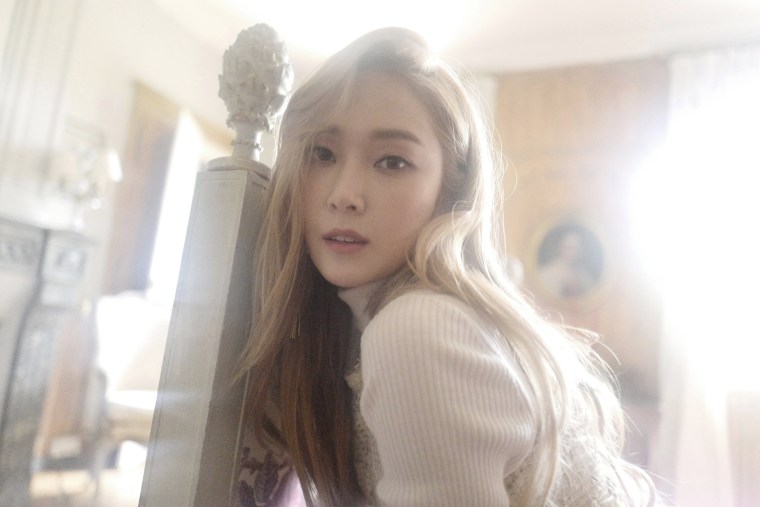 "I think it definitely helped me to relate to fans on both sides of the world," Jung said. "Not all over the world, but it helped to understand who my fans are. I'm really grateful I can speak both languages and communicate with them and actually understand them."
But the breadth and the depth of her ambitions require a schedule and a support system that Jung is quick to acknowledge.
"I want to fit everything I love in my daily routine," she said. "Sometimes there aren't enough hours, but I have a really strong team, and I surround myself with good people, and they help me out a lot. I wouldn't be here without them."
An important figure in Jung's life is her sister, Krystal Jung, who has found her own success as a member of K-pop group f(x) and as an actress. "We can talk about anything, all of our hardships, and we can really, truly congratulate each other," Jung said. "I think we're just extremely lucky to have each other."
While Jung is finding international success in both retail and entertainment, she also downplays any pressure or difficulty that comes with it.
"I'm doing something that I really love," she said. "So I can't complain."
Follow NBC Asian America on Facebook, Twitter, Instagram, and Tumblr.