As a senior at Princeton High School, Karen Bao had a secret that no one knew - not her friends, not her teachers, not her parents. It kept her up late at night and prevented her from doing homework. When she was in class, her mind was elsewhere.
Bao was in the midst of writing the manuscript for her first science-fiction book, "Dove Arising," published by Penguin Random House last month. Now in her third year at Columbia College in New York, Bao is trying to process the enormity of becoming a new author while still an undergraduate student majoring in ecology.
"It still doesn't feel real yet," Bao, now 20, told NBC News.
Senior year of high school is stressful for many students, and Bao, a Chinese American who grew up in New Jersey, was no exception. It was 2012, and Bao was uncertain about where she would attend college, let alone if she was even ready to go. "I avoided thinking about this by writing this book about a girl with a pretty uncertain future," she said.
"Dove Arising," which takes place on the moon 200 years from now, is about a 15-year-old introvert, Phaet Theta, who joins the Lunar Militia, an army and police force, to save her younger siblings after their mother is arrested. Bao said she based Theta's character on one of her best friends, who is also very introverted but has a lot of inner-strength.
"I wanted to get into the head of a really introverted person and show they are stronger than they look," Bao said.
"Mom was like, yeah, go for it - what do you have to lose"
Bao traces her passion for writing to her love of books, especially science fiction and fantasy, she said. When she was three or four, Bao would lie in bed restlessly, she said, squirming around until her father, a chemist who emigrated from China in the 1980s, began reading aloud her favorite book - "Aladdin."
"And then I would probably interject with, 'Aladdin said this,' because I knew the story, I knew every single word," she said. "But I had to have him read it to me."
And he did - over and over. That nightly routine, Bao said, turned her into an avid reader, who frequently borrowed books from the library. George Orwell's "1984," a dystopian novel about a future totalitarian society, was one that proved particularly influential, she said.
With no formal training, Bao relied in part on the Internet to learn the mechanics of crafting a manuscript. When she was just about finished, Bao finally told her parents what she had been doing those two months as a high school senior, she said.
"I didn't show it to them, but I said, 'Hey, maybe I might try to get this published,'" she said.
Her mother, an engineer, and her father were skeptical, though supportive. "Mom was like, yeah, go for it - what do you have to lose," Bao said.
Bao first had to find a literary agent who could pitch her book to publishing houses. That's when she remembered the New Jersey Youth Symphony, with which she performed as a violinist during middle school.
" I don't read reviews anymore. I just avoid them completely."
She reached out to the conductor of that symphony, Simon Lipskar, who also works for Writers House in New York, a literary agency, and asked for his advice. Bao sent over her manuscript, and one month later Lipskar agreed to represent her, she said.
Then came nine months of editing.
"I was missing a lot of things," she said. "But he said the voice was there, the concepts were there, but [it] needed a lot of work."
Bao submitted her revised manuscript to book publishers in May 2013, and Penguin Random House bought it that summer, she said.
As of this week, "Dove Arising" had received 150 ratings on goodreads.com, a popular book recommendation website, and an overall 3.79 out of five stars. More than 90 percent of commenters liked it, though a few were critical of the plot and character development.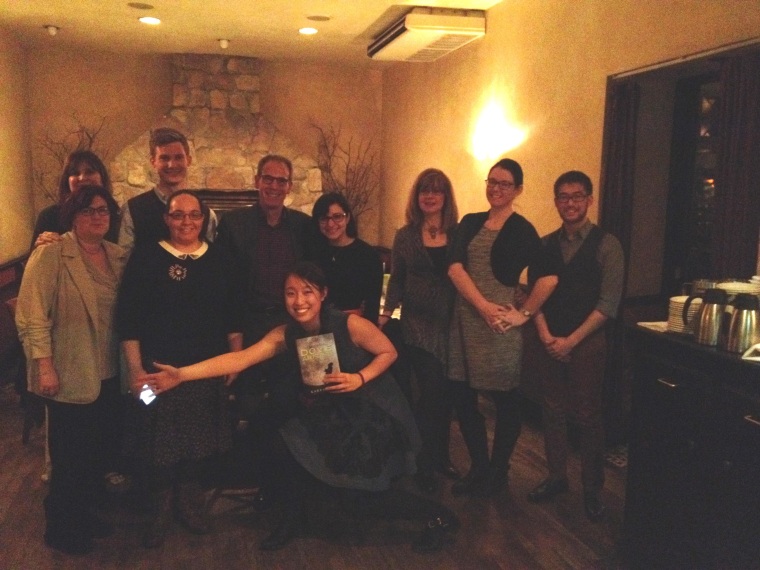 Either way, the comments don't faze Bao anymore, she said.
"For the first few months, before the book came out and when people were starting to respond to it, I thought that the good reviews would make my day and that the bad reviews would sort of ruin my mood for the entire night," she said. "So I don't read reviews anymore. I just avoid them completely."
In addition to "Dove Arising," Bao said Penguin Random House has contracted her to write two more books in the series - one to tentatively publish next spring, the other in 2017. Meanwhile, on March 14, Bao is scheduled to travel to Arizona, for the Tuscon Festival of Books. "I'm hoping to do a bigger tour over the summer, when I have time," Bao added.
Asian-American women fiction writers may be more common than some believe. Celeste Ng, author of "Everything I Never Told You," compiled a lengthy list of Asian-American female authors for a January 1 article in Salon.com that examines why there is a "blind spot" with this demographic.
"We're authors -- we're not Asian authors."
Bao said she believes that certain roadblocks exist for Asian-American authors.
"It might be hard for us to break into mainstream media, because other Americans might see us as insular or just interacting within ourselves, or not really talking much to other ethnic groups in America," she said. "So we might get pulled into categories like that token Asian author."
"Those labels don't really mean anything," said Bao. "We're authors -- we're not Asian authors." But she said she is glad that more Asian Americans are becoming writers.
"We definitely have a lot of stories as an Asian-American community," Bao said, "and I think some of us definitely have to speak up and get our work published."