WASHINGTON — On the last Sunday of every month, customers walk into the Himalayan Heritage restaurant in Washington D.C. during lunchtime and see it transformed into Karma Kitchen.
They order vegetarian Indian food from a one-page menu that has no prices and request as many servings as they like. At the end of their meal, they are presented with a check that reads $0.00 with a small footnote: "In the spirit of generosity, someone who came before you made a gift of this meal. We hope you will continue the circle of giving in your own way! To pay-it-forward for a future guest, you may leave an anonymous contribution in this envelope. Thank you!"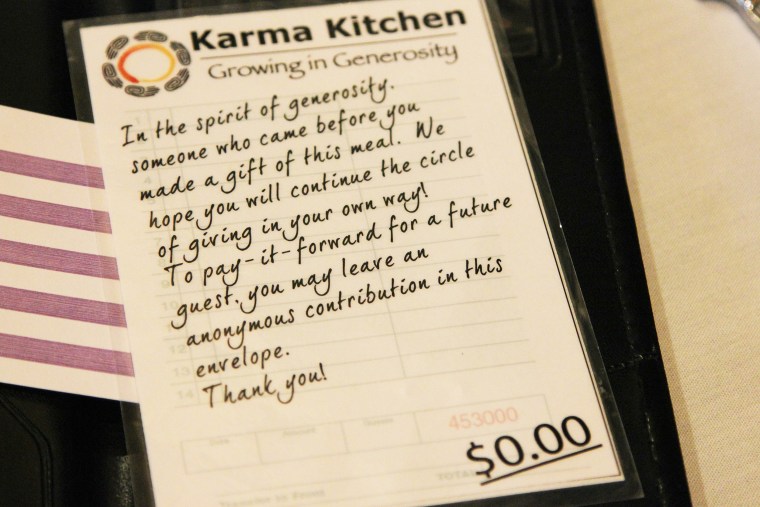 The organizers of Karma Kitchen call it "a volunteer-driven experiment in generosity."
"Our intention is to generate kindness," Krishna Desar, Karma Kitchen's D.C. coordinator, said. "Nobody who walks inside this door will be a stranger when they leave."
Karma Kitchen was first started in March 2007 in Berkeley, California, by Indian-born Nipun Mehta, the founder of ServiceSpace, an incubator of projects that brings together volunteerism, technology, and the "gift economy," in which goods and services are given without any strings attached.
"People here feel very isolated. This is a space where people can stop and think about small things that can make us happy."
The project has now spread across the globe, with the D.C. and Berkeley locations offering regularly scheduled meals. Karma Kitchen operations also happen in 24 other locations — including London, Tokyo, and Singapore — though not on a consistent basis.
"It's not a charity restaurant," Desar, who moved to the U.S. from Nepal about 19 years ago, said. "The chain of giving has to be continuous. If that stops, Karma Kitchen cannot function."
The program is run entirely by volunteers. People interested in helping sign up online in advance for the next Karma Kitchen. Once they're confirmed for a particular day, they attend an hour-long volunteer orientation where they learn about the principles of the pay-it-forward concept and get some training on their chores, which can include serving, plating, and greeting.
"It's not like a regular restaurant," 34-year-old Kavita Surana, who said she has volunteered at Karma Kitchen multiple times, said. "You serve people, but you can also sit down and talk to them."
Desar explained that the program aims to move people from transaction to trust, scarcity to abundance, and isolation to community.
To encourage the transition toward building a community, guests are given the option to either sit at a larger community table where they can interact with others or take a seat at one of the personal tables.
"We're so hungry to connect to each other," 50-year-old Kristin Pedemonti, a volunteer coordinator at Karma Kitchen D.C., said. "In a place like D.C. where there's often so much power-hungry energy — this is just the opposite of that."
For Jess Anderson, 23, and Leo Guillemin, 27, who often go to the Himalayan Heritage restaurant, it was both surprising and exciting to be welcomed by Karma Kitchen volunteers on a cold Sunday afternoon last month that NBC News attended. They decided to try the meal and called it a "great concept."
"It's so good to know we're able to have this meal because someone was generous," said Guillemin. "I feel more camaraderie today than usual."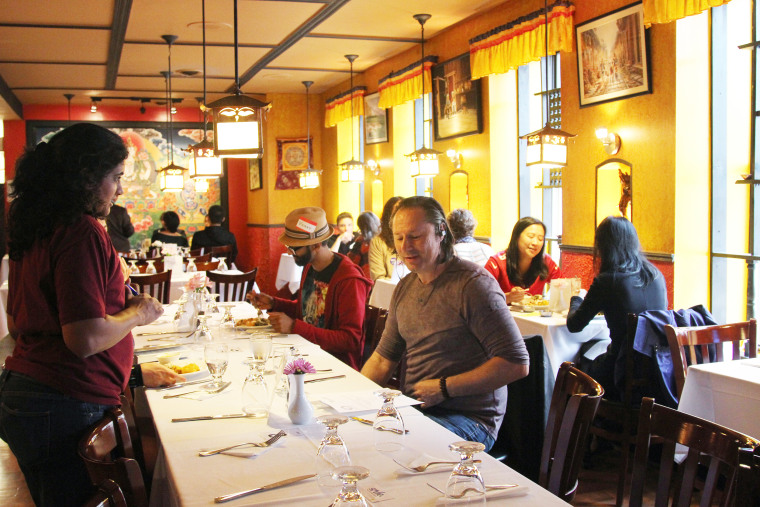 Anderson agreed, and added that it made her think about the little acts of kindness she could do in her everyday life.
"It does make me think, I go to coffee shops all the time and I can buy someone coffee there," she said. "Now as we're getting into winter time, you need to do something nice to keep yourself warm inside."
Every Karma Kitchen lunch is dependent on consistent restaurant space. In D.C., chefs at the Himalayan Heritage restaurant cook the meal and contributions from guests are used to pay for chefs' services and for the ingredients.
"We think about whatever sources we have; from that how can we provide the best," Desar said. "How can we make the environment more happy?"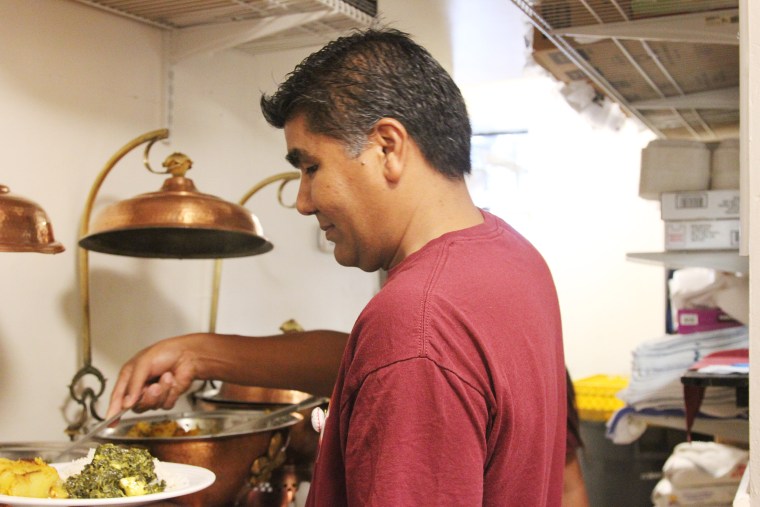 Lunch is served between 12 and 3 p.m., after which volunteers get together in a closing circle and talk about their experience and the lessons they learned that day.
"No matter what's going on in the world at the time, Karma Kitchen seems to be a constant in terms of the values it tries to bring out," said Vinay Sanapala, who has been volunteering at Karma Kitchen D.C. since it started in 2009.
Sanapala added that every time he goes back, "it feels like it's a wonderful reset for me."
"Our intention is to generate kindness. Nobody who walks inside this door will be a stranger when they leave."
The food menu is updated to provide guests with different options each month. Guest contributions are saved for the next few Karma Kitchen meals. While it has been mostly break-even, according to Desar, any past surpluses have been used to organize pay-it-forward activities including free cookies or free hugs events.
"People here feel very isolated," Desar said, adding that everyone is looking for what they don't have. "This is a space where people can stop and think about small things that can make us happy."
Karma Kitchen operations throughout the world face several logistical difficulties including getting enough volunteers, sufficient restaurant space, and an adequate number of guests.
"It's a big challenge to have a good connectivity between these three things," Desar said. "Guests also have to understand the concept. A certain percentage of people still think it's a free meal."
Despite the struggles, several volunteers said it felt heartwarming to see new friendships develop in the space and how everyone pitched in to make things easier for the rest.
"Everyone helps each other," said Pedemonti. "That's the mantra — it always works out."
Follow NBC Asian America on Facebook, Twitter, Instagram and Tumblr.