In 2011, Eric Nam was fresh out of Boston College, planning on moving to New York, where he had received a job offer at Deloitte. Five years later, he returned to New York again for work, but this time as a professional singer and one of the stars of KCON NY, a Korean culture convention and concert in its second year.
"I had always wanted to pursue music," Nam told NBC News. "It was always a dream, but it was always a dream in the sense of, when you're young, 'I want to be president' or 'I want to be an astronaut and fly to Mars.' That's what it was to me."
Nam, who uploaded covers of popular Korean and American pop songs to YouTube as a college student, had already caught the attention of a few people in the music industry. In college, he fielded offers from an American reality TV show and the U.S. office of one of the biggest Korean music agencies, but ultimately turned down both in favor of school. When he found himself at a crossroads after graduation, he decided to take a risk.
Nam asked Deloitte to defer his employment for a year and went to India, where he worked as a fellow in social entrepreneurship. India was also where he received the email offering him a spot on a Korean reality show he calls "an 'American Idol'-'X Factor' mashup."
"School seemed like such a more stable and realistic thing," he said. "But during this year off, I was like, 'Whatever happens, I'm going to take it. So I took it, and I got to fifth place on this show."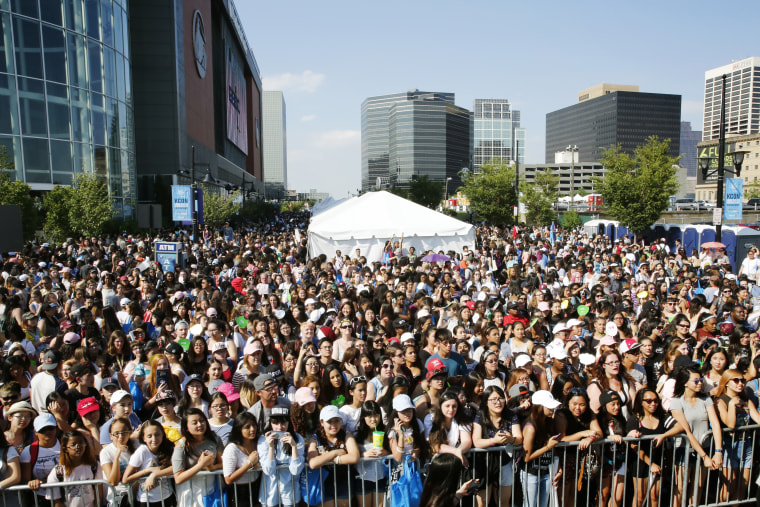 Since Nam entered the scene in 2011, K-pop has only grown its international reach. KCON NY — actually held at the Prudential Center in New Jersey — is one of a series of KCONs that are also held in Los Angeles, Paris, Tokyo, and Abu Dhabi where fans wait in lines up to 60 deep to purchase Korea-themed snapbacks and t-shirts, posters of their favorite K-pop stars, and Korean beauty products.
Jeff Benjamin, an editor at Fuse who also spearheaded the K-pop column at Billboard, told NBC News that K-pop's global appeal lies in its ability to be accessible without sacrificing its distinctive characteristics.
RELATED: Korean Pop Stars Join UNICEF's #IMAGINE Project
"The fact that last year we had the biggest selling K-pop album ever, more tours than ever. [K-pop singers] didn't do that by changing themselves. They drew the fans into it," he said.
At the same time, Benjamin said, "They're going to be as accessible as possible, [whether that's] on social media, or putting their song titles in English on YouTube."
Benjamin also noted that K-pop fans are especially committed. "I never call K-pop a genre. I call it a scene," he said. The music video or the visuals might be the first thing that catches your eye, but you really get brought into this whole different world."
Much of this is intentional, with government-backed initiatives to push Korean popular culture overseas via events like KCON and English-language programs such as "After School Club," which allows international fans to interact with their favorite idol singers. Nam hosted the show until April this year.
Nam's fan outreach and personality — displayed on variety shows like "After School Club" and "We Got Married" — are integral to his popularity.
Eve Savard, who drove from Montreal with her sister to attend KCON NY, said she was introduced to Nam when he was hosting "After School Club."
"He was really funny and really nice to the other people," she said. "When he came out with his new album, I was listening to it for weeks."
Audrey Lavictoire, a fellow Canadian who met Savard at KCON, added, "He's funny. He's nice. He speaks English so we can understand what he's saying."
English speakers are not a rarity in K-pop: a significant number of K-pop idols come from America. Nam's fellow KCON NY headliner Ailee, as well as several members of K-pop's biggest idol groups, moved to Korea to pursue their singing careers despite formidable language and culture barriers.
RELATED:KCON Announces Return to U.S. This Summer
Nam, who thinks he's had "maybe two days off since February" and generally works from 6 a.m. to 1 a.m., says that "every day is a challenge" in Korea. He notes that "sunbae-hoobae seniority is a very tricky, weird kind of thing" to learn, and that he'll never be "100 percent comfortable in Korean, understanding or speaking."
"People always ask, 'Why did you choose to go to Asia?' I don't know," Nam said. "I don't think I really chose to go to Korea, but that that's the only place that has opportunities for us."
A music career had seemed unattainable to Nam before he moved to Korea. "You know, we never grew up with Asian American role models in the entertainment industry, unfortunately," he said. "I'd never seen an Asian face singing on TV."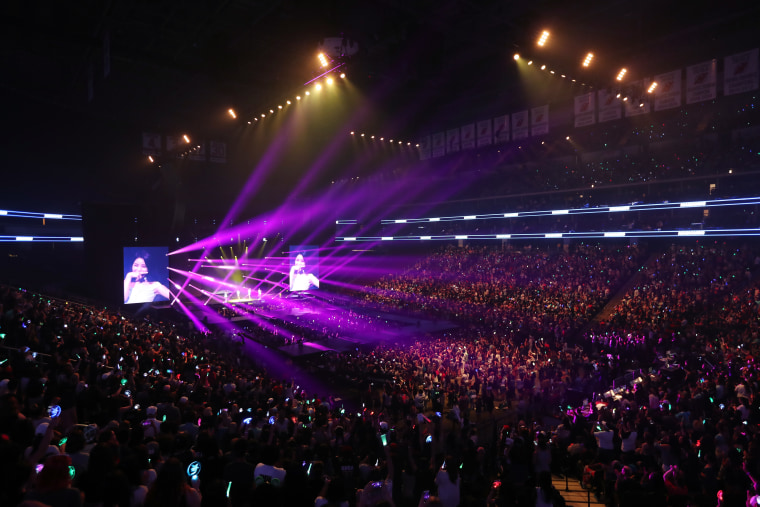 Benjamin, the Fuse editor, said that he believes that it's "only a matter of time" before Asian and Asian-American artists conquer the American music industry.
"You see someone like CL from 2NE1, or Eric Nam, or Ailee. These people are so charismatic and talented, and they've [succeeded] over there [in Asia]. There's no way they couldn't do the same thing here," he said.
He pointed to "Master of None," "Quantico," and "Fresh Off the Boat" as examples of how Asian representation is improving in Hollywood. Now, Benjamin said, "It's time for music to step it up."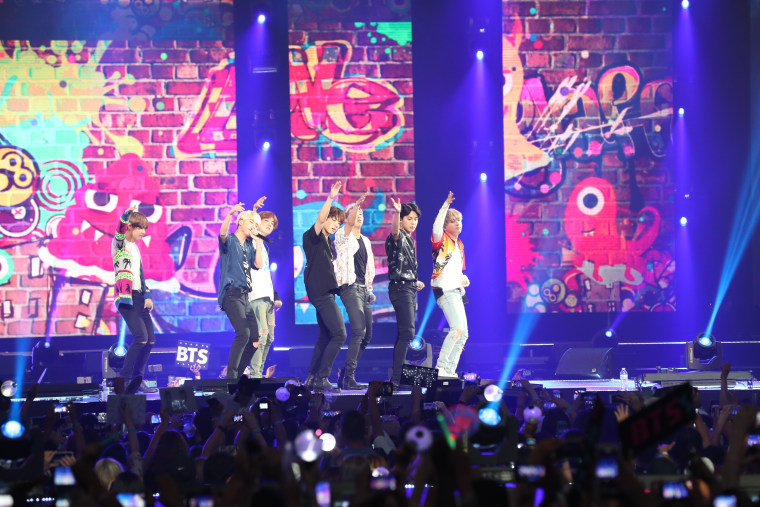 Nam is making inroads. He was booked for a movie in Hollywood last year, and just released his first American single, a collaboration with EDM duo Kolaj called "Into You." He plans on continuing to work with American producers and artists.
"I've always been very passionate about trying to have Asian-Americans or Asian faces be more prominent in mainstream media," he said. "I really hope that comes to fruition soon."
RELATED: Fan Frenzy for K-pop Idols
Ailee, one of K-pop's top female soloists, expressed similar aspirations when she addressed the audience between songs. Born and raised in New Jersey as Amy Lee, she held back tears for her first performance in her home state.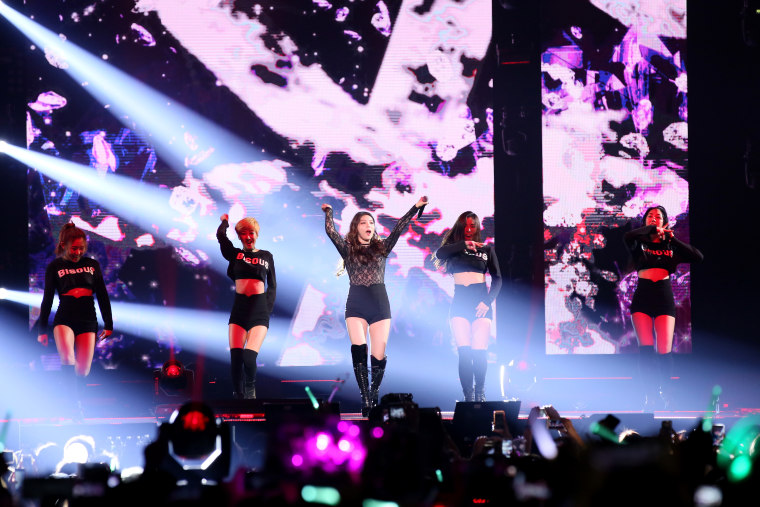 "I have my friends and family out here for the first time," she said. "I was nervous for the first time performing. I've never been nervous before... But I was super nervous today, just thinking about performing at home."
"Hopefully very soon I'll be able to perform for you guys even more often and also maybe an album for the States?" The audience erupted in loud cheers, and Ailee hurried to qualify the statement.
"Maybe," she reminded her fans. "Hopefully one day."
Follow NBC Asian America on Facebook, Twitter, Instagram, and Tumblr.