Ki Hong Lee was in the middle of recalling Aaron Yoo's performance in "Disturbia" as the pivotal moment he decided to become an actor when he remembered Leonardo Nam. And then Justin Chon. And then John Cho.
"They really paved the way," Lee, 30, told NBC News. "Every role that they got. Every room that they were in to rep the community. They've all paved the way for people like me and future kids."
"We're a minority and whenever someone is in the limelight, he or she is a representative automatically. ... If I can inspire some people along the way, that would be nice."
For Lee, performers like Yoo, Nam, Chon, and Cho are all part of a trailblazing group of actors of Asian descent that Lee — despite roles in "The Maze Runner" franchise and Netflix's "Unbreakable Kimmy Schmidt," as well as a part in newly released horror thriller "Wish Upon" — is still hesitant to count himself a part of.
"I don't want to say, 'Yeah! I'm one of the trailblazers.' Because I'm really not," he said. "I was just trying to pursue my dream and passion. It just happened to be acting. I never thought, 'I'm going to be a representative of the community.' It kind of just happened."
Born in Seoul, South Korea, Lee, the eldest of two, lived briefly in New Zealand before immigrating permanently with his family to a suburb in Los Angeles when he was 8. He caught the acting bug in middle school when he began performing skits at his local church. However, it would take years before he would take up acting professionally.
Considering a career as a psychiatrist, Lee attended college at the University of California, Berkeley with a major in psychology. After learning that he would have to attend graduate school to be licensed to practice, Lee considered other options and thought to give acting a try. "I didn't have any money left. I was done with school," Lee said. "I wanted to do something for me to be creative and feed that side of myself."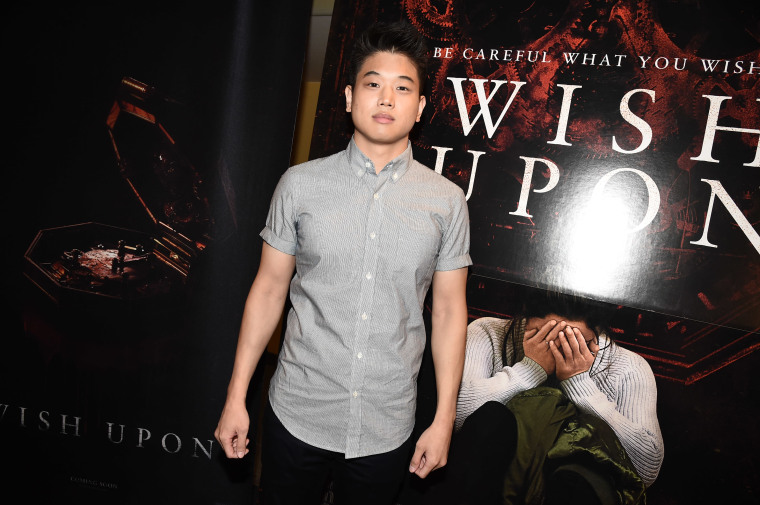 But despite his parents' support, Lee's early years weren't easy. While he was off auditioning, Lee would clock in as many hours as he could as a waiter at his parents' Korean tofu stew restaurant in Little Tokyo — a job he still worked even as he shot his first-ever television series, ABC Family's "The Nine Lives of Chloe King," in 2011.
"It was such a stereotypical actor-in-L.A. life," Lee said. "When I booked my first series, I would literally work at the restaurant and then work on the show if it was a night shoot. If I had to shoot in the day, I would work at the restaurant at night."
Though the show only lasted one season, Lee soon after began booking guest spots on shows like "Modern Family" and "New Girl." Lee landed his big break in 2014 as Minho, the athletic, head-strong leader of a group of teenagers trying to escape a hazard-trapped labyrinth, in the dystopian sci-fi franchise, "The Maze Runner."
It was a role that Lee, who is set to appear in the franchise's third iteration, "Maze Runner: The Death Cure," in 2018, fought hard for considering the typical Asian male roles ("the Asian nerd, the Asian geek, the comic relief that dies in the first five minutes") he was used to seeing.
"The role was a very strong, powerful portrayal of an Asian male. I never get to audition for something like that," Lee said. "I felt right away this was special."
The responsibility Lee feels when it comes to not playing stereotypes is why he almost turned down his season one role on "Unbreakable Kimmy Schmidt," in which he played Dong Nguyen, a lovable Vietnamese immigrant who Ellie Kemper's Kimmy Schmidt becomes smitten with.
"I thought it was a gag. It's an Asian gag with a heavy accent, and his name is Dong," Lee said. "If you think about the history of other characters like that, red flags go up immediately for me. Are they going to set Asians back like 10 years? What's going to happen?"
It took the show's tongue-in-cheek humor when it came to tackling race as well as some pushing from his agents to convince him to read for the part. "I was like, 'I don't even want to audition for this. But I got some assurances from my representation saying, 'You're in good hands,'" Lee said. "'The producers are not going to make this character to just get cheap laughs. They're smarter than that.' It took a leap of faith on my part to say, 'Okay, fine.'"
While the character earned mixed reviews for its portrayal of Vietnamese immigrants, Lee still saw praise for his representation of an Asian male romantic interest. The praise continued when he was named People magazine's fourth Sexiest Man Alive in 2014, a recognition Lee said he was initially embarrassed bybut quickly understood the importance of.
"I remember 'The Maze Runner' director calling me sexy for like a week," Lee said.
"When you go to the grocery store and you see those magazines, you don't see an Asian face on the cover. It has an effect on how young kids view themselves," he said. "Maybe we don't matter. Maybe we don't deserve to be on the cover. Maybe we're not beautiful. This is why it's important an Asian male figure is on this list or is considered sexy. Every year I hope that an Asian face is on that list because it does make a difference."
Lee's hypervigilance for proper representation translated to his recent work on "Wish Upon," a horror about a teenage girl named Claire whose wishes to become popular end in fatal consequences.
In it, Lee stars as Ryan, Claire's Chinese-American classmate who helps her decipher Chinese characters on a mysterious wish box she finds.
Worried that the box would feature Korean or Japanese characters instead of Chinese ones or contain phrases completely off from their literal translations, Lee took it upon himself to ensure accuracy, visiting the art department every day, he said.
"I was so paranoid that they would mess it up," Lee said. "I came off looking like an idiot. I would come in there on a crusade like, 'Okay guys. It has to be accurate!' And they were like, 'It is. Don't worry. Chill.'"
It makes sense that Lee is so passionate about spelling. After he was teased growing up for his Korean name, Lee considered changing it until realizing how much it was a part of his identity.
"Growing up and just feeling so foreign anyways because I immigrated here, I wanted to fit in with people who had names like, 'John,' 'Mark,' 'Kevin," Lee said.
"It was such a stereotypical actor-in-L.A. life. When I booked my first series, I would literally work at the restaurant and then work on the show if it was a night shoot."
By the time he began acting, there was no doubt in Lee's mind that, despite the frequent mispronunciations, he would use his real name.
"If I change my name to Mark. Mark Lee. You can see clearly in my face that I'm not a Mark. I'm an Asian guy," he said. "I'm not apologetic about how people stumble with my name. You just got to make them respect you. You got to make them learn how to pronounce your name."
Though Lee still struggles with being seen as an inspiration to the Asian-American community, it is a role he is steadily embracing.
"We're a minority and whenever someone is in the limelight, he or she is a representative automatically. It's something that I've grown to take on as an actor in my day-to-day life," Lee said. "If I can inspire some people along the way, that would be nice."
Follow NBC Asian America on Facebook, Twitter, Instagram and Tumblr.