"Naatu Naatu," a song from the hit Telugu-language film "RRR," was the unexpected and historic winner for best original song at the Golden Globes Tuesday, beating out Taylor Swift, Lady Gaga and Rihanna.
The 4 1/2-minute song, whose title means "Dance Dance" in Telugu, a language predominantly spoken in the South Indian states Andhra Pradesh and Telangana, was up against Taylor Swift's "Carolina" from "Where the Crawdads Sing," Lady Gaga and BloodPop's "Hold My Hand" from "Top Gun: Maverick," and Rihanna's "Lift Me Up" from "Black Panther: Wakanda Forever."
The fast-paced song, which became the first Indian song to win the category, was played during a garden party in the film where main characters Alluri Sitarama Raju (Ram Charan) and Komaram Bheem (N.T. Rama Rao Jr.) outdance the many unwelcoming white guests with booming drums and whimsical string instruments.
"For people who are not used to watching Indian films — they were just wowed," said Rochona Majumdar, a professor of cinema and media studies and a professor of South Asian languages and civilizations at the University of Chicago.
"RRR," directed by S.S. Rajamouli, follows the complex friendship of two Indian revolutionaries who team up to fight the British Raj in 1920s pre-independence India. The film has no shortage of fantastical music numbers, fight sequences and unrealistic yet spectacular CGI animals.
The movie was also nominated for best picture in a non-English language. A Hindi version of the film, which was added to Netflix in May, quickly became the most watched non-English film on the platform for multiple weeks.
Majumdar said she was surprised but thrilled "Naatu Naatu" took home the award.
"It makes the [Golden Globes] truly global. We wouldn't really be surprised with Rihanna or Taylor Swift winning … whereas this one, it makes you sit up," she said. "If you're really looking at taking other cultures seriously, which is one of the things that the last several years have been insistent on, I think this was a very good example."
Majumdar believes the success of the song and "RRR," whose title stands for "Rise Roar Revolt," will hopefully open the door for more international recognition of Indian cinema and music.
"[The film] packages it with things that have been age-old features of Indian cinema — the song and dance, but we no longer need to be ashamed of it," she said. "Earlier, that was seen as a feature that was strange about Indian cinema. A lot of Western viewers would wonder why suddenly, in the middle of the film, there was not one, not two, but multiple song numbers and these films are not necessarily musicals."
Majumdar doesn't know the exact reason why people were so drawn to the song but believes it's multifaceted.
"It's set in the context of that garden party where a bunch of Brits are just blown away watching these two Indian boys do their number," she said. "There's political messaging in the song, which I think appealed to people together with its foot-tapping quality and the amazing leap, agile dancing."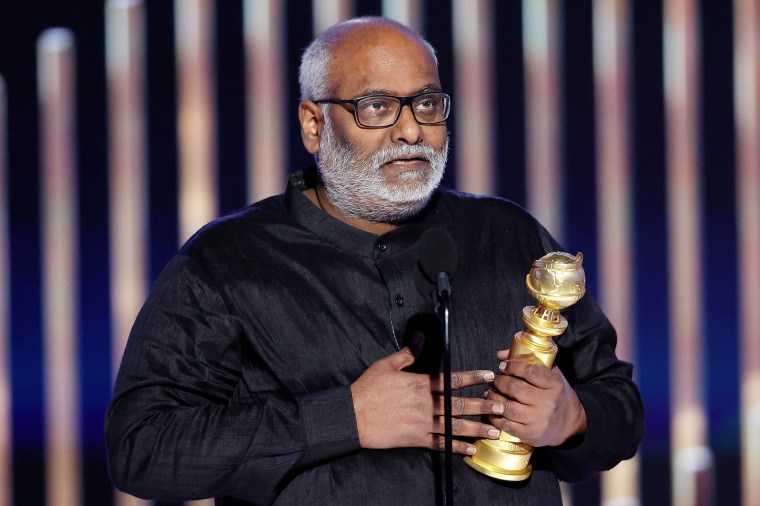 Composer M.M. Keeravani accepted the award. 
"I'm very much overwhelmed with this great moment happening," he said onstage. "It's been an age-old practice to say that this award actually belongs to someone else. So I was planning to not say those words when I get an award like this, but I'm sorry to say I'm going to repeat the tradition because I mean my words." He thanked Rajamouli, lead actors Rao Jr. and Charan, and the song's lyricist, co-composers, programmers and scene animator.
Prior to the film's release, the song was also bolstered by TikTok videos that garnered millions of views, in which two people would attempt the number from the scene.
"When I envisioned the 'Naatu Naatu' song," Rajamouli told Variety. "While both of them (the actors) are great dancers, I didn't want the steps to be so complicated that people can't do it. It should be like any two people — whether it be friends, mother and daughter, father and son, two brothers or two sisters — would see it and feel like, 'Let's try this.'"
The hype around the song was building up ahead of the award show.
During a sold-out screening of the film at the Chinese Theatre on Monday, which included Rajamouli, Keeravani and lead actors Rama Rao Jr. and Ram Charan, the theater erupted into a dance party during the song, Variety reported, although noted it was too late for the event to have an impact on the show's winner.
"There's never been an Academy screening like this before!" said Christian Parkes, host of the screening, according to Variety.