On a recent Sunday afternoon, 20 dancers between the ages of 10 and 30 gathered on the basement level of an empty parking structure at the University of California, Irvine to rehearse the steps to what they hope will be a winning combination.
The members of Kaba Modern Kollective — a group of dancers from various teams under the Kaba Modern umbrella — are gunning for top honors at the upcoming Hip Hop International dance competition in the "MegaCrew" division, after a disappointing fourth place finish last year that prevented them from advancing to the world finals. Kaba Modern will also be competing in the 8-Man Adult, Junior Varsity, and Varsity divisions of the event, which kicks off Aug. 5. The competition will feature dancers from 50 countries, including New Zealand and the Philippines.
And while they occasionally rehearse in a studio, Kaba Modern has a long tradition of eight-counting on cold concrete, with little more than a small amplifier for music — and definitely no mirrors.
"Instead of relying on mirrors, we rely on each other," Kaba Modern founder Arnel Calvario told NBC News. "One, it's about tradition, and two, it creates an interdependence that's really necessary for any strong company."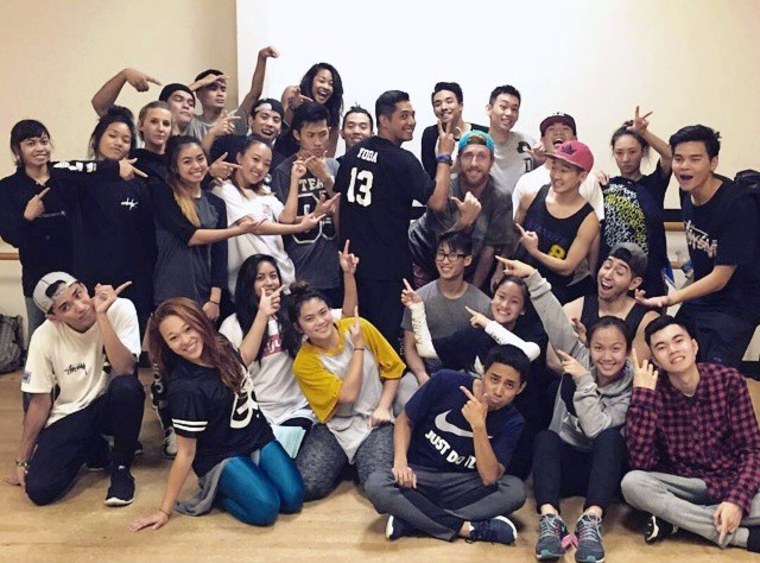 That philosophy has kept Kaba Modern strong for over two decades: 2016 marks the company's 24th anniversary, which they are celebrating as their "Kobe year" in honor of recently retired NBA player Kobe Bryant. Bryant donned the number 24 while playing for the Los Angeles Lakers.
The two have a shared history. Kaba Modern rehearsed near where Bryant practiced at UC Irvine's Crawford Hall and once put on an impromptu performance for the record-setting shooting guard, since immortalized on YouTube.
"We're Kaba Modern. [He's] Kobe Modern," Jon Aldanese, 27, told NBC News. Aldanese is one of Kaba Modern's artistic directors and joined the group in 2005, starting in its youth team, Kaba Kids.
RELATED: The Dancing Prince: 10-Year-Old Aidan Xiong Went from Baby Headstands to Dancing Stardom
Calvario started Kaba Modern in 1992 while still a student at UC Irvine. A lifelong fan of hip-hop, he wanted to showcase Filipino dancers as part of cultural club Kababayan's Pilipino Culture Night ("kaba" is short for "kababayan," which means "countryman" in Tagalog).
"I knew growing up that Filipinos were really a strong part of the hip-hop dance community," Calavario said. "I saw them at battles, I saw them at house parties and all the events involving dance. And so that's why I wanted to include it in the culture night."
The group's beginnings as a student showcase also started the tradition of practicing in parking lots. Because the group was not part of the university's dance school, they did not have access to rehearsal spaces. Kaba Modern eventually became known in the burgeoning collegiate dance scene for their dynamic performance style, which seamlessly blends traditional hip-hop moves with modern dance.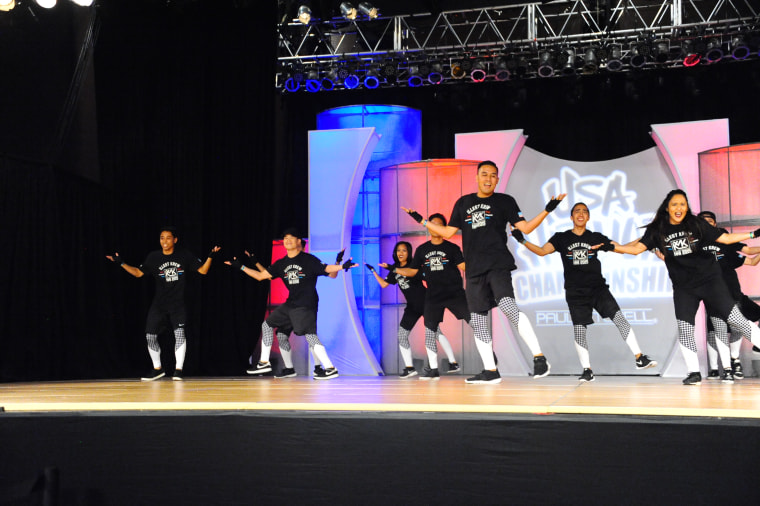 Kaba Modern has since grown in size and visibility, most notably when six of its members competed on MTV's "America's Best Dance Crew" in 2008, placing in the top 3 behind the Jabbawockeez and Status Quo. Calvario estimates the group now includes between 90 to 100 dancers, divided into sub-teams Kaba Kids, Kaba Modern, and the alumni branch, Kaba Legacy.
And while the Kaba family has grown, so has the competition, driven largely because of social media, where dancers and choreographers can grow followings on YouTube, Instagram, and Vine.
RELATED: Eight Years After 'America's Best Dance Crew,' the Jabbawockeez live their 'JREAMZ'
"I look, and I get nervous because there's just a lot of talent. It's almost like everyone is putting out a video now, how do you stand out?" April Rodriguez, 30, told NBC News. Rodriguez initially joined the group in 2004 and worked as a professional dancer in Los Angeles before returning to the Kaba Modern family. She now works as the marketing director for Kaba Modern Legacy and is also choreographing the routine the Kollective will perform at Hip Hop International.
Rodriguez says the crew was caught off-guard by the level of talent and competitiveness at last year's contest. She hopes this year will be different, as does Sabrina Belen, 18. Belen has been with the group since age 9.
"[What sets us apart are] the fundamentals that we keep in our routines — locking, popping, break-dancing. And we change up the way we do it, and I think that's what makes us interesting," Belen told NBC News.
Much like the namesake of their "Kobe year," 2016 is also a "retirement year" of sorts for the Kaba Modern crew: retiring old perceptions of what the crew is and investing in its younger generation of dancers, Calvario said.
"We're hoping that this year, we'll still be strong in the styles that we're known for," he said. "We're really known for popping, but we wanna make sure we're not stuck in that box, that we're also pushing other styles."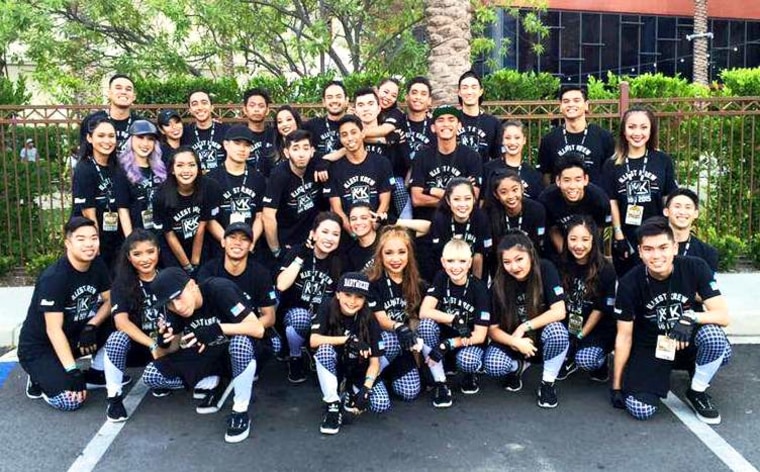 While evolution may introduce some new traditions, Kaba Modern will be keeping a few, including maintaining a diverse roster of dancers and practicing in empty parking lots.
During a break in the recent rehearsal, a senior member addressed the group in a mini-speech: "Now is your turn to show the world what you bring, what you want to say," he said.
"I always believe in the concept of roots before branches. I want [the younger dancers] to always have strong understanding of why we were created," said Calvario. "We were created because we wanted to have a dance family, and we wanted to have the freedom and power to express."
Follow NBC Asian America on Facebook, Twitter, Instagram, and Tumblr.