If you step into Stick With Me Sweets on the right day of the week, you might smell the unmistakable nutty aroma of freshly toasted sesame seeds wafting from the kitchen, mingling with cacao. Chocolatier Susanna Yoon carefully mans the pot, stirring slowly for an even roast and to ensure the bottom layer doesn't burn. Her attention to detail and perfectionism are key to creating the kaleidoscope of jewel-like chocolate bonbons in the glass case.
Before she opened her petite chocolate boutique in Nolita in 2015, Yoon was the chocolatier at Per Se. Now, you can taste her chocolate bonbons, confections and caramels without sitting through a three-hour tasting menu. There are always a couple dozen bonbon flavors available in-store, but the tart and earthy balance of black sesame passion fruit enrobed in a glossy white chocolate shell is one of her most memorable, inspired by her Korean American heritage and childhood memories cooking with her grandmother in Seattle.
"I remember just sitting on the kitchen floor watching her as she would toss and turn the sesame seeds with a wooden spoon," Yoon recalls. "The care and love she would put into her cooking always fascinated me from a very young age. You knew they were finished roasting when the nutty aromas filled up the entire kitchen and the sesame seeds would dance around and begin to jump inside the pot."
Sesame is a very versatile ingredient in Korean cooking for its nutty flavor profile and crunchy texture. The ubiquitous garnish is found on nearly everything from rice and noodles to soups and meat. White sesame is more neutral while black sesame has a bolder, more intense flavor. It's the latter that Yoon pairs with bright passion fruit and mango jam for a delightfully striking contrast.
"I pair the pungent sesame with passion fruit for acid and mango for sweetness," she explains. "It's a balancing trick I learned during my time at Per Se. I only add a touch of passion fruit and mango jam on top of the bonbon as background flavors to support the black sesame. Too much jam can overpower the black sesame and throw off the balance of the flavors."
Although her grandmother used a mortar and pestle to grind freshly roasted sesame seeds, Yoon relies on a robot coupe, a food processor found in professional kitchens. And the delicate yellow- and black-splattered bonbons she makes are a far cry from the Korean glutinous rice cakes filled with sesame, honey and sugar from Yoon's childhood, but it's become a signature flavor at Stick With Me Sweets, as well as her mother's favorite.
"I love making everything from scratch," Yoon says. "I enjoy the process and transformation of ingredients. Making black sesame paste from scratch gives me more flexibility to control the way I want it to taste. If you buy sesame paste, it usually comes as a smooth texture. At Stick With Me Sweets, we love the airy and crunchy texture of the roasted black sesame and want to maintain that texture. So making it ourselves was the only solution. We grind the paste just slightly to maintain it's plump-y texture."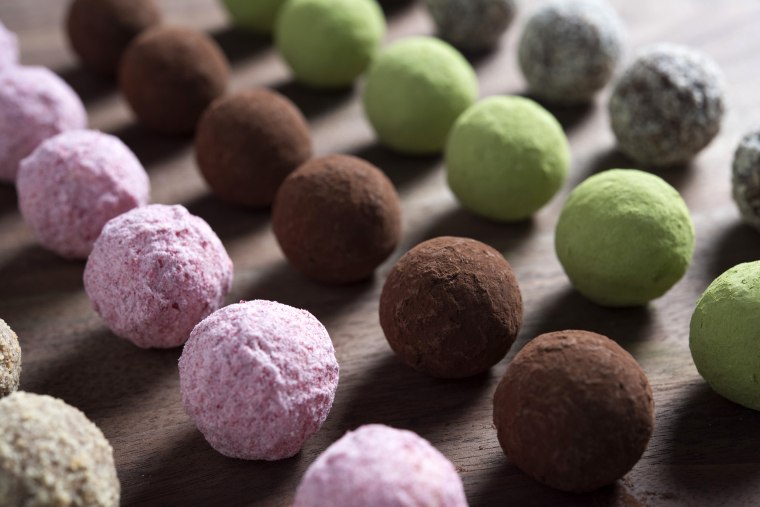 Yoon also makes a white sesame toffee, yuzu and matcha bonbons, soju truffles and black sesame truffles rolled in soybean powder. All these flavors are inspired by her Korean heritage and aren't typically found at European and American chocolatiers. Yoon's chocolate bonbons stand out among the competition not only for her creative ingredients but also the complexity of her layered fillings and for her super-thin, shiny, perfectly tempered chocolate shells.
The thickness of the shell is determined by how much chocolate is tapped out of the chocolate mold, so the thin delicate shells are evidence of her deft hand. Brands like Van Cleef & Arpels, Cartier, Louis Vuitton, Crosby Street Hotel, Tiffany & Co. and Miu Miu recognize the sophisticated, artistic edge in Yoon's work and have hired Stick With Me Sweets to create custom chocolates for their clients and guests.
"I remember I was speaking at my grandmother's funeral and I told all our friends and family that I wanted to be just like her," Yoon says. "Soon after, I enrolled in culinary school. Unfortunately she was not around to see me grow as a chef, so she never got to try my black sesame bonbons. I hope I made her proud."