After growing up in Southern California and Texas, three Korean-American friends living in Seoul realized they were homesick for a taste from their childhoods. They were missing Mexican — and not the fast food kind.
Budding restaurateurs Sid Kim, Jonathan Juweon Kim, and Kenny Park decided four years ago to fix that, opening their own taqueria — Vatos Urban Tacos — in a diverse neighborhood of the capital. Their success has ushered in the Ko-Mex revolution, which marries typically Korean flavors — like kimchi and pork belly — with Mexican staples such as jalapenos and carnitas.
The brick-walled restaurant has even lured the likes of Secretary of State John Kerry (who snapped a selfie with the owners in May), U.S. Ambassador to South Korea Mark Lippert, and top model Tyra Banks.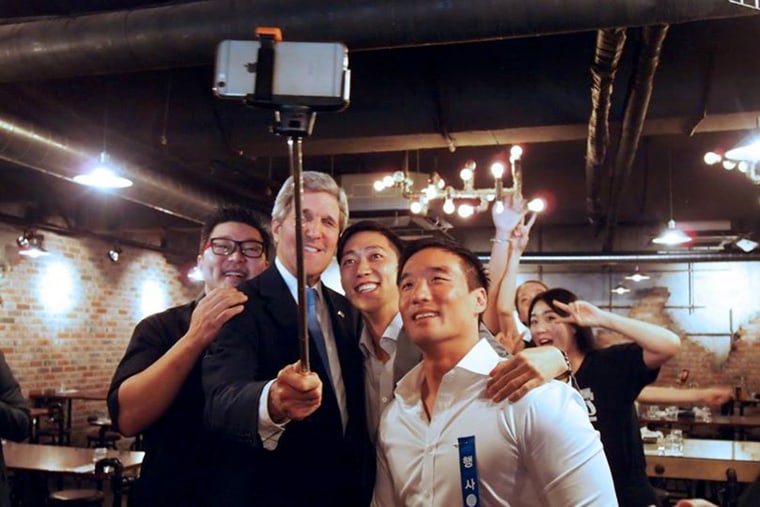 Now, Vatos (Spanish for "man") is going overseas, with the launch of a location this September in Singapore, then eventually expanding the brand to America.
NBC News caught up with Sid Kim, a 1991 graduate of UC Berkeley, about what it means to serve Ko-Mex to the masses.
Blending Mexican and Korean food seems strange at first — but why do you think they work together?
I grew up mainly on two types of cuisine: authentic Korean food and authentic Mexican food.
When I came home after school, I would look into the fridge to grab a bite to eat, and I'd almost always see some leftover Korean food that my mom had cooked the night before: meats like galbi, bulgogi, spicy pork belly, and seafood such as spicy stir fried octopus and grilled sea bream. Since I was a kid, I would grab a tortilla, throw in those ingredients, and there you have it — Ko-Mex fusion food.
To be honest, I don't particularly like the world "fusion" to describe the food at Vatos. Fusion to me implies some sort of forced combination. Things like galbi tacos, bulgogi sandwiches, pork belly burgers and kimchi pizzas aren't fusion foods. To me, they are just food — the food I grew up on.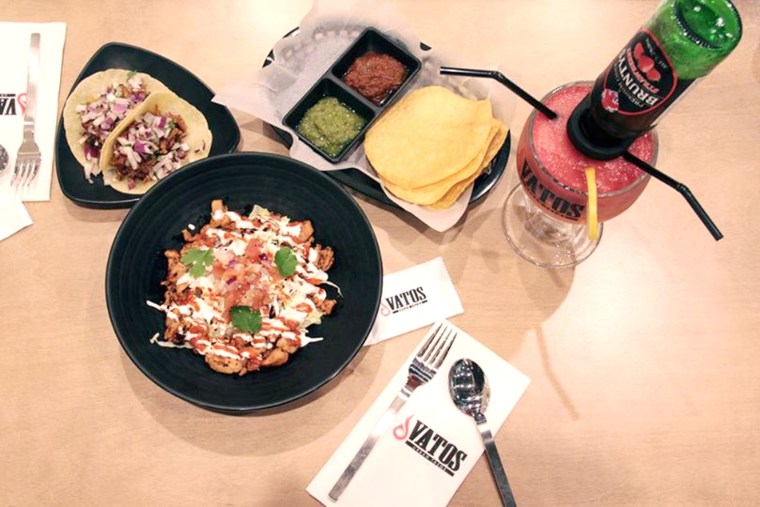 What are your biggest patron-pleasing dishes and why?
Our most popular and best-selling dish is the Kimchi Carnitas Fries, which was named the No. 1 dish in Korea by 10 Magazine. When I first mention this dish to people who haven't tried it, they give me some pretty funny and disgusted looks. Not many people can imagine these ingredients together.
I think the Kimchi Carnitas Fries also embodies what Vatos and its food is all about. My partners and I are Korean Americans who grew up eating Mexican food. The Kimchi fries bring together American (french fries), Mexican (carnitas) and Korean (kimchi) to create a balanced, harmonious dish. It's the perfect representation of who we are.
You're part of what some might call the 'kyopo renaissance.' What is it and how do you fit into it?
There was a time when it wasn't cool to be a kyopo (an ethnic Korean who grew up and lives abroad). In the United States, we weren't really considered part of the mainstream. In Korea, we weren't really true Koreans because although we looked the part, we had different life views and sometimes had strong accents or couldn't speak Korean at all.
However, ever since Korea opened up its markets after the IMF era, the country, or at least Seoul, has become much more cosmopolitan. This is evident in all areas of society, and recently, kyopos are really shining in the food and beverage (F&B) market. In the States, chefs like Roy Choi, Corey Lee, David Chang and Edward Lee are leading a culinary renaissance.
In Korea, the gentrification of Itaewon, once a shady neighborhood (in Seoul) for American soldiers and English teachers, has given kyopos the perfect stage to expand the F&B envelope in Korea. Because the area is frequented by both foreigners and Koreans, it's the perfect place to introduce both authentic and fusion foods to the masses.
What was it like to know both U.S. Ambassador Lippert and Secretary of State Kerry are fans of your food?
Ambassador Lippert and his wife are dear friends of ours. They visit the restaurant regularly, and we have catered events for them several times.
I was very surprised and honored when the ambassador recommended our restaurant to Secretary of State Kerry. Although we feel like we are doing well in Korea, it's still great when people from the States come to our restaurant and give it a thumbs up.
Why expand to Singapore, and do you think the U.S. is next on the menu?
I've always wanted to take our food and our brand abroad. I thought Singapore would be a great place to start because it has an incredibly developed food scene and a very diverse population with people from all over the world.
My ultimate goal, however, is to bring Vatos to the U.S. I have done a lot of research and visited many restaurants, but I could not find anything quite like Vatos.
I think we have done for Ko-Mex food what restaurants like Bestia in L.A. have done for Italian food. We've sort of brought Ko-Mex in the modern age and made it hip and fun.
Being both American and Korean, anything surprise you about American customers vs. Korean?
When we first started the restaurant, we wanted to provide a Western style of service. Korea doesn't have a tipping culture, so service is sometimes pretty sketchy.
Many Korean restaurants have buzzers at the table. Whenever you need something, you just press the buzzer, and the server comes to your table. Although efficient, this system produces a sort of blase attitude in restaurant employees. They rarely, if ever, come to your table to check on you. They rarely, if ever, refill your water glasses. And they never clear your table of empty plates, bottles or used napkins.
Of course, foreigners, especially Westerners, would consider this bad service. So we trained our servers to clear the tables and check up on the customers. However, we received a lot of complaints from Korean guests. Some of them straight out accused us of trying to kick them out! They couldn't understand why we were taking away their plates and empty bottles.
Now, all servers ask politely before clearing the table.
Interview was edited for clarity and length.
Like NBC Asian America on Facebook and follow us on Twitter.