The earliest Asian migrants to the United States were predominantly Chinese, Japanese and Filipino, but following the Immigration and Nationality Act of 1965, which abolished a quota system that had limited immigration from non-western European countries, the Asian American population not only grew — it diversified.
Prof. Ronald Takaki, who was a professor of Asian American studies at the University of California, Berkeley, wrote in "Strangers from a Different Shore" that there were one million people of Asian descent living in the U.S. in 1965. By 1985, this number jumped to five million, or two percent of the entire U.S. population. Prior to the new immigration law, 99 percent of Asian Americans were Chinese, Japanese or Filipino, but by 1985, 12 percent of Asian Americans were Vietnamese, 11 percent Korean and 10 percent Indian.
These new immigrants established their own clusters across the U.S., which were shaped less by violence and legal discrimination than the enclaves of the 1800s and early 1900s.
In addition to Koreatowns, Little Saigons and Little Indias, immigrants and refugees from other Asian countries have also formed hundreds of enclaves across the country, including Thai Town and Little Bangladesh in Los Angeles, Cambodia Town in Long Beach, California, Little Kabul in Fremont, California, Little Sri Lanka in Staten Island and a Hmong Cultural Center in St. Paul, Minnesota.
"That begins to create more fluid settlements," said John Kuo Wei Tchen, chair of public history and humanities at Rutgers University and co-founder of the Museum of Chinese in America in New York.
The first Korean settlement in the U.S. was established in Riverside, California, in the early 1900s, according to Edward Taehan Chang, director of the Center for Korean American Studies at the University of California, Riverside. Known as Dosan's Republic or Pachappa Camp, it served immigrants who worked in California's citrus industry.
But it wasn't until after 1965 that Koreans started coming to the U.S. in larger numbers. The Korean population leaped from 10,000 in 1960 to 500,000 in 1985, according to "Strangers from a Different Shore." Most new immigrants came with college degrees.
In Los Angeles, which now has the largest Korean American population in the U.S., according to the Pew Research Center, Koreatown emerged in the early 1970s with several restaurants and markets, Chang said. As the population continued to grow in the 1980s, so did the neighborhood's geographic area, which served as a "buffer zone" between the city's white and black communities.
"Whites all began to move out and the area was relatively unoccupied, so it was easy for Korean immigrants to move in," Chang said, noting the rent was also relatively cheap.
In addition to Los Angeles, Koreatowns also developed in areas such as San Francisco, Orange County and Oakland, California; New York City, Houston and Philadelphia.
According to "Strangers from a Different Shore," Korean immigrants had a high rate of self-employment, because of discrimination in the mainstream labor market, and also because the South Korean government offered capital to start businesses. In 1978, 80 percent of Koreans worked in the Korean ethnic economy.

But during the Los Angeles riots of 1992, which killed more than 50 and injured 2,000, Koreatown was left unprotected, so 2,280 Korean businesses were looted or burned, totaling $400 million in property damages, according to Chang's research. It became a turning point in how Korean Americans understood race, politics and multiculturalism.
Koreatowns may have started as ethnic enclaves, but Chang said the technological and economic ties between the U.S. and Korea today means the term no longer applies.
"It's kind of a misnomer now," he said. "It's more of a transnational enclave, because Koreatown has very strong ties with the homeland, economically, politically and culturally, so it's more transnational in nature rather than being isolated here in the U.S."
Alongside the development of Koreatowns were Little Saigons, which emerged as Vietnamese refugees came to the U.S. after the end of the Vietnam War in 1975.
When the first wave of refugees arrived in 1975, many were first taken to Camp Pendleton, a Marine Corps base just north of San Diego. To resettle, Vietnamese refugees were required to have sponsors. Many residents and churches from nearby Orange County served this role, leading many Vietnamese to make a permanent home in the area.
While the U.S. government dispersed refugees into all 50 states, to force assimilation and diffuse resentment, Vietnamese refugees eventually relocated to areas like Orange County to be closer to each other — a process Linda Trinh Vo, professor of Asian American Studies at the University of California, Irvine, called a "secondary migration."
In addition to Orange County, large numbers of Vietnamese also took up residence in San Jose, San Francisco, San Diego, Houston, Seattle and Portland. Many ethnically Chinese Vietnamese also settled in Chinatowns across the country, Vo said.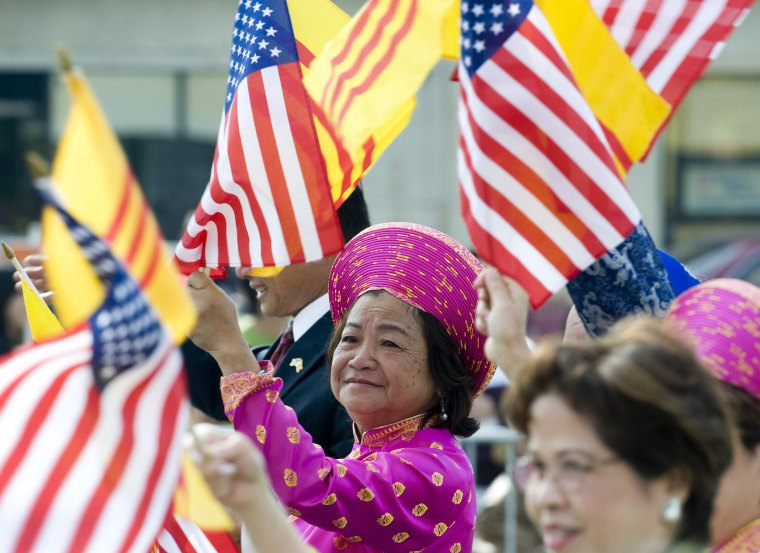 When the next group of refugees came in the late 1970s and 1980s — the boat people — they also clustered where Vietnamese were already living, especially because by then, fellow Vietnamese could serve as sponsors. As refugees — not immigrants — Vietnamese knew they were settling for good, Vo said.
"They left with the idea that they had escaped and there was no way for them to go back," Vo said. "There was a sense that they would build a permanent community here."
Little Saigon in Orange County quickly grew into a commercial and residential hub, which is now home to the largest Vietnamese population outside of Vietnam. By the 1990s, Little Saigon had also become an important political force in local elections. Vietnamese voters — who were traditionally Republican — swung races and Vietnamese candidates started winning seats on school boards, city councils and as mayors.
"Being in a concentrated area allowed them to rely on and reach out to their co-ethnic voter base," Vo said. "So that concentration was crucial in helping them to get elected, but also holding politicians who were elected in the area accountable to them."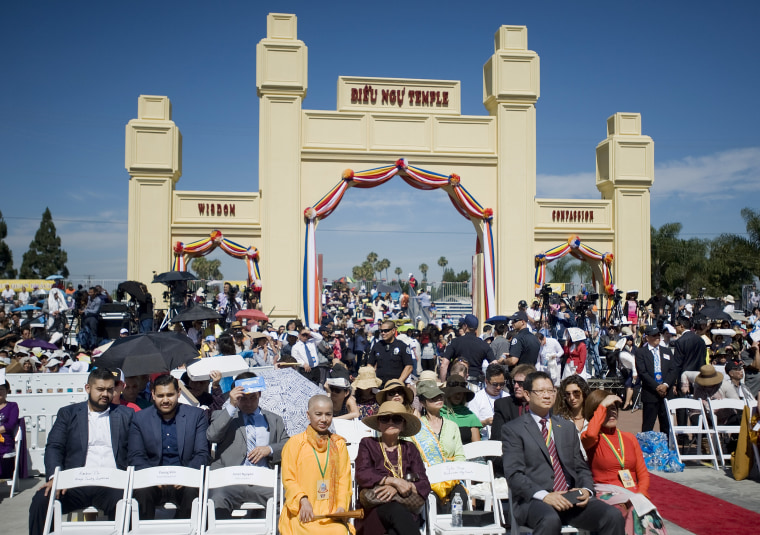 Meanwhile, immigration from India was also on the rise.
The earliest Indian immigrants, who were mostly from the state of Punjab and worked as farm laborers in California, came to the U.S. in the late 1800s and early 1900s. But it wasn't until after 1965 that Indians — most of whom were professionals, such as doctors, engineers and scientists — started arriving in larger numbers. The 1970s saw another wave of Indian immigrants, the family members of those professionals.
Three major South Asian clusters were then established, said Sanjoy Chakravorty, professor of geography and urban studies at Temple University: in the Jackson Heights neighborhood in New York City, on Devon Avenue in Chicago, and in Edison, New Jersey.
"The first time I went there, I thought I was in Delhi," he said of Edison.
But today, the largest concentration of South Asians is in Santa Clara County, California, home to Silicon Valley, he said. Starting in the mid-1990s with the Y2K scare, Indian engineers were brought to the U.S. on skilled worker visas to address the computer glitch, he said. With the technology boom, Indians continued to migrate, so that today, Chakravorty said that more than half of Indians in the U.S. arrived after 2000.
In his book, "The Other One Percent," Chakravorty classified Santa Clara County as an "ethno-techno-burb." Unlike other Asian enclaves, he said it is located in the suburbs instead of the inner-city, and its residents not only share an ethnicity, but also a profession. And in contrast to historic enclaves, he said, Indians in Santa Clara have plenty of money, which means large houses, high-end temples and fancy restaurants.
While the early Asian immigrants came to the U.S. to perform tasks white workers largely didn't want to do, Chakravorty said that Indian computer engineers of today are filling a void in the workforce that the American education system can't fill fast enough.
"This is the modern Gold Rush," he said. "Now they're miners who get to keep the gold."
Follow NBC Asian America on Facebook, Twitter, Instagram and Tumblr.