The first time he introduced himself on the 12th season of "Top Chef," Katsuji Tanabe got laughed at. Twice.
"My name is Katsuji Tanabe, and I sell tacos in Beverly Hills," he said, drawing laughter. "I'm a Mexican-Japanese who owns a kosher restaurant."
But despite multiple television appearances, his own restaurant, and plans to open two more in the near future, the 35-year-old chef doesn't take himself too seriously.
"You know when you write something on paper and it looks like a bad idea?" Tanabe told NBC News. "That's pretty much what happened with me. Everything that could go wrong went wrong and then I decided to do it anyway."
RELATED: Roy Choi Wants to Take 'Locol' Food National, Feed the Unfed
When Tanabe told his father, whose family had moved to Mexico from Japan prior to World War II, that he was going to pursue an epicurean career, the burgeoning chef was told to be a doctor, lawyer, engineer — anything but a chef.
Tanabe persevered, eventually earning success and his family's approval. He recently appeared on NBC Universo's "Top Chef Mexico," leaving the show in its 9th episode, and also appeared in 2014 on the American version of the show. He's also had a winning appearance on the Food Network's "Chopped" and is the self-proclaimed best kosher chef in the United States, though he's not Jewish.
"Kosher picked me," he said. "I'm not religious but kosher, being in this Jewish lifestyle and these people who are really such very nice people. They're extremely loving, they are loyal to family. Thanks to them, I'm more successful. I have a family. I have a wife. I have two daughters."
"When the time came to open my own place, in my head the only way I could pay thanks to them was by staying in the community and keep serving the people who have made me what I am now so I'm pretty much the only non-Jew who owns a kosher restaurant," he continued.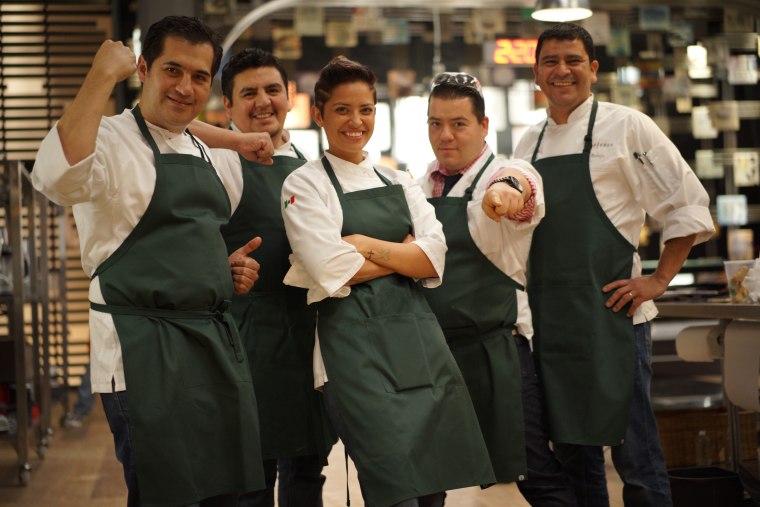 After working at Bastide in Los Angeles and Mastro's Steakhouse, Tanabe was brought on to Shiloh's Kosher Steakhouse, where he got the kosher bug. He opened Mexikosher in Los Angeles in 2011, offering Mexican flavors to California's Jewish community. He's expanding with another branch of Mexikosher scheduled to open in New York City later this year and is planning to open Baranda in Los Angeles, an upscale restaurant named after his daughters Barbara and Miranda.
All three of Tanabe's restaurants are planned to conform to the requirements of kosher and are closed on Jewish holidays and Saturdays. Mexikosher will be open later this month during part of Passover but will offer an alternate menu to follow the holiday's abstinence of flour and other grains.
Traditional Jewish dietary law is all encompassing, down to guidelines regarding how one washes vegetables, but the most limiting rules forbid serving meat and milk together and forbid pork and shellfish. The stringencies have kept kosher-observers from jumping on many of the newest trends in food. Tanabe's drive to open a kosher restaurant gave him a chance to prove naysayers wrong about koshers perceived lack of creativity.
"The kosher community nowadays, they don't just want to eat matzo balls and pastrami and brisket," Tanabe said. "Now they want to be eating what they're seeing on the Food Network, what they're seeing on Top Chef. They want to be just like everybody else. Because at the end of the day, it's just food, and it's up to the chef to make sure that we can provide all the flavors. Everything that is out there not kosher, you can find a way to make it kosher. Always."
According to Tanabe, kosher is only difficult because of people's desire for apparent authenticity, something he scoffed at by citing the fact that neither chilies nor cilantro originated in the Americas but are staples of modern Mexican food. He uses substitutions — his carnitas are made from brisket and duck fat — and keeps things as traditional as he can. Tanabe recently introduced his own handmade tortillas to Mexikosher, using corn from New Mexico for the base of the ingredients as a show of his support for the country where he's built himself up.
"I try to utilize local products, local vendors," he said. "I don't drink tequila. I drink American whiskey. I'm grateful to this country so, again, just like I keep with the kosher community I keep with American products because I'm glad to be here."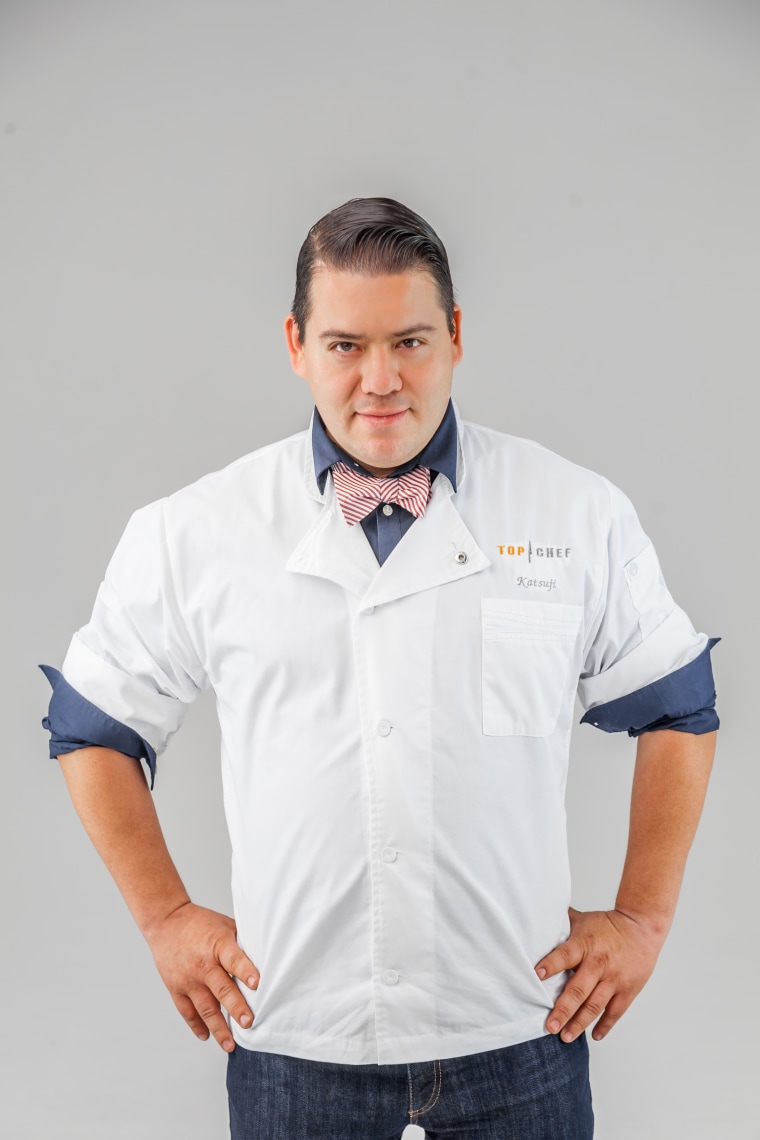 Tanabe's inclusive outlook was born early on, while growing up in Mexico City with mixed heritage in a multicultural neighborhood filled with Japanese, Koreans, and Jews. Coming to the United States at 18 with his mother following his parent's less-than-pleasant divorce, Tanabe experienced intense poverty following a life of comfort in Mexico City where he recalled growing up with a driver, chef, and maid.
He and his mother were unable to afford a refrigerator, so they put milk beside the windows of their apartment to try and keep it from spoiling, he said. The shock to his system helped Tanabe make up his mind to be the best chef he could be.
"When you know what's the good life, it's very hard to go to a life of poverty," Tanabe said. "So that helped me to realize that I know what's the good life, I know what I can be able to accomplish. I just needed to find my way in my career and become better."
RELATED: Deuki Hong Is Bringing 'Koreatown' to American Kitchens
As an immigrant, Tanabe's path wasn't easy. He received his green card only four years ago after a close call while at Le Cordon Bleu, which he attended under false pretenses after applying with an imagined social security number.
"I faked it. All of that information to get in," Tanabe said. "Halfway through the program, I got a call to the dean's office. And the dean she was like, 'You've been caught. We know what you did. We know you lied. All the information you gave us is faked. So there are two options. Option number one is that I have to call the office of immigration and you go back to Mexico and, you know, you're done. Or option number two is you don't say anything. It's our secret because my parents did the same and thanks to them I am where I am now so the only way that I can pay back what my parents did for me is passing that little secret to someone else.' At that moment, I started crying."
Following culinary school, Tanabe studied food for several months in Japan to get in touch with the flavors his father cooked with during his childhood. He credits his Asian influences as the primary reason he did well on "Top Chef Mexico." According to Tanabe, none of the other chefs had worked extensively with ingredients like fish sauce, mirin, and sake, which proved to be a saving grace. Tanabe said the Mexican version of the show is much more challenging than what he was used to from his time on the American originator.
"If I had cooked the same way [on Top Chef] as I did on Top Chef Mexico, I would have won," he said.
In between his personal life, his television spots, and his restaurant, Tanabe tries to give back to the community now that he has the monetary capability. He's a mentor at the Jewish Big Brothers Big Sisters of Los Angeles and has an upcoming trip to Hidalgo, Mexico, to speak with students hoping to become chefs at a low-income university. It's just one of many trips to Mexico he's made recently: Tanabe's goal is to become the best Mexican chef in the United States, and he has been flying between Los Angeles and different regions of Mexico so that he can learn local cooking techniques firsthand.
"When people think Mexican, I want them to think about me," Tanabe said. "A Japanese guy."
Follow NBC Asian America on Facebook, Twitter, Instagram, and Tumblr.