For the first time in California history, Filipino-American labor leader Larry Itliong will be recognized on an annual day honoring the late hero throughout the state.
Though not a name immediately associated with the farm labor movement of the 1960s in California, Itliong was the one who led Cesar Chavez to the picket lines that cemented Chavez' place in the history books. Unlike the image many remember of Chavez, Itliong sported a crew cut, chewed cigars, loved to gamble, and, because of a work injury in an Alaskan cannery, bore the nickname "Seven Fingers."
"Larry Itliong deserves a national day in his honor."
California Gov. Jerry Brown signed the bill over the summer to establish Itliong's birthday, Oct. 25, as Larry Itliong Day. Itliong, who died nearly 40 years ago in 1977 of Lou Gehrig's Disease, would have been 102.
"This is incredible and I feel great," Itliong's son Johnny told NBC News. "I'm very proud of my dad. I'm so happy my kids were here to see this."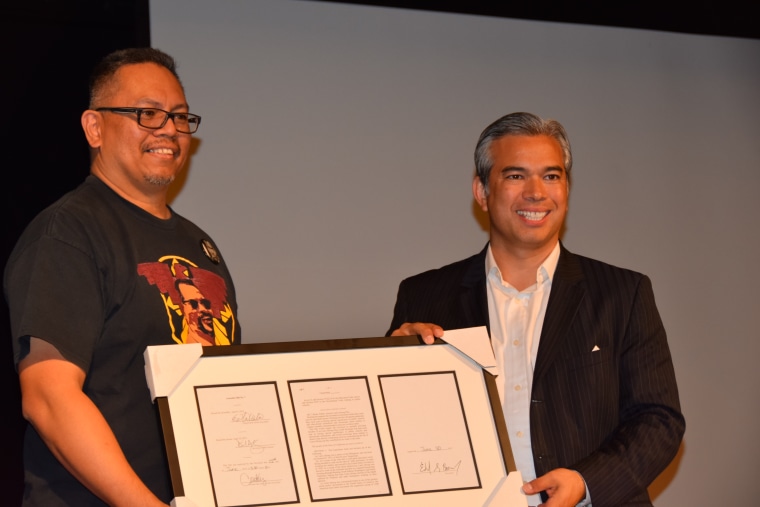 A new generation of Itliongs gathered in Oakland on Monday for the inaugural celebration at the Oakland Asian Cultural Center in Alameda County, the home base of California Assemblyman Rob Bonta, who authored the bill to honor Larry Itliong.
"It's beyond time, but better late than never," Bonta, the first Filipino American to serve in the California State Assembly, told NBC News. "We are uplifting the legacy of the great Larry Itliong."
RELATED: Eclipsed by Cesar Chavez, Larry Itliong's Story Now Emerges
Bonta was born in California's Central Valley to parents who were Filipino farm labor organizers, and who worked side by side with Mexican-American workers. He previously authored a bill to require California public schools teach students about the role Filipino-American workers played in California's farm labor movement.
"[Itliong's] tremendous leadership with the Agricultural Workers Organizing Committee [AWOC] with the Delano Grape Strike of 1965, everything he did to start the farm labor movement in this country hasn't been remembered the way it should," Bonta said.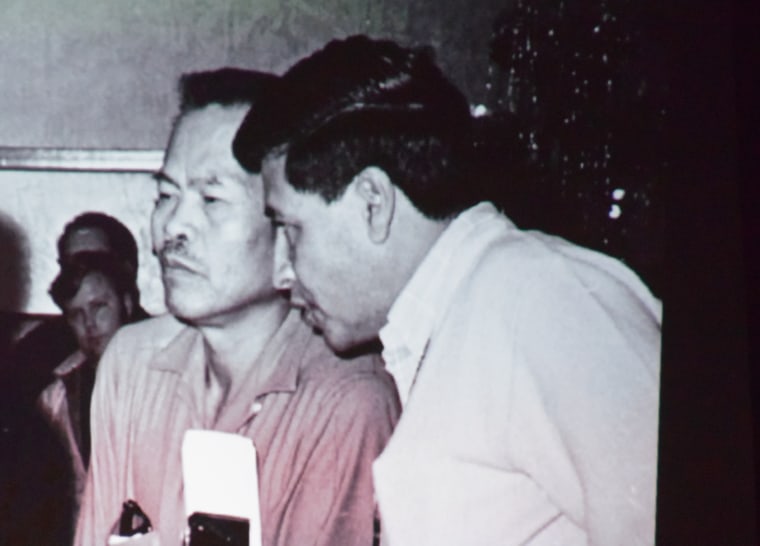 Itliong had organized the first walkout of Filipino workers on Sept. 8, 1965, when the growers refused to honor the union's demand for wages of $1.40 an hour. That's when Chavez first heard about the Filipinos in the streets, according to Gilbert Padilla, who co-founded the National Farm Workers Association (NFWA) with Chavez.
At a Labor Day celebration of the 50th anniversary of the Delano grape strike last month, Padilla said the NFWA was just an organization of workers and not a real union at the time. But when Itliong realized the Filipino workers needed the Mexican workers to defeat the growers, Padilla said Itliong's insistence persuaded the NFWA to merge with the AWOC.
"I feel we are just as good as any of them. I feel we have the same rights as any of them. Because in that Constitution, it said that everybody has equal rights and justice."
It didn't take long. By Sept. 16, the NFWA took a vote and the farm workers were united.
With more workers migrating from Mexico, Chavez became the leader of the United Farm Workers. Itliong was his second in command.
Itliong, who arrived in America from the Philippines in 1929 as a 16-year old with a 6th grade education, was typical of the early migration of Filipinos. Mostly men, who outnumbered women 10-1, they were intended to work the fields and not start families. Many arrived during the years of the Great Depression in San Francisco and took jobs where they could; most ended up in the Central Valley where they became migrants, following the crops up and down the western states and as far north as Alaska for the salmon season.
RELATED: Joint House, Senate Resolution Urges Recognition of Filipino American History
But the migrants also faced a strong anti-Filipino backlash for taking menial jobs and dating white women, which resulted in anti-miscegenation laws, and laws restricting property ownership. In 1934, Congress passed the Tydings-McDuffie Act which, among other things, reclassified Filipinos as aliens and created a quota for Filipino immigrants.
"You go to the United States where they pick money on trees," Itliong said during a classroom talk at UC Santa Cruz in 1976 and recorded by members of the Filipino American National Historical Society (FANHS).
He added, "Did that happen? Hell, no."
Itliong found that Filipinos were working the fields for less than a dime an hour. Within a year of his arrival, he began his first labor strike in 1930.
"I have the ability to make that white man know I am just as mean as anybody in this world," Itliong said. "I could make him think, and I could make them recognize that I'm a mean son of a bitch in terms of my direction fighting for the rights of Filipinos in this country. Because I feel we are just as good as any of them. I feel we have the same rights as any of them. Because in that Constitution, it said that everybody has equal rights and justice. You've got to make that come about. They are not going to give it to you."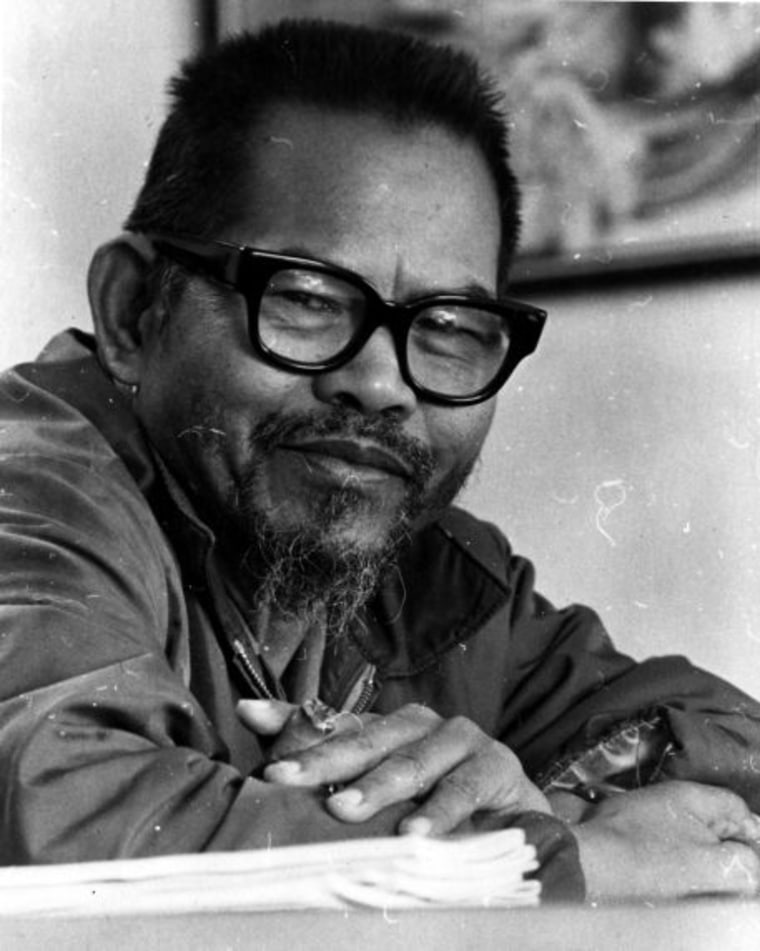 But going from grower to grower, crop to crop, the victories were temporal and didn't last. It was the pattern for more than three decades.
For Itliong, the Delano grape strike, in many ways, was a last stand for Filipino workers — many of whom, by 1965, were in their 50s and 60s, compared to their much younger Mexican counterparts.
After six years of the Delano strike, there were conflicts within the UFW, and Itliong decided to leave in 1971. But even after he left, Itliong was still sought after by the unions to help Chavez. "A lot want to buy me off," Itliong told the UC Santa Cruz students in 1976. "One of the biggest organizations that I grew up with in this country offered me $200,000...They said, Larry Itliong, we know you need money. You're doing a good job in California. We'll give you $200,000 to do whatever you want to do."
But, he said, the money would be his on the condition that he would help Chavez run the service center. It was as if the union acknowledged Chavez needed Itliong to continue the unity between Mexican and Filipino workers.
"I said, $200,000 to sell out my countrymen?" Itliong recalled. "I figure we have about 350,000 [Filipinos] in California. That's only $200,000. That's not even $1 dollar a head. No, I don't want your money. If I want to sell my countrymen, then give me $50 million — I'll take it."
Said with a laugh, it was that "tough guy" attitude that defined Itliong's outspoken and assertive style that made him a leader of a farm labor movement that coincided with the broader Civil Rights movement at the time.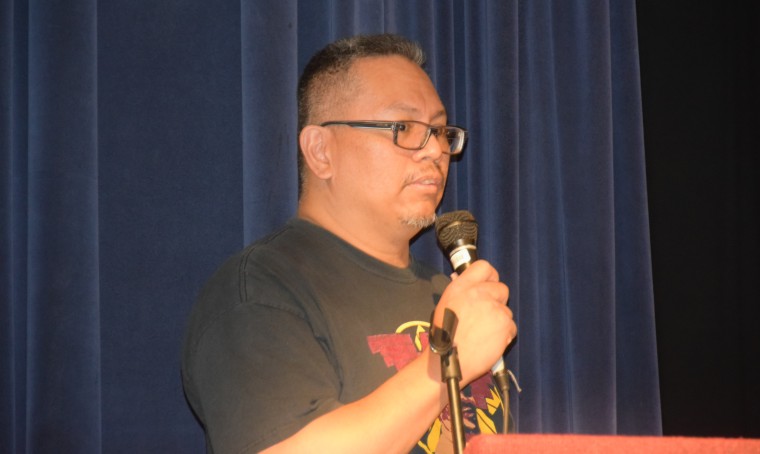 For what Itliong represents, Bonta said it's not far-fetched to consider a commemorative day beyond the state of California, especially with the national population of Filipino Americans growing to 3.4 million, according to 2010 Census data.
"Larry Itliong deserves a national day in his honor," Bonta said. "We're proud to have started with a California day in his honor and there will be celebrations up and down the state — not just this year, but for many years to come."
On Saturday, a parade celebrating Itliong will take place in Los Angeles. Another event on Sunday will feature a screening of the movie "The Delano Manongs: Forgotten Heroes of the United Farm Workers" in Stockton, one of the cities Itliong called home.
It's the culmination, Itliong's son Johnny said, of a long fight for recognition. "I only wish my father were here," he said.