DALLAS — For Larry Woo, racism wasn't a challenge. It was an inspiration.
He recalled that people would bring chopsticks to games he played as a teenager in Canada's Western Hockey League to mock him. They would also make racist gestures and use racial slurs, he added.
Woo grew up in a Winnipeg suburb, about 15 houses away from an outdoor rink. Picking up the game as a 7-year-old, it took a few years and a few insults before he realized that his face was different than others on the ice.
"Stuff like that, I was very used to it by that time. I wouldn't say it was much of a challenge," Woo said, "It was a little bit more of an inspiration to show people I could play."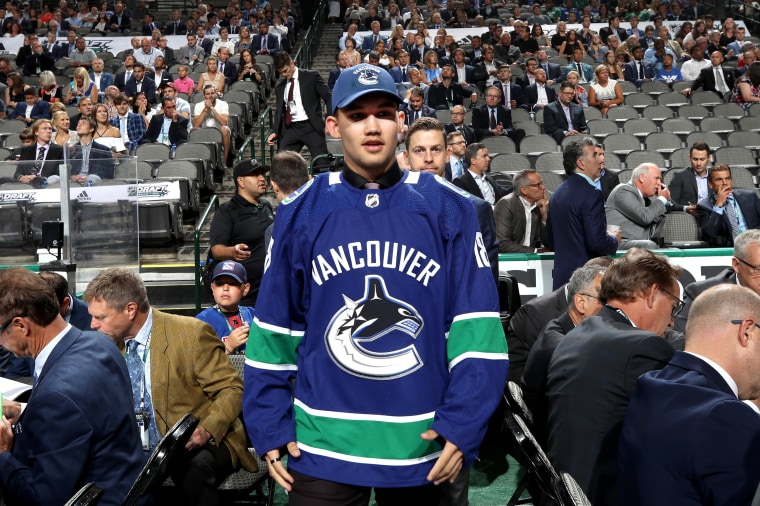 Fortunately, Woo's son, defenseman Jett Woo, drafted in the second round of the 2018 National Hockey League (NHL) draft in Dallas by the Vancouver Canucks, hasn't found it necessary to turn the other cheek, even though he plays in the same junior league his dad did.
"It's a different era now," Larry Woo noted. "I don't think anybody's ever stirred Jett up that way."
For the Woo family, however, some things remain the same, like hard work.
"My grandma raised me," Larry Woo recalled. "Both my parents worked all day and night at the restaurant."
And according to Larry Woo's cousin, Nobby Woo, their pig farmer ancestors, lured by the promise of work completing Canadian Pacific Railway track, emigrated from Kaiping, in the Guangdong province of China, in the 19th century. Parts of the Woo clan eventually settled in Winnipeg, opening different branches of the still-operating Chinese restaurant chain, Marigold.
"Rural China, had nothing. Work ethic is all we had," Nobby Woo said.
"That's something I've tried to instill in Jett," Larry Woo added. "If there's anything he wants out there, put the work in. Don't find the easy way."
It appears the lesson stuck for the highly-regarded Canucks prospect, who had been rated as a first-round talent by some analysts.
"He's a tireless worker," Larry Woo said. "That's something we're really proud of."
But it wasn't just the family work ethic that Larry Woo wanted to pass on to his son.
"One thing that I told Jett that was very hard to find was playing defense, working in the trenches, blocking shots, doing a lot of the things that people don't want to do," Larry Woo said.
Judging by Jett Woo's lofty draft position, just outside of the opening round, Larry Woo was right.
"That was the biggest part of my game, even from when I was a little kid," Jett Woo said. "I like to make sure the defensive side of the puck is taken care of."
Larry Woo laughed, "As a young kid, he was one of those kids who would chase you from one end, all way to the other, just to make sure you didn't score."
Where there's some disagreement between the Woos are the circumstances of how Jett was named Jett.
"The story I believe is Jet Li was coming to Winnipeg and my grandparents were going to be his host family," Jett Woo said. "But he decided to go to Hollywood, which worked out for him. My grandparents loved his name. My dad loved his name."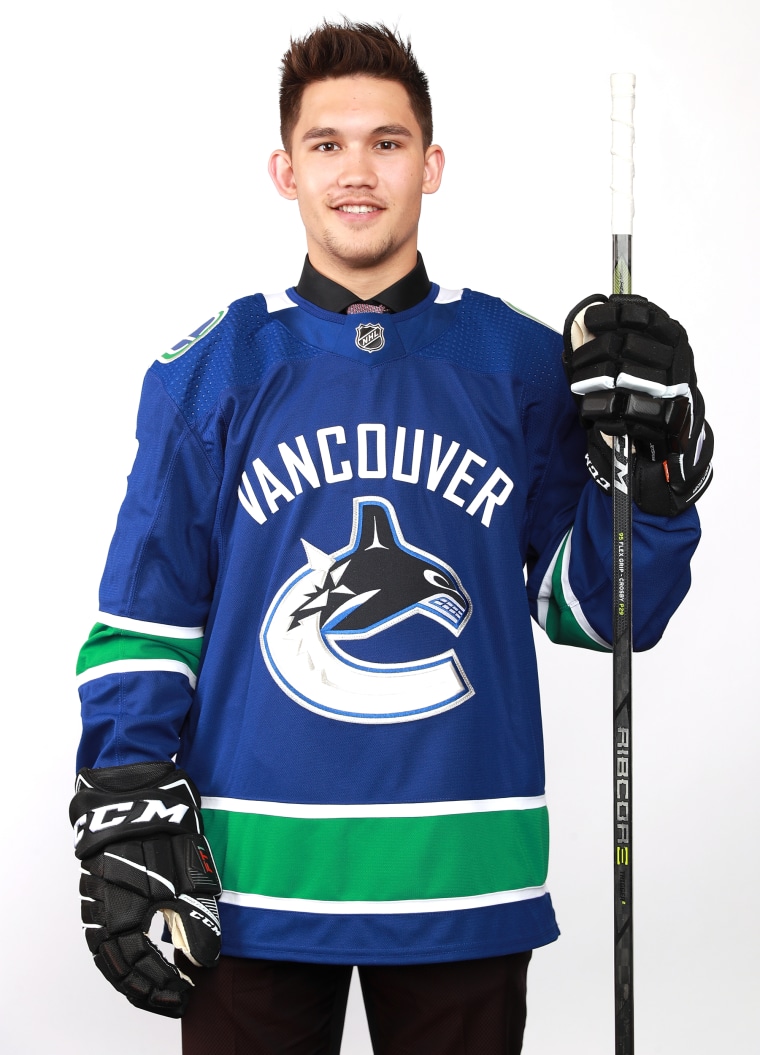 But Larry Woo wouldn't go so far as saying that his family was going to give the already well-established Hong Kong movie star room and board.
"At the time, my dad was in talks to be his sponsor, for him to emigrate to Canada," Larry Woo said."It was the first time I heard his name. I loved it. I thought it was a little different. He looked like a pretty cool guy.
"I was young too. I was 29. I thought the name was cool," he added."But I'm a Bruce Lee fan."
Like Bruce and Jet kicked down doors in Hollywood, Jett Woo can also be a trailblazer in the NHL. He's the rare player of Chinese descent to be drafted, the first since Andong Song in 2015.
"I didn't realize," Jett Woo said. "I was just a Winnipeg kid, working hard, stepping on the rink, going to the gym."
Woo was scheduled to participate in last weekend's Canucks rookie camp, but a lower-body injury suffered earlier this summer will delay his debut this season.
He's hoping to not be out for long.
"I'm excited to see what happens next," he said.
Follow NBC Asian America on Facebook, Twitter, Instagram and Tumblr.