As the lava flow from the June 27th Kilauea eruption on the Big Island of Hawaii moves toward Pahoa -- a town now better known for its hippie and wild west atmosphere -- it also threatens the Japanese-American community that built this town over a hundred years ago.
"I've had to help my friend's parents move out of their home in Pahoa. It was a very sad moment," said resident Sam Horiuchi. "I have great memories there, so sad to think of what will happen."
Japanese laborers first started coming to the area in the 1890's. The Olaa Sugar Company, later known as the Puna Sugar Company, was founded in 1899 on 34,000 acres -- the largest plantation in Hawaii. It was started with a radical plan to develop a home-owning class of farmers that would transform small scale farming.
Many of the Japanese laborers and their children settled in the town of Pahoa, building houses and starting businesses. According to the late local historian Hiroo Sato, in 1903, three people died and residents realized they needed an organization to take care for the communities' needs.
So in 1904, the Pahoa Nihonjin Kai (Japanese People Association) was founded to establish and care for the Pahoa Japanese Cemetery. The oldest marker is from 1904, belonging to a baby from the Yamada family who died soon after birth. The Association also built the Pahoa Nipponjin Shogakko (Pahoa Japanese Elementary School) for their children to learn Japanese.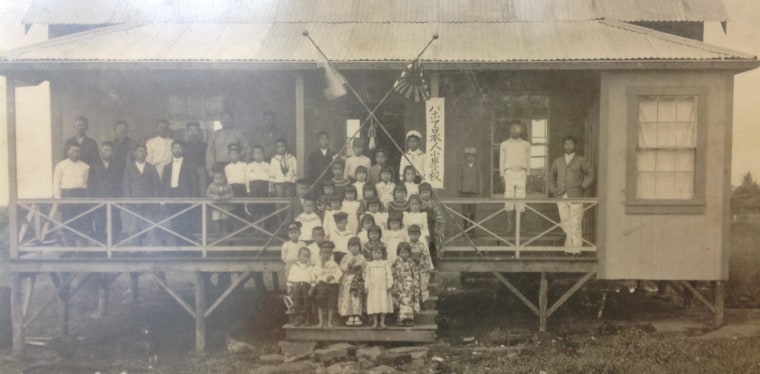 They built a community hall in 1913 and the Young Buddhists Association (YBA) Hall in 1921. They hosted obon dances, mochi-tsuki, and religious services to mark both life and death.
Now known as Pahoa Nikkei Jin Kai (Japanese Community Association), the community recently held a closing ceremony at Pahoa Japanese Cemetery in anticipation of possible coverage by the lava flow, and moved its Buddhist altar, mochi-making equipment, and historical documents to another temple.
"Some of our members have had to leave their homes and there is no telling when and if they will be able to return," said one member who did not want to be identified. "It's a time of uncertainty and varying degrees of grief for all Pahoa residents."
Yet in a recent newsletter, the organization pledged, "Nikkei Jin Kai will endeavor to remain a presence in the community. The annual hall and grounds clean-up is scheduled for November 22."