A group suing Harvard College claimed last week that the school's own research division concluded that its admissions system is biased against Asian Americans.
But Harvard countered that the analysis cited by Students for Fair Admissions, Inc. was "incomplete" and "preliminary" and had not reached that conclusion, according to recent court filings.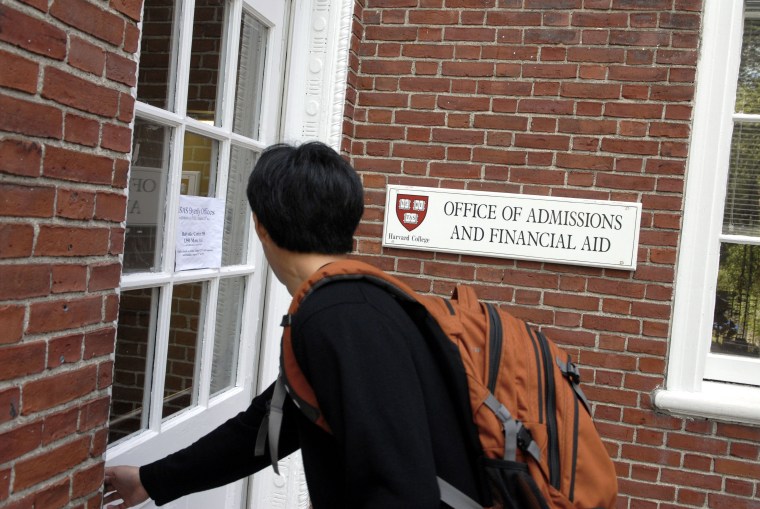 The arguments were detailed in motions filed in Boston federal court on Friday asking for summary judgment — in which a judge decides a case without it going to trial — in an ongoing discrimination lawsuit against the Ivy League school brought in 2014.
Students for Fair Admissions, whose members include Asian Americans who have been denied admission to Harvard, accuses the school of intentionally discriminating against Asian-American applicants by limiting their admissions numbers each year.
The group asserted that this is a constitutional violation of federal civil rights law because Harvard accepts federal funds.
Harvard, in its court filing Friday, said it believes the evidence shows that the school does not use quotas or racial balancing, adding that race is just one of many factors it considers in admissions decisions.
The Supreme Court has ruled that colleges cannot use racial quotas because they violate the Constitution's Equal Protection Clause, but may take race into account when making admissions decisions.
In court documents last week, Students for Fair Admissions advanced its discrimination claims against the school, accusing Harvard admissions officials of giving Asian Americans the lowest "personal rating" score of any racial group.
The rating, part of what's used to decide who is admitted, considers such things as whether an applicant has a "positive personality," as well as character traits like "helpfulness," "courage" and "kindness," according to a court filing by the group.
Students for Fair Admissions also referenced a chart, released as part of evidence sharing in the lawsuit, that came from the Harvard Office of Institutional Research. Students for Fair Admissions asserted that the report concluded that Harvard's admissions system is biased against Asian Americans.
Their court filing said that in 2013, the Harvard Office of Institutional Research created four models that included different racial categories to see what hypothetical percentage of students would be admitted based on various criteria.
When only academics were considered, Asians made up 43 percent of the admitted class, the document said. After accounting for recruited athletes and legacies, that figure dropped to 31 percent, and for extracurricular and personal ratings, 26 percent.
The actual share of admitted Asian Americans cited in the report was 19 percent, the Students for Fair Admissions court filing said.
That percentage, more or less, matched up with a fourth model, which predicted the school's admitted class if admissions decisions were based on eight factors, according to court papers. Those included student gender and race or ethnicity, in addition to academics, extracurriculars and personal ratings, among other things.
The group said that if Harvard's admission process was like the fourth model, the share of Asian-American students would drop by more than 8 percentage points. That would represent a 32 percent decrease in their share of the overall class, accounting for the largest drop of any racial group, court documents said.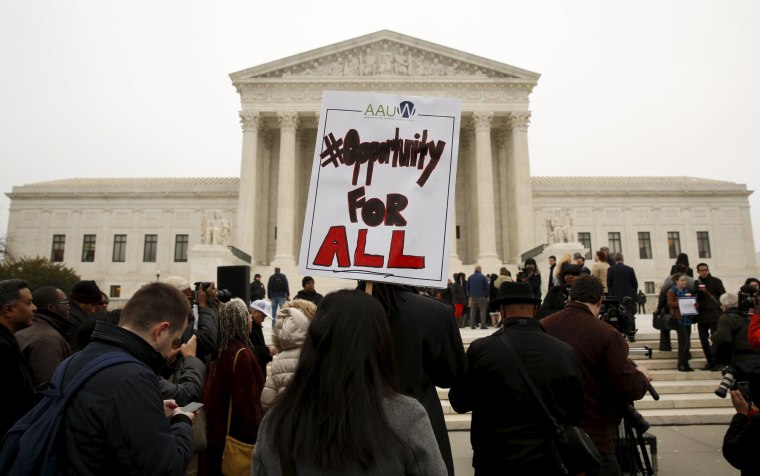 "Faced with an internal investigation showing systemic discrimination against Asian-American applicants, Harvard killed the study and quietly buried the reports," Students for Fair Admissions alleged in court papers.
But Harvard, in its filing, said the analysis cited by the group was "incomplete, preliminary and based on limited inputs," adding that it "was not designed to evaluate whether Harvard was intentionally discriminating and reached no such conclusion."
"The documentary and testimonial evidence about Harvard's admissions process demonstrates that Harvard carefully considers every applicant individually, using the same thorough reading and committee procedures for all applicants," the school wrote in court documents.
The issue of whether Ivy League and elite schools discriminate against Asian applicants has fueled a contentious debate over affirmative action that has found the Asian-American community front and center.
Some argue that the number of Asian-American students admitted annually to Ivy League schools has not kept pace with an overall increase in the Asian-American population. Others say these lawsuits are an attack on affirmative action, which they say promotes diverse learning environments.
The Justice Department, which launched its own independent investigation into Harvard's use of race in admissions, notified the court in April of its "substantial interest" in the lawsuit.
In addition to Harvard, Students for Fair Admissions has also sued the University of North Carolina at Chapel Hill and the University of Texas at Austin in separate cases, alleging they use discriminatory admissions policies.
The president of Students for Fair Admissions, Edward Blum, recruited Abigail Fisher, the lead plaintiff in Fisher v. University of Texas.
Fisher, who is white, first sued the University of Texas at Austin in 2008, arguing that its holistic-review process, which considers race along with other factors, put her at a disadvantage to other applicants.
In June 2016, the U.S. Supreme Court voted 4-3 in that case to uphold the school's affirmative action policy.
In its suit against Harvard, Students for Fair Admissions hired Duke University economist Peter Arcidiacono to review six years of admissions data.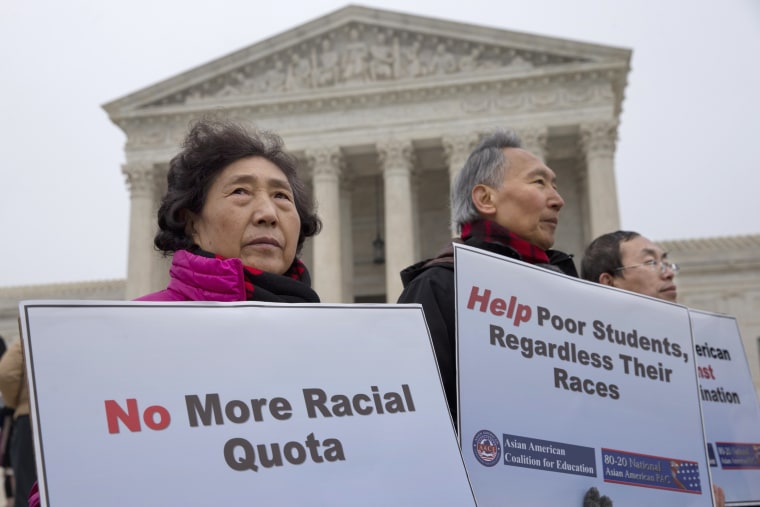 He found that Harvard allegedly discriminates against Asian-American applicants in at least three areas. That includes the personal rating; the overall score, which the group called "subjective"; and selection of applicants, court papers purported.
Through his models, Arcidiacono found that an Asian-American male applicant with a 25 percent chance of admissions would see that rise to 32 percent if he were white, court papers contended. And if the personal rating were excluded, his chances would further increase to 35 percent.
This amounted to a "penalty" against Asian-American applicants, court papers alleged.
"If they had been treated like white applicants, an average of approximately 44 more Asian Americans per year would have been admitted to Harvard over the six-year period the experts analyzed," the group argued in its court filing.
But Harvard took issue with Arcidiacono's findings. The school contended that his analysis was flawed because it excluded numerous applicants, pooled together admissions data across all six admissions cycles, and left out the personal rating from his preferred model.
The personal rating component captures, among other things, information from recommendation letters and personal essays that may otherwise not be observable, court documents failed by Harvard purported.
"The same modeling approach on which Dr. Arcidiacono relies to conclude there is bias against Asian-Americans in the personal rating finds bias in favor of Asian-Americans in academic and extracurricular ratings," Harvard's motion contended.
Harvard said that its expert, David Card, an economist at the University of California, Berkeley, instead used a model that "accounts for the full range of observable information considered in the whole-person Harvard admissions process" and "shows no negative effect of Asian-American ethnicity in the admissions process."
In Harvard's admitted class of 2021, 22 percent of students were Asian, 15 percent African American, 12 percent Hispanic or Latino, and 3 percent Native American or Pacific Islander.
Judge Allison D. Burroughs has sceduled a bench trial to begin on Oct. 15.
Follow NBC Asian America on Facebook, Twitter, Instagram and Tumblr.