Last February, artist Ai Weiwei draped the columns of a concert hall in Berlin with life jackets used by refugees as they crossed the Mediterranean.
"The privileged ones are not bearing enough responsibility, so I hope people see this as a human issue."
His latest art installation, scheduled to be on display from October to February 2018, includes two cage-like structures in New York City — a silver one in Washington Square Park with the silhouette of two people embracing and a golden one in Central Park. In Queens, he has also installed a low fence around the Unisphere, the globe built to celebrate the 1964 World's Fair.
The pieces, along with other exhibits installed throughout the city as part of Ai's "Good Fences Make Good Neighbors," use structures like bars and turn-styles to highlight the refugee crisis.
Their creation is connected to the documentary "Human Flow," Ai's directorial debut. Scheduled to be released in select theaters Friday, the film opens with refugees arriving by boat on the island of Lesbos, Greece, where Ai got many of the life jackets used in his Berlin installation.
"I wanted to do anything possible to not only support and honor the people who are still living and who have died, but as a reminder that this is something happening all over the world," Ai told NBC News.
According to the United Nations, more than 65 million people were displaced from their homes at the end of 2016 due to violence and persecution.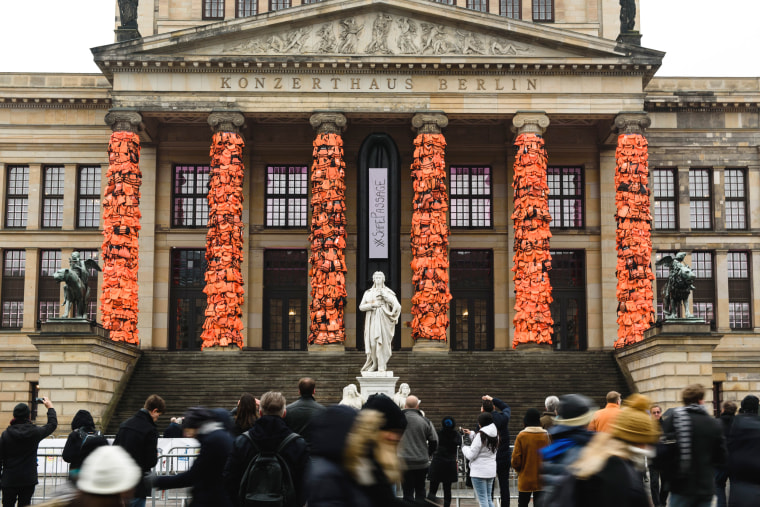 Ai, a prominent Chinese dissident widely known for consulting on the country's "Bird's Nest" stadium for the 2008 Summer Olympics, said he decided to create a documentary about the refugee crisis because he wanted to use a medium that could reach more people.
Currently living in Europe, Ai was arrested in China in 2011 and had his passport seized on charges of tax evasion, which he has denied. His passport was not returned until 2015. He also said he wanted to understand what would cause someone to risk their lives to go to a country they're unfamiliar with.
"The refugee crisis is getting so big that I felt like I wanted to get to know and understand it more, and to encourage other people to know about it too," Ai said. "It's not an issue just for myself, but for the public. It really is a human condition and a human crisis. We all have in responsibility in this."
To produce the film, Ai and his crew visited 23 nations and more than 40 refugee camps, including locations in Afghanistan, Bangladesh, France, Mexico, and the United States.
In total, Ai and his crew of about 200, split between different locations, interviewed approximately 600 people, resulting in more than 100 hours of footage, Ai said. The production took a year and a half to complete.
Ai noted that he made an effort to connect with each individual he spoke with. Because of his experience growing up as the child of a Chinese poet deemed a traitor, Ai said he felt a connection to the subjects in his documentary because of the similar conditions they faced.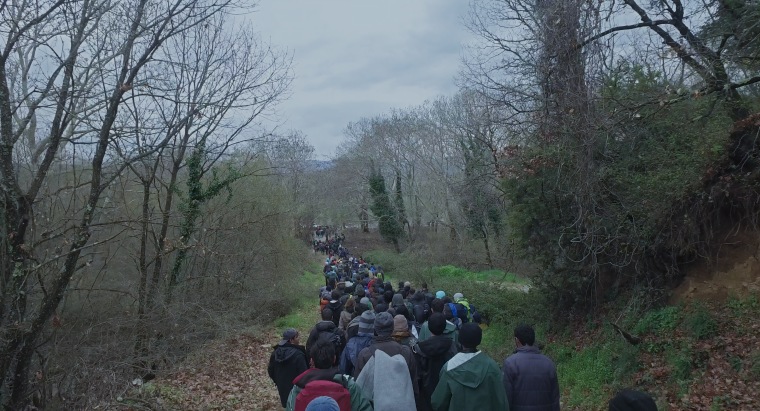 "Even though I may not have gone through exactly what they did, the roughness of the living condition is the same," Ai said. "I didn't have a difficult time approaching or speaking with them, or identifying myself as one of them. I felt like I was part of them."
He added that a part of the joy of making the film was when he and the refugees attempted to understand each other. During his interviews, Ai would let people cut his hair and would also cut theirs. He also joked with his subjects and waited for them to become comfortable.
"I shared my feelings and let them come to me," he said.
Ai hopes people who watch the documentary recognize that the world is still flawed and commit to shed light on the refugee crisis.
"There are people who are very privileged and who have so many resources, and then there are those who barely have the necessities one needs to survive, or who don't even have a future," Ai said. "The privileged ones are not bearing enough responsibility, so I hope people see this as a human issue."
Follow NBC Asian America on Facebook, Twitter, Instagram and Tumblr.