Taiwanese often joke ruefully about how westerners confuse Thailand with their democratic, self-ruled island off the coast of China. But the uninitiated got an unexpected primer last week in Taiwan's struggle toward democracy when President-elect Donald Trump accepted a congratulatory call from the island's first female president, Tsai Ing-wen.
Now, with Taiwan's name fresh in the public's vernacular, Taiwanese-American LGBTQ activists also want the world to know that their island could become the first place in Asia to legalize same-sex marriage.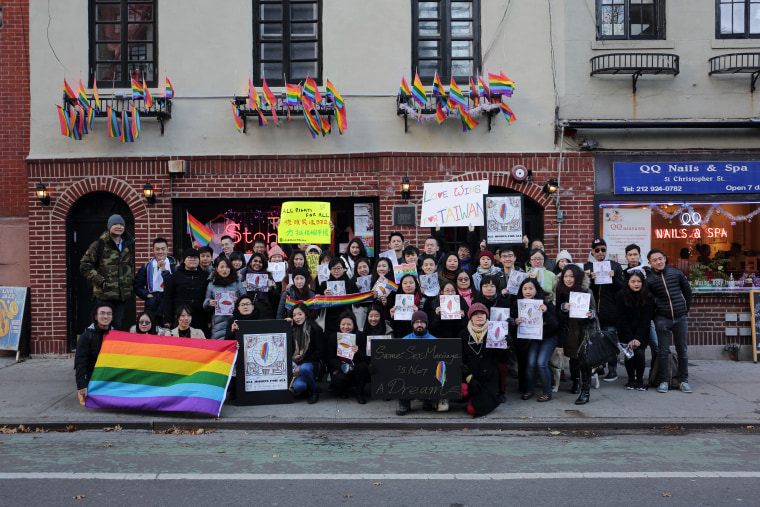 "This is a good way for us show that as a country, we might not be doing as well economically compared to China or South Korea or Japan," Wen Liu, a 29-year-old doctoral student who identifies as queer, told NBC News. "But then I think Taiwan, as a small country, is really trying to put forth another vision for Asian democracy, for a place that can hold liberal values and gender and sexual equality."
Bringing their fight for marriage equality to the West, Taiwanese LGBTQ activists abroad have held rallies in U.S. cities, including Seattle and Chicago, as well as the United Kingdom, Germany, and Japan, according to Liu.
"Especially [for] younger folks, even when the marriage is legalized, it's still hard to come out to their parents. I think there's still a huge cultural issue that will probably take a longer time."
Just this past Saturday, a group of 70 to 80 demonstrators marched from Manhattan's Washington Square Park to the Stonewall Inn in Greenwich Village, said Liu, an organizer with Overseas Taiwanese for Democracy. The bar was the site of an uprising in 1969 that launched the fight for gay and lesbian rights in the United States.
While just one in five in China favor accepting homosexuality, according to a 2013 study from Pew Research Center, roughly one in two in Taiwan support legalizing same-sex marriage, a Nationalist party poll published late November in the island's United Daily News reported.
Practical concerns, such as sharing assets and having a family, are important to LGBTQ Taiwanese hoping to marry, Liu said. Marriage equality, she added, is "a stepping stone to gain more visibility and symbolic recognition."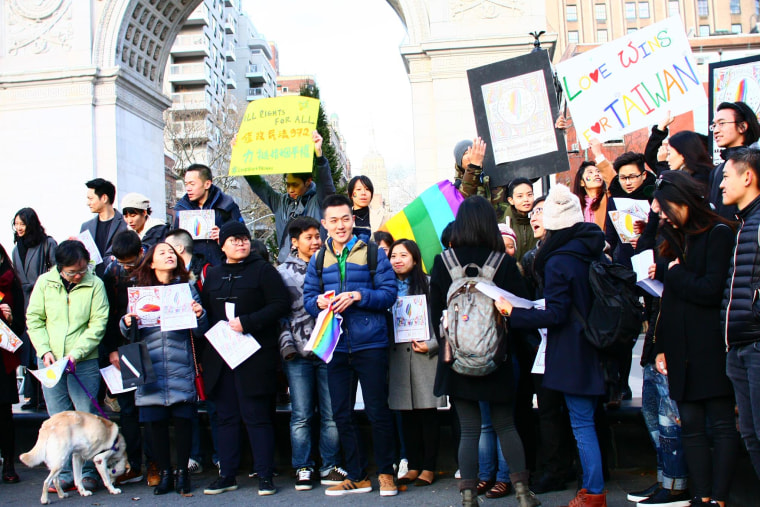 But challenges remain on the island of 23 million, where nearly one in two also said they couldn't accept a family member who is LGBTQ, according to the same Nationalist party poll.
"Especially [for] younger folks, even when the marriage is legalized, it's still hard to come out to their parents," Liu said. "I think there's still a huge cultural issue that will probably take a longer time."
RELATED: Taiwan Set to Legalize Same-Sex Marriage, a First in Asia
That a lot of younger Taiwanese still live at home also complicates things, Liu added. Because of the economy, she said, some cannot afford to move out on their own.
"If you can't live alone, you have to stay with your parents," she said. "It's impossible to even think about having a family."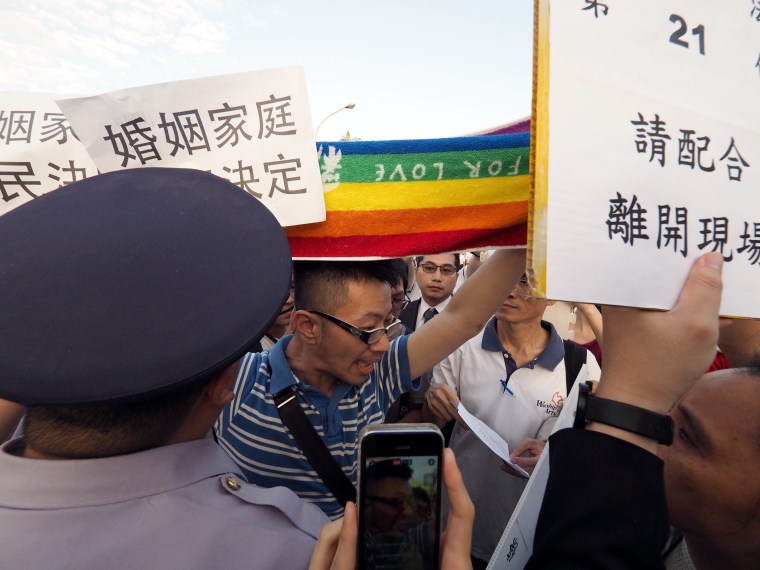 Much of the debate in Taiwan now has centered on whether to amend the civil code to include same-sex couples under the definition of marriage, or to pass special legislation granting partnership or marriage rights.
Regular protests on both sides have become commonplace throughout the island. Last week, thousands of LGBTQ supporters packed the streets of Taipei, Taiwan's capital, in support of revising the code. Others against same-sex marriage, including religious groups, did the same over the past weekend.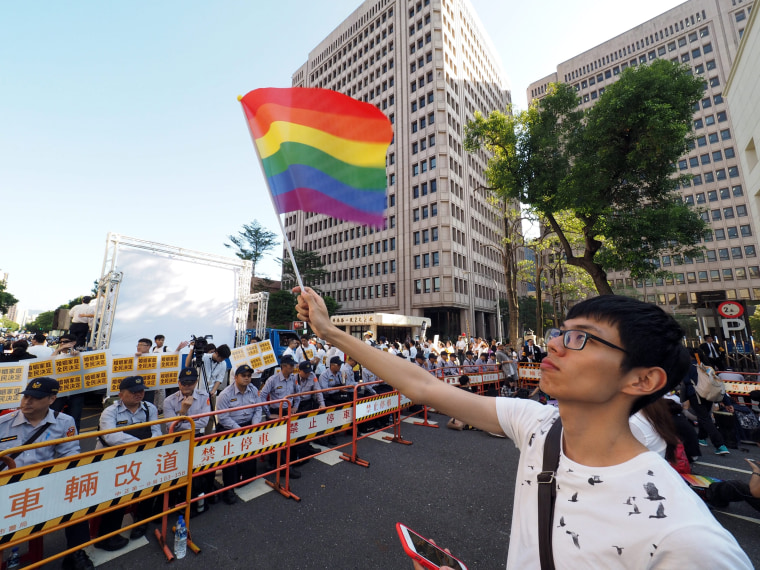 In Taiwan's LGBTQ community, many oppose a special partnership law since it would apply only to gays rather than open up marriage for all, Liu said.
"Having more liberal LGBTQ rights will be a good way not only to benefit the LGBTQ population in Taiwan, but also to just let the world know that Taiwan is a country for social democracy and [has] a lot of the liberal values that progressives in the U.S. also hold," she said.
Follow NBC Asian America on Facebook, Twitter, Instagram, and Tumblr.