A Brooklyn judge Thursday denied former New York Police Department (NYPD) Officer Peter Liang's request for a new trial, clearing the way for his sentencing next Tuesday, April 19.
State Supreme Court Justice Danny Chun ruled that Liang's attorneys did not prove that 62-year-old Michael Vargas, known as Juror 9, committed juror misconduct during jury selection when he said no one in his close family had been accused of a crime. Vargas' father, Norberto Vargas, was convicted of manslaughter and served more than seven years in prison for "accidentally shooting a friend," according to a motion filed by Liang's attorneys — Paul Shechtman and Gabriel J. Chin — that quoted Vargas in an interview with the New York Daily News.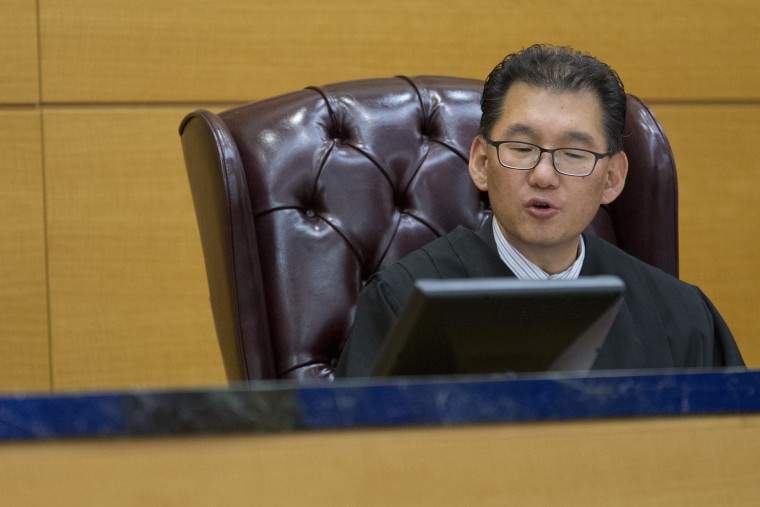 But Shechtman and Chin failed to prove, as detailed in their motion, that Vargas allegedly gave an untruthful answer to get on the Liang jury, the judge ruled.
"I'm disappointed," Shechtman said after the hearing. "I think we showed this person lied about his father's manslaughter conviction."
Chun also found that Liang did not warrant a new trial on the grounds that Vargas, during jury selection, failed to disclose Facebook posts he allegedly shared that were critical of police. Some of those images and videos, including one of a police officer punching a woman, were the subject of at times hostile testimony that Vargas provided in court Wednesday and Thursday after being subpoenaed.
RELATED: Former NYPD Cop Peter Liang's Guilty Verdict Leaves a Community Divided
Vargas, who said his step-mother's brother is a retired court officer, testified he had shared posts on Facebook that also supported police.
Liang, 28, was convicted in February of second-degree manslaughter and official misconduct for fatally shooting Akai Gurley while patrolling an unlit stairwell of a Brooklyn housing project in November 2014. Liang testified he was startled by a sound and fired accidentally, the bullet ricocheting off the wall and striking Gurley. But prosecutors argued Liang was reckless and never stepped in to perform CPR on Gurley who lay dying.
After the hearing let out around 4:10 p.m., several Liang supporters, including John Chan of the Coalition of Asian Americans for Civil Rights, whose group organized rallies and raised money for Liang's defense, headed across the street to speak with press behind metal police barricades. Dozens of NYPD and court officers stood sentry outside the courthouse.
A few minutes after Chan and Democratic state Assemblyman William Colton of Brooklyn began speaking, around a dozen Gurley supporters approached the barricades. One held aloft a sign that read, "Akai Gurley, Once Again Hearts Broken."
"There is a tremendously anti-police climate here, and you see the hatred and the passion, and this is what is wrong with New York City," Colton said. "We will not be intimidated by voices that act on emotion."
Hertencia Petersen, Gurley's aunt, spoke with reporters in the same penned in space further down on Jay Street.
"Peter Liang needs to go to jail," she said. "Peter Liang needs to be held accountable."
RELATED: Brooklyn DA Won't Seek Prison For Peter Liang After Conviction in Akai Gurley Death
Earlier Thursday morning, around 200 Gurley supporters, including family and friends, gathered outside the courthouse to protest the postponement of Liang's sentencing. Originally set for Thursday, it was rescheduled to allow for the hearing into allegations of juror misconduct.
Gurley's family and supporters were outraged when Brooklyn District Attorney Ken Thompson recommended last month that Liang receive no jail time and instead be sentenced to five years probation, six months of home confinement and 500 hours of community service.
"Does the Brooklyn DA, Liang's attorneys, and the justice system think this is some kind of game?" Petersen said. "We are disgusted with the justice system. Stop killing Akai again and again with your tricks."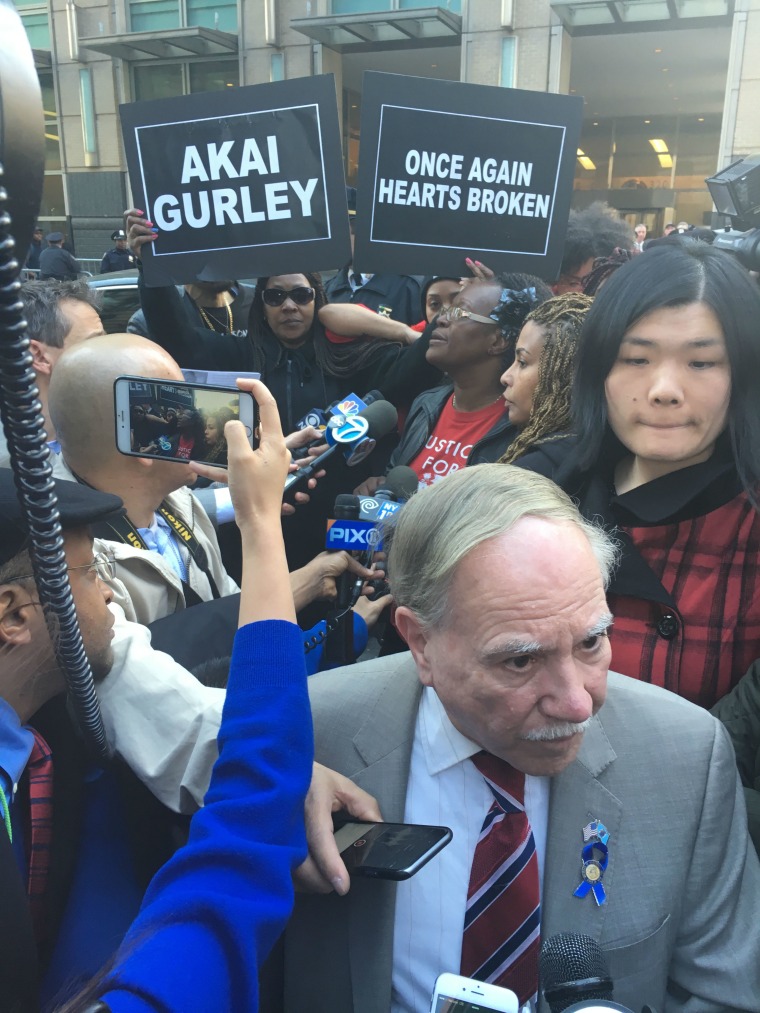 On the night of Nov. 20, 2014, Liang and his partner, former NYPD Officer Shaun Landau, were patrolling an unlit stairwell of the Louis H. Pink Houses in Brooklyn when Gurley was killed. After opening the eighth-floor door, Liang testified he was startled by a sound and fired accidentally, the bullet ricocheting off the wall and striking Gurley who was one floor below.
Prosecutors argued that Liang, who graduated from police academy in 2014, violated key critical life-and-death training when he recklessly pulled out his gun, fired without reason, and then argued with his partner over calling for help as Gurley lay dying. Assistant District Attorney Marc J. Fliedner told jurors that, after the shot rang out, neither Liang nor Landau called it in to supervisors, even though both had working radios and cellphones.
Liang's attorneys at the time, Rae Koshetz and Robert Brown, said Liang was in a "state of shock" when his gun accidentally went off, and that he was unaware the bullet had struck anything. During opening statements, Koshetz said Liang tried to make several radio transmissions that were incomplete or didn't go through. She added Liang was so upset about what had happened that he had to ask for the address of the building several times and write it in his cellphone before transmitting it correctly.
Prosecutors also told jurors that Liang, after coming across Gurley, did not step in to administer CPR. Gurley's friend, Melissa Butler, instead performed the procedure according to instructions relayed over the phone to a neighbor by an emergency medical dispatcher.
RELATED: Ex-Cop Peter Liang Apologizes to Akai Gurley's Domestic Partner in Meeting
Liang testified he had received inadequate CPR training and was given answers to an exam that tested his knowledge of the procedure. In a motion last month to set aside the verdict, Shechtman and Chin wrote that Liang "had no reason to believe he was more capable" of performing CPR than Butler and that he acted as a "reasonable officer" would by summoning help.
Liang faces up to 15 years in prison when sentenced on April 19. His attorneys plan to file an appeal.
Follow NBC Asian America on Facebook, Twitter, Instagram, and Tumblr.