Peter Liang's two new attorneys filed a written motion Tuesday to set aside the former New York Police Department (NYPD) officer's Feb. 11 conviction on charges of manslaughter and official misconduct in the fatal shooting of an unarmed man in Brooklyn.
The 21-page memorandum of law, submitted by Paul Shechtman and Gabriel J. Chin, argues that Liang did not recklessly cause Akai Gurley's death on Nov. 20, 2014, and that police procedures did not require Liang to administer CPR to Gurley, a procedure in which Liang's attorneys say the rookie officer was "grossly inadequately" trained.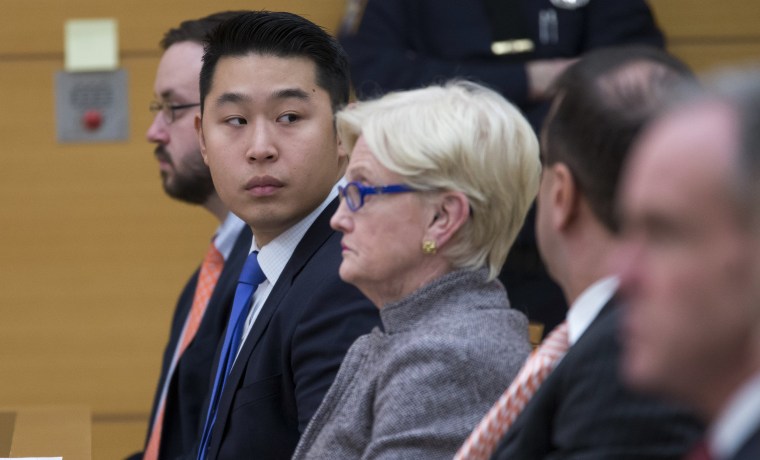 The motion comes a little more than a week after an NYPD Police Academy instructor who trained officers in CPR was placed on modified duty following allegations raised at Liang's three-week trial that officers received inadequate CPR training and were given answers to the multiple-choice test.
"If the People continue to press a 'he-should-have-performed-CPR' theory in response to this motion, it would be to punish an officer for not performing a task that he was not trained to do," Liang's attorneys wrote.
RELATED: Police Academy Instructor, Who May Have Instructed Peter Liang, Placed On 'Modified Assignment'
The Brooklyn District Attorney's Office, which prosecuted the case, did not respond to a request for comment.
Liang, 28, fatally shot Gurley while on a vertical patrol of an unlit stairwell with his partner, former Officer Shaun Landau, at the Louis H. Pink Houses in the East New York neighborhood of Brooklyn. The bullet, fired from the eighth floor, ricocheted off a cement wall, striking Gurley who had entered with his friend Melissa Butler from the floor below. Butler tried resuscitating the 28 year old, who collapsed on the fifth-floor landing, based on instructions relayed to her through a neighbor who spoke by phone with an emergency medical dispatcher.
Liang, who was terminated from the NYPD, faces up to 15 years in prison when sentenced on April 14 by Judge Danny Chun. Landau, a prosecution witness who was granted immunity, was also dismissed from the force following Liang's guilty verdict.
Prosecutors argued at trial that Liang violated key critical life-and-death training when he recklessly pulled out his gun, fired without reason, and then argued with his partner over calling for help as Gurley lay dying. In opening statements, Assistant District Attorney Marc J. Fliedner said that after the shot rang out, neither Liang nor Landau called it in to supervisors, even though both had working radios and cellphones, and neither stepped in to help Butler perform CPR.
RELATED: New Lawyers Expected to Help Ex-Cop Peter Liang with Appeal
"This man had just shot an innocent man, and he never even knelt to try to fix what he'd done, to try to undo what he'd done," Fliedner told the jury.
But Shechtman and Chin argue in court papers that the evidence does not support a guilty verdict for second-degree manslaughter and official misconduct. They wrote that Liang's gun, which was drawn, was pointed downward and that his finger was on the frame of his weapon, and not the trigger as prosecutors had argued. Liang, who testified that it's up to officers when to unholster their weapon, thus "did not disregard a substantial and unjustifiable risk" that his actions would cause Gurley's death, the memorandum said.
"Once in the stairway, Officer Liang was startled by a quick sound and 'flinched,'" according to the memorandum. "His hand clenched, his finger accidentally pressed the trigger, and a bullet was discharged into the stairwell below."

Shechtman and Chin also challenged Liang's official misconduct conviction, writing that Liang "had no reason to believe he was more capable" of performing CPR than Butler and that he acted as a "reasonable officer" would by summoning help. At trial, Rae Downes Koshetz, one of Liang's defense attorneys, said in opening statements that Liang made several radio transmissions after realizing Gurley had been hit, but that they were incomplete or did not go through.
"Never before has a defendant been convicted of reckless manslaughter on less proof of blameworthy conduct than that adduced against Peter Liang," Shechtman and Chin wrote.
Follow NBC Asian America on Facebook, Twitter, Instagram, and Tumblr.