Comedian Hari Kondabolu became a fan of the "The Simpsons" the instant he saw them on "The Tracey Ullman Show," where the animated family from Springfield debuted before being adapted into their own series in 1989.
"When they made it a full time show, it was a cartoon during adult time and that was weird," the comedian told NBC News. "It was immediately attractive and my friends and I watched it from the get-go."
Initially, I was excited as a 9-year-old because there was never a brown face on television. You're hungry, you want something.
But there was one problem with the show that nagged at Kondabolu, even as a child.
The character Apu Nahasapeemapetilon — the owner of Springfield's Kwik-E-Mart, a popular convenience store in the middle of town — seemed to embody every stereotype about the South Asian community the comic grew up in.
Kondabolu has made Apu a regular figure in his stand-up bits, and he explores the issues with the character in a new documentary "The Problem With Apu," which is scheduled to debut at the DOC NYC film festival on Nov. 14 and air on TruTV on Nov. 19.
"Initially, I was excited as a 9-year-old because there was never a brown face on television," Kondabolu said. "You're hungry, you want something."
Even more grating, he added, was that Apu was voiced by Hank Azaria, a white actor.
"To imagine a white dude doing that voice, that was a torment," Kondabolu said. "It was like bullying from behind the screen."
A representative for Azaria declined to comment.
While the 35-year-old Kondabolu often thought about how unrealistic and offensive the character was, it was not until he was a writer for the FXX show "Totally Biased with W. Kamau Bell" in 2012 that he incorporated those thoughts into his work. Mindy Kaling's "The Mindy Project" had just been announced, and he wrote a segment on representation, he recalled.
In his bit, Kondabolu singled out Apu and the history of South Asians on American television. He said it immediately went viral.
"It was all over the Internet and it was passed around in classrooms," Kondabolu said. "I didn't expect it to have the impact that it made."
While filming the documentary, Kondabolu knew he wanted to return to the conversations his original segment created. Topics covered include the history of minstrelsy, how Apu's accent came to be, and the stereotypical roles South Asian-American performers continue to get offered in Hollywood.
"I don't find Apu offensive, I find him annoying and insulting," he said. "But for me, one: It's inaccurate. Two: It's insulting to my parents. And three: When that's the only depiction you have, that's how the world sees you."
"I don't find Apu offensive, I find him annoying and insulting. I'm not offended by him."
The documentary includes interviews with fellow comedians Aziz Ansari, Hasan Minhaj, Aparna Nancherla, and Russell Peters as well as comments from actors Sakina Jaffrey, Aasif Mandvi, Danny Pudi, and former Surgeon General Vivek Murthy.
"I wanted to show the broad range of people affected by it," Kondabolu said. "Because for me personally those are my parents, you are basically making fun of my parents."
But despite his dislike of Apu, Kondabolu said he remained a fan of "The Simpsons" and hailed it as one of the greatest shows of all time. He also compared the compromises he made regarding one of his favorite shows to the mental tightrope many people have to walk regarding pop culture.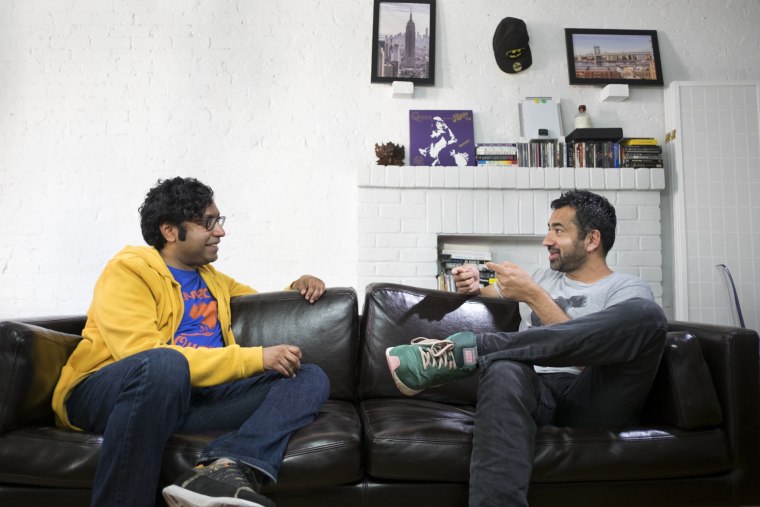 "You can still take value from other aspects of it," he noted. "I just hate the fact that it's often people of color who are having to often deal with things like that. They have to accept the reality of 'we're going to be made fun of, this is a poor depiction, but I can still get something out of it.'"
While Apu actor Hank Azaria has indicated in past interviews that he has seen Kondabolu's original monologue, Kondabolu said the two have yet to have a conversation about Apu's legacy and place in pop culture.
"I would absolutely talk to him. Ultimately the film is about accountability it's about respect, it's about open dialogue," Kondabolu said. "The film is important but having these conversations about why these things matter and why representation is important, that's key."
Follow NBC Asian America on Facebook, Twitter, Instagram and Tumblr.