Hoopin'. For many, basketball is a lifestyle, a culture influencer, and a beloved American sport. It's an avenue for business, a road of opportunity for players, and a way for fans throughout the world to be united in their team's colors.
But for some Asian Americans, hoopin' has required jumping through hoops.
There's a stereotype that's often been associated with Asian Americans in basketball — a stereotype that's affected the players of the Bloomfield Dream League, an all-Asian league in the Metro Detroit area, their whole lives.
"I play pretty much every day and it's weird because when a lot of people are playing, no one wants to pick up an Asian kid," Gonzalo Antonio, a Filipino-American who works at a consulting firm and is captain of one of the teams in the league, told NBC News. "They're thinking, well, 'Hey, he doesn't look the part, doesn't fit the mold, he probably can't play, can't hoop or anything.' You have to constantly prove yourself and it's kind of irritating."
Antonio's fellow Filipino-American teammate, Mike Cagalingan, tells NBC News he was cut from his high school team after trying out twice.
"Off the court, everyone knew that I could play," Cagalingan said. "Everyone was telling me, 'Yeah you should try out.' But, I never made the team. Everyone was shocked. I never knew why I never made it."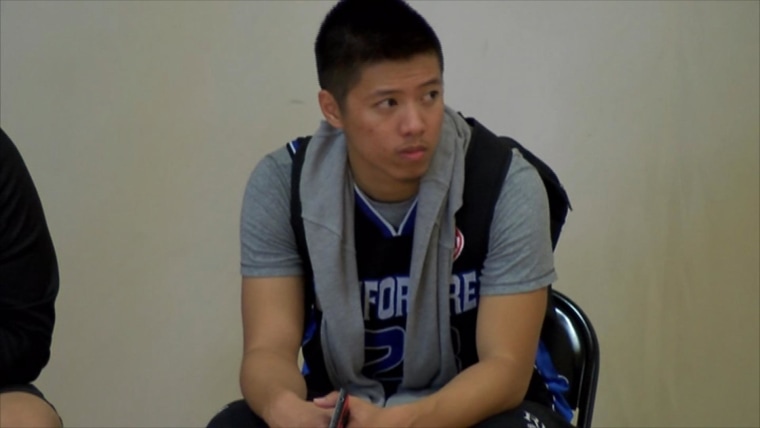 Yen Ju Lee, a psychiatrist who is Taiwanese, is also on the team and came to the U.S. in 2008 for school. He says a big reason for why some people may look at Asians differently when lacing up those sneakers to hoop is rooted in xenophobia.
"People, they kind of stare down people outside their race," Lee said. "As far as we know, we don't understand — we don't see them as much as we see our own race. That's why [we're] kind of scared about 'the alien,' right? We don't know what [it's] going to do to us. I think that's why we need to promote and let everybody know that everybody — even though we come from different cultures, different background, different families, different traditions — in our society, we have been educated in the same way. We have the same amount of fair knowledge to do the same thing so we need a fair shot."
"I love basketball. I wanted an outlet to just continue ballin'."
As shots fall left and right from Asian Americans who can post it up and sink a hook shot, along with those who have range and swish the three-ball on an early Saturday afternoon for the Bloomfield Dream League, players see that there really is that "fear of the unknown."
"I feel like they think that we don't know how to play and don't really don't know how to run the court," Lee said.
Ron Gayta, Bloomfield Dream League director, echoes Lee's thoughts. "Basically, [the stereotype is] we all look like Jeremy Lin," Gayta told NBC News. "Or we're that Jeremy Lin fan or we're short, can shoot, but can't really do anything else on the offensive end."
As the NBA regular season begins Tuesday, Lin is on people's minds when the conversation about Asian Americans and sports comes up. Lin, who became a household name in 2012 when "Linsanity" took over New York City, will make season debut with the Charlotte Hornets — his fifth professional team of his career.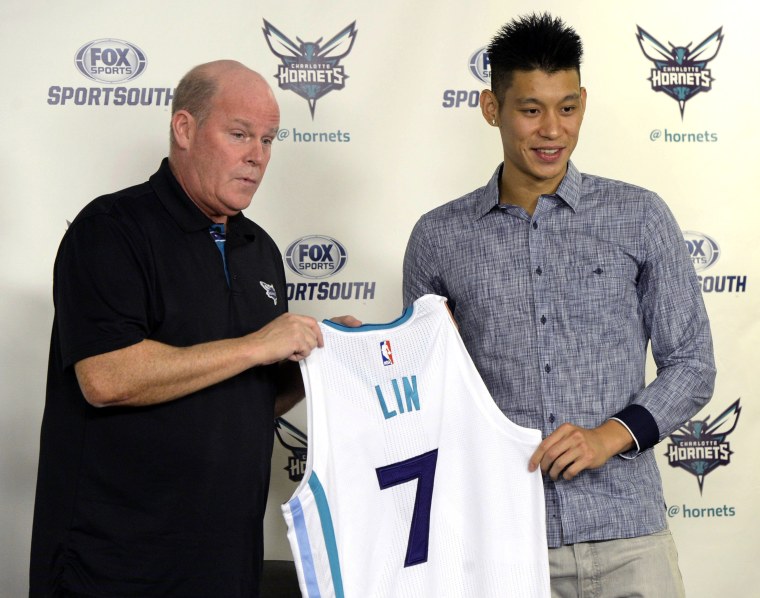 The phenomenon created by Lin's presence on the court has had an impact in the NBA and throughout rec centers, school teams, and leagues across America, including all the way north to Metro Detroit.
"Now every time I play, I always get compared to him," Cagalingan said. "Now there's a player that people can say, 'You play like him.'"
"...no one wants to pick up an Asian kid. They're thinking well, 'Hey, he doesn't look the part, doesn't fit the mold, he probably can't play, can't hoop or anything.' You have to constantly prove yourself and it's kind of irritating."
But while Lin has brought increased visibility to aspiring Asian-American professional basketball players, there are still barriers to breaking through for many. According to the NCAA, in the 2013-2014 season, there were 14 Asian athletes playing NCAA Division 1 basketball out of a total of 5,445 athletes.
"It's a lot of frustration but there's a lot of good Asian players out there," Antonio said. "I've seen some really capable players that can play college."
RELATED: Jeremy Lin Had to Convince Arena Security He Plays in the NBA
Gayta, who has been running various Filipino and Asian basketball leagues since 2001, says visibility and the opportunity to step onto a court is key. It's something that hits close to home for him, too, because he was also once cut from his high school basketball team.
"I love basketball," Gayta said. "I wanted an outlet to just continue ballin'. I come from a Filipino background, so I wanted to hoop with Filipino friends, as well. That's why I'm very passionate about this. Not everyone's going to make varsity sports. I understand that out of every 10 kids that comes and plays in our league, only one will probably make varsity sports. We're just offering that other outlet for those nine that can still continue to hoop because they love the game just as much as I do and they just want to keep playing it. And this is the outlet for it."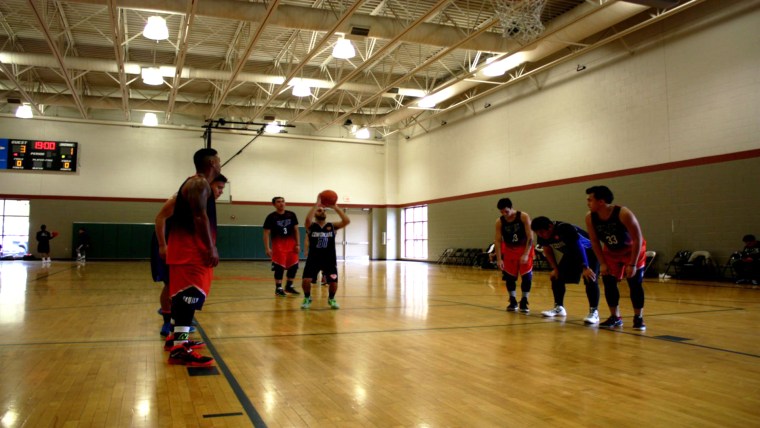 Just like the importance of an outlet pass in basketball on a fast-break, basketball means so much for Antonio as a personal outlet for him.
"It's an escape from your everyday life," Antonio said. "It's a way to calm your nerves, sit back a little bit and take a breath, let the game rejuvenate you a little bit. So, that's important for everybody. It's not even just for Asians — anyone who suffers the stereotypical quota. It's just better that they do something for themselves everyday because life gets pretty hard."
And because basketball is so much more than a game for many, Asian-American players believe there should also be the same amount of opportunity for them.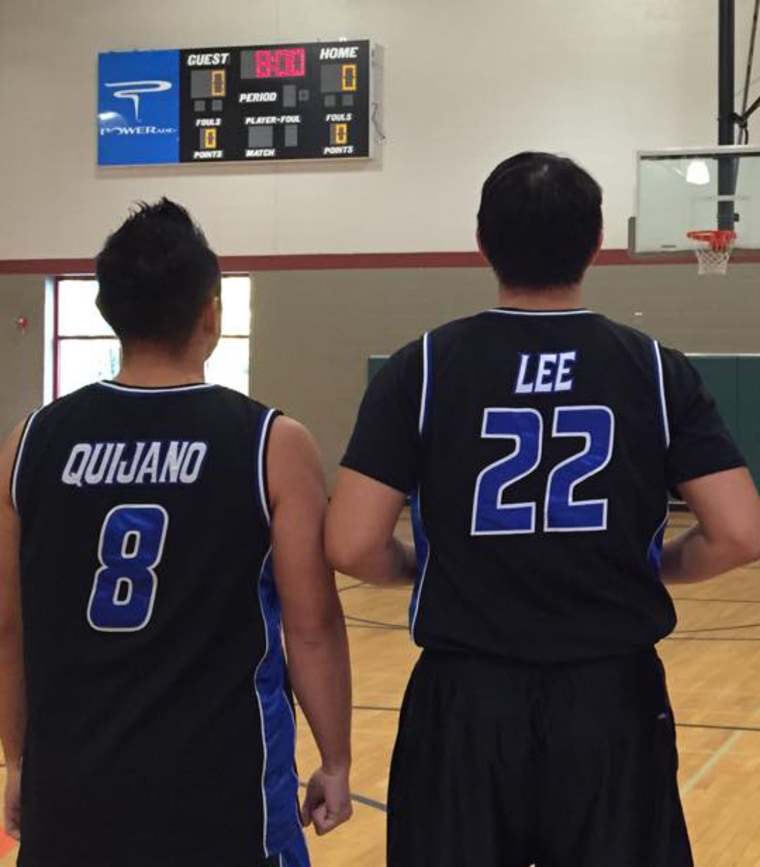 "They just need an opportunity," Antonio said. "That's really all it is, and the thing is with Asians, I think the bar is set so high that if you mess up once, everyone's just going to judge you from there on out. Jeremy Lin was a perfect example. He was across the street from Stanford but they didn't give him a chance even though he sent them, from what I remember reading, tapes of himself. Lin was a player you have to watch more than once. If you watch a player more than once, you could get a better feel. I would never judge a player based on how you see them play the first time because they could have had an off game, you never know."
It's that exposure over time that can also break stereotypes and give younger players confidence on the court.
"The stereotypical Asian — all A's, 4.0, will get grounded if we get less than a 4.0 — it's a ridiculous stereotype," Antonio said. "Asians can play sports. Half of my friends played high school ball and they're all Asian. They were all smart. They all graduated from college. So, it's sad that people see Asians that way. But, all you can do is work hard."
For all of the hoops some Asian Americans have to jump through, the athletes are appreciative of leagues that gives players at least an avenue to play the game they love. Gayta says he's seen the league double in size over just a few years, and with nationwide tournaments for leagues like Bloomfield Dream League, exposure is growing.
"When you come here and you actually watch these guys who have played high school varsity, who have played in college, it's far from [the stereotypes]," Gayta said. "We have guys who post up down low. We have guys who can take you off the dribble. We have guys who are just as athletic as anybody that's out there trying to make it big in any league. So, once you see it up live, in person, that stereotype is definitely squashed."