Jona Xiao was one of five Asian students in her high school graduating class in St. Louis, Missouri. One day, while with a non-Asian friend, she heard other students asking him, "Why do you hang out with c***ks?"
"Growing up, I did face a fair bit of racism," Xiao told NBC News. "What it did was I had this chip on my shoulder where I had to prove people wrong."
"Regardless of what the breakdown says, I can only do me. I can only bring the Jona version."
She proved Missouri wrong by becoming the state's first Asian lacrosse player to earn an all-state title. She proved her peers wrong by leading a flag football team as a 5'3" female quarterback. And she proved her high school wrong by starting its first diversity alliance.
Currently, she's proving the entertainment industry wrong by becoming one of Hollywood's busiest Asian-American actors, with roles in shows like AMC's "Halt and Catch Fire," BET's "Being Mary Jane," and two major films on the way — Fox Searchlight's "Gifted," a coming-of-age drama opening April 12, and Marvel's "Spider-Man: Homecoming," the franchise's anticipated teenage Spider-Man reboot premiering July 7.
"The whole diversity issue has been a through line my entire life," Xiao said. "It really helped define who I was as a person."
Born in Changsha, China, Xiao moved to upstate New York as an infant. The daughter of two rural farm workers, she spent most of her early childhood living in a trailer park.
In second grade, Xiao's family moved to St. Louis, where she got her first taste of acting in a middle-school production of "Rappingstiltskin," a rapping adaptation of the fairytale, "Rumpelstiltskin."
"I fell in love with making people laugh and think and feel," Xiao said. "At that point, I decided I wanted to become an actress someday."
Related: 'Halt and Catch Fire' Actress Jona Xiao Joining 'Spider-Man: Homecoming': Report
However, her decision was met with criticism. "I remember one time, my dad literally said, 'Jona, there isn't really opportunities for Asian actors. Maybe if you were white, I would support you," Xiao said.
"I was like, 'But there's Lucy Liu! If she can be successful, why can't I!'" she continued. "We didn't have a great relationship."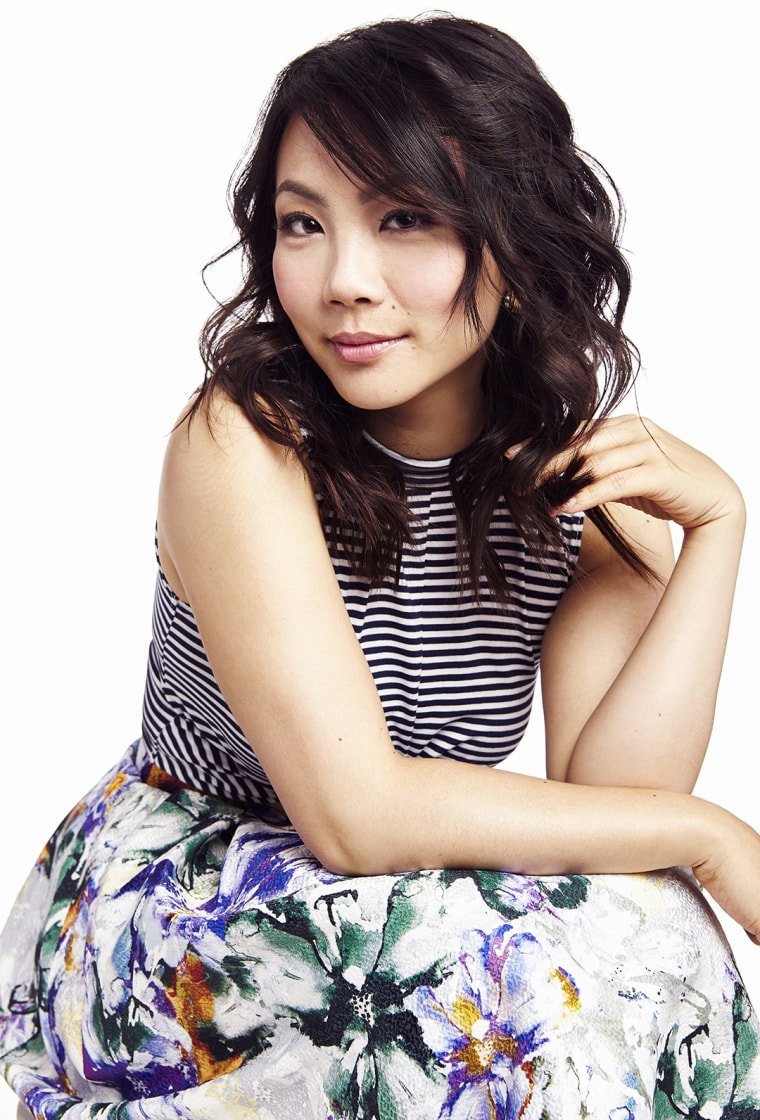 At 12, a few months after her first play, Xiao heard a radio ad from a talent agency calling for actors. "It was like, 'If you are an actor between 4 and 84, we have agents looking for you!'" Xiao said. "At the time, I didn't know better. I was like, 'I'm between 4 and 84! I want to be an actor!'"
She begged her "very traditional Asian parents" to drive her to the auditions. Immediately after, she got a call, telling Xiao and her parents that the agency wanted to represent her — but only if they paid $5,000 for the agency's acting classes.
After pleading to her parents for the money, Xiao steadily realized she may have been scammed. She took runway and makeup classes completely unrelated to acting. She sent in dozens of audition tapes that went nowhere. She struggled to find a single student who had gotten a job. And, after a couple months, she was asked for another $5,000 from the agency to send her to a Florida talent competition with the prospects of becoming a star.
She pulled the plug after a couple months. But, for Xiao, the harder part was telling her family, for whom she said money was already tight, that she made a mistake. "My dad, when he would get frustrated, he would be like, 'Remember when I spent all that money on that agency and that training! What happened to that?'" Xiao said. "I was ashamed for many years. It was something I felt very guilty about."
The ordeal caused a riff in Xiao's relationship with her parents; Xiao would continue acting and her parents would think of it as a phase. To please her dad, Xiao majored in business and cinematic arts at the University of Southern California, though she kept a theatre minor on the side.
She nabbed small roles along the way in projects like the teen movie "Alice Upside Down" and ABC's "The Forgotten," but it wasn't until after graduation, when Xiao was texting her dad on set for an Apple commercial, did she see a shift in their relationship.
"One day, we were texting, 'Hey, I'm going to be shooting this commercial. I'm really excited.' And he sent me this text, 'Jona, I'm really proud of you. I always knew you were very smart and you would succeed at whatever you put your mind to,'" Xiao said. "I got that message and I just started crying. Much throughout my childhood and my life, I just wanted to make him proud. That was a huge moment in our relationship."
"Growing up, I did face a fair bit of racism. What it did was I had this chip on my shoulder where I had to prove people wrong."
Soon after, she scored cameos in shows like "2 Broke Girls," "Bones," and "Rizzoli & Isles" before landing recurring parts as a feisty coder who calls her male co-workers "semen" on "Halt and Catch Fire" and a quick-witted journalist who scoops the news with Gabrielle Union on "Being Mary Jane."
Not too long after, Xiao landed her first studio movie role as a clumsy aerospace engineer who helps Zach Galifianakis investigate his neighbors of espionage in last year's action-comedy "Keeping Up With the Joneses." Though the movie failed to make back its budget, Xiao took away a brag-worthy experience — teaching Mandarin to Jon Hamm, whose character, a secret agent, is fluent in.
"When I was asked if I would be willing to help him on his Mandarin, I was like, 'Hell yeah!' Xiao said. "He was great. He would ask for clarification, like, 'Does this sound right?' I really respected how dedicated he was to sounding as believable as possible."
This month, audiences can see Xiao as a head-strong M.I.T. student in "Gifted," a drama about a 7-year-old math prodigy also starring Oscar winner Octavia Spencer and Chris Evans. The film is only one of two big projects for Xiao this year.
Related: Number of Asian Hollywood Directors Saw Virtually 'No Change' in 10 Years: Report
Though Xiao has auditioned for a number of Marvel projects before, all signs pointed to Spider-Man: Her "Gifted" co-star is Captain America; her "Gifted" director, Marc Webb, also directed "The Amazing Spider-Man" and "The Amazing Spider-Man 2"; and Xiao is recurring on a show called "Being Mary Jane," which share a name with Peter Parker's red-headed love interest.
"It's this fun web we weave," Xiao said. "I guess it was just meant to be."
Someone she can credit for her success is Oscar-winning actress Marisa Tomei, who plays Aunt May in "Spider-Man: Homecoming" and lobbied for Xiao's casting.
"When I was filming, Marisa actually told me she helped cast me in my role," Xiao said. "I respected and I admired her and her career for so long. It was great to hear that from her. I was like, 'Well, thank you. I'm very flattered.'"
But, keeping her role a secret wasn't easy. Her parents were apathetic; her younger brother was ecstatic; but a group of Spider-Man superfan friends caused her the most trouble.
"The whole diversity issue has been a through line my entire life. It really helped define who I was as a person."
"I remember a couple of my friends, who were really big into the Marvel comics, they were like, 'Blink if you're Silk. Blink if you're this.' They would just start naming all these characters," Xiao said. "I'd be like, 'Guys, I'm sorry. I literally can't say anything.'"
While Xiao is still not budging on a character name, she does reveal her Spider-Man role wasn't originally written as an Asian character.
As for what's inspiring her these days, Xiao recalls a meeting early on in her career with Lucy Liu's manager when she learned that Liu — the only Asian-American actress Xiao said she saw growing up — almost backed out of the audition for her iconic "Ally McBeal" role because the waiting room was filled with "a bunch of blonde, tall women."
"I was really inspired by that story," Xiao said. "Regardless of what the breakdown says, I can only do me. I can only bring the Jona version."
Follow NBC Asian America on Facebook, Twitter, Instagram and Tumblr.
Correction: An earlier version of this story stated that Jona Xiao was one of five Asian students at her high school. She was one of five in her graduating class.