For the many Asian-American women who grew up devouring Ann M. Martin's "The Baby-Sitters Club" series, the name Claudia Kishi has a special place in their hearts.
An artistic Japanese-American eighth grader, Claudia was first introduced to readers 30 years ago this week in "Kristy's Great Idea," the first book in Martin's series about a tight-knit group of suburban middle schoolers who run a babysitting service in their fictional hometown of Stonybrook, Connecticut.
From the start of the series, Claudia is portrayed as mysterious, creative, and popular. "Claudia's really into art and always off at art classes," Martin's main character, Kristy Thomas, says early on in book one. "She's much more grown-up than Mary Anne and I."
Readers were instantly intrigued.
"My sister and I had one of those subscriptions where two or three books would come every few weeks and we'd fight over who got to read them first," Elyse Bejasa, a 30-year-old who grew up in Queens, New York, told NBC News. "Instead of portraying her as the stereotypical Asian girl, Claudia came across as someone who was just a part of the group, which I think is something a lot of Asian girls growing up in predominantly white communities strive for."
The fact that Claudia fully embraced her artistic side, dressed her personality, and was not studious or academically-minded had many readers cheering for her.
"She just immediately stood out to me because she was Japanese American and she was art and junk food just like me," 31-year-old comic artist Yumi Sakugawa, who regularly read the books growing up, told NBC News. "It was just a no brainer that she became my favorite character."
As a girl growing up in Orange County, California, in the 1990s, Sakugawa recalls being "surrounded" by "Baby-Sitters Club" books starting about when she was in third grade. "Just like Claudia, I wanted to be artsy and weird and do my own thing even if there was some pushback," she said.
Sakugawa would later document her love for Claudia in her 2013 comic, "Claudia Kishi: My Asian American Female Role Model." "When I made the comic I really did it just for myself because I still have such a lasting impression from reading about Claudia Kishi," Sakugawa said. "I feel like at that time, and even now, so many individualist characters usually weren't women of color. A character that was very eccentric and fashionable that also happened to be Japanese American was just such a huge role model for me."
Fellow artist Wendy Xu, the co-creator of the web comic "Mooncakes," agrees. "Claudia is quite special to me," Xu, who is 26, told NBC News. "I didn't process it until much later but she was the first Asian-American character that I had ever read that was not stereotypically smart and brainy."
"There were other books I read with Asian-American protagonists, but they were all historical and took place during events like Pearl Harbor or during internment," Xu added. "That's what made Claudia great. She was a person first. Her race didn't define her identity."
Beyond seeing an Asian-American girl who was artistic and creative, readers who grew up surrounded by their extended families also said they appreciated seeing a realistic portrayal of an Asian-American family. "My absolute favorite book was 'Claudia and the Sad Good-Bye,' which is the book in which Claudia's beloved grandmother, Mimi, passes away," Pooja Makhijani, a writer and editor now living in Singapore, told NBC News in an email. "I was raised by my paternal grandparents - we lived in a multigenerational home - and Claudia's relationship with her grandmother was always precious to me."
Mimi, a Japanese immigrant, often seemed to be the only member of the Kishi family to fully understand Claudia's artistic talent. Both Xu and Sakugawa noted that one scene between Claudia and her grandmother has stayed with them years later. It's a flashback scene featuring Claudia's recollections of being an elementary school student.
"Claudia is recalling a memory of being in elementary school and she misunderstood or misinterpreted the teacher's instructions to draw a self portrait," Xu said. "So she draws herself as a butterfly and describes herself using this big beautiful box of crayons. And the art teacher despises it and it's super hurtful to her. But then her grandmother comes to the rescue and puts the teacher in her place."
That relationship with a grandparent, "hasn't really been something that I've seen in Asian-American media even," Xu said. "And it was in The Baby-Sitters Club."
"I think that was so cool that even as a young person Claudia had an elderly advocate for her fierce spirit," Sakugawa said.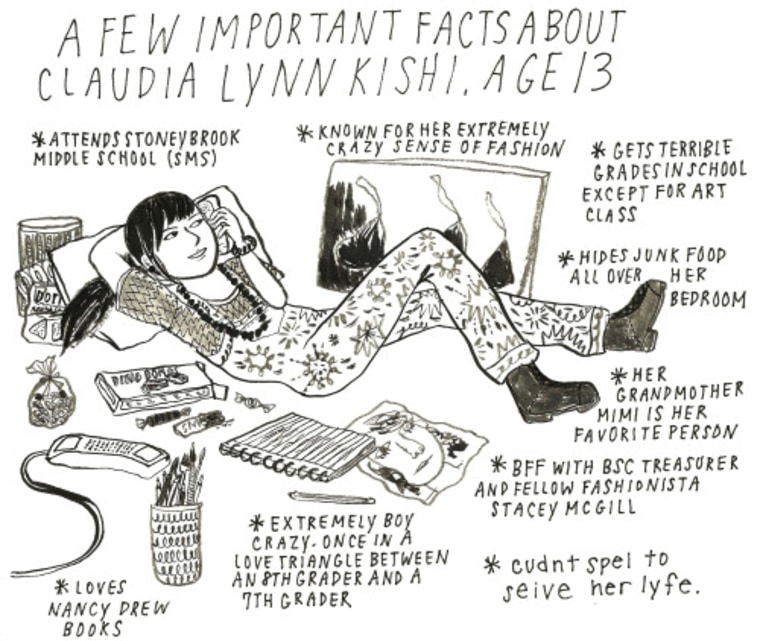 But while Claudia has made a lifelong impression on readers, there's one aspect of her portrayal that rankles. Throughout the series, Claudia's appearance is described in exotic terms. Her "jet black hair," "beautiful dark almond-shaped eyes," and "perfect skin" are universally envied by the other characters.
"I think the 'almond-shaped eyes' description always struck me as a bit weird," Sakugawa said. "It was just a constant refrain when the other babysitters would talk about Claudia."
Thinking about Claudia's experiences growing up in a primarily white town also lead Sakugawa to envision Claudia growing up and traveling to Japan for the first time as an adult. "I wanted to imagine that after middle school and high school her exposure to other POC [people of color] communities expands," Sakugawa said. "I hope that she eventually learns more about her heritage and that she can be in spaces where she's not othered."
"She can just be herself and not have her almond-shaped eyes pointed out," she said.
Follow NBC Asian America on Facebook, Twitter, Instagram, and Tumblr.