On a Sunday afternoon in July, 16-year-old Kenny Uong waits with his parents on Platform 2 at the Del Mar Metro Gold Line Station in Pasadena, California. Wearing a Los Angeles County Metropolitan T-shirt and a black LA Metro cap, Uong loads his TAP card, ready to board the next light rail headed toward his favorite Vietnamese restaurant in the San Gabriel Valley.
Each Metro ride is always a new experience, Uong, nicknamed "The Metro Kid" by his older sister, told NBC News.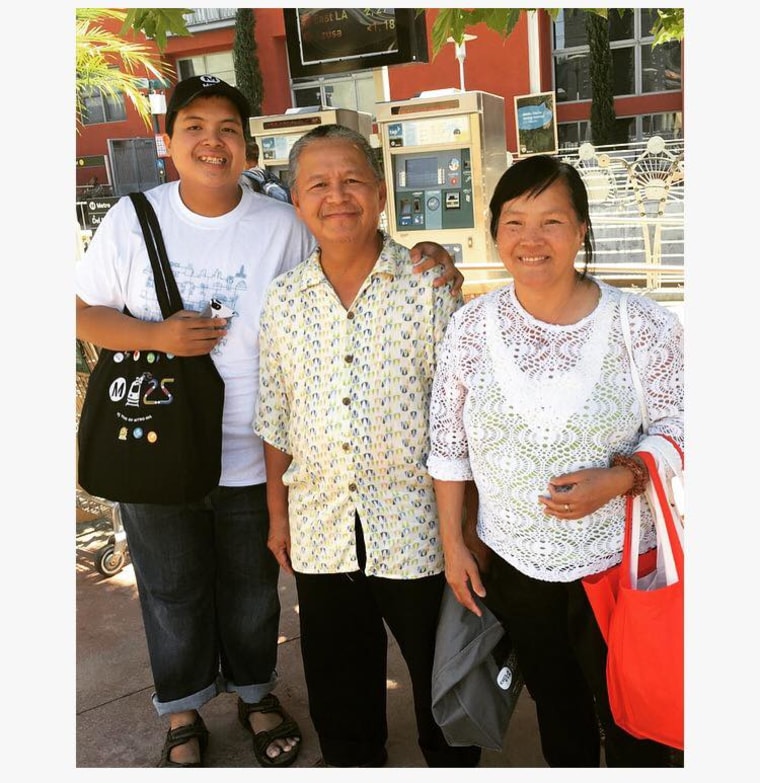 "Every time a Metro subway or rail line approaches me, I feel a surge of happiness and excitement," he said. "I look forward to seeing interesting sights from the vehicle window, as well as meeting new people during the ride."
The Metro has played an important role in Uong's life (his parents were frequent public transportation users in Vietnam, before immigrating to the U.S. in 1988). His first public transportation journey took place during the grand opening of the Metro Red Line extension to North Hollywood when he was three months old, and he notes he's been to "every light rail and subway extension opening in Los Angeles."
Uong has traveled on all six Metro lines, as well as the Metro Orange Line and Silver Line (the Gold Line, Uong said, is his favorite, though he's recently become a fan of the Expo Line which now extends all the way to downtown Santa Monica). He also says he's been on 146 different bus routes.
"I want to persuade people that public transportation is the best way to go. You don't have to get stuck in LA traffic."
A self-proclaimed "public transit enthusiast," Uong frequently tweets about the Metro and hopes to become a transportation planner in the future. He also hopes to provide resources and helpful tips on his soon-to-launch blog, "The Metro Chronicles," for people looking to take public transportation for the first, second, or hundredth time. He even wrote a poem about the Metro for an English class assignment at Herbert Hoover High School in Glendale, Calif., where he will enter his junior year in the fall.
"I want to persuade people that public transportation is the best way to go. You don't have to get stuck in LA traffic," Uong said.
Since the age of six, Uong has been collecting special edition Metro pins, timetables, pamphlets, and maps, all while studying the lines and trying to figure out more convenient routes or new light rail stations that could be added to an existing map.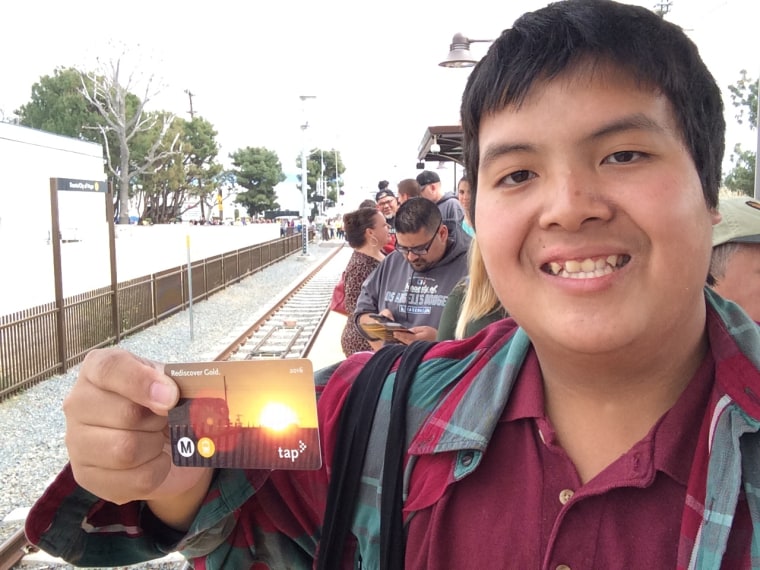 Uong hopes to work for Metro someday and help create convenient routes to service all communities, including his own hometown of Glendale, which is currently not served by light rail or bus rapid transit.
"To get to North Hollywood from my home, I would have to take a bus from Northwest Glendale to Burbank, and then transfer to another bus that would take me from Burbank to North Hollywood. The overall commute takes approximately 53-58 minutes," Uong described.
Though not a city known for public transportation, Pauletta Tonilas, chief communications officer at Metro, told NBC News that the transportation agency carries approximately 1.4 million riders a day in LA County — riders who include Uong and his parents, who don't have a car and rely on public transportation and other alternatives, like biking and walking. The service area includes 10 million in LA County, and projections reveal that another 2.3 million are expected to move to LA County over the next four years.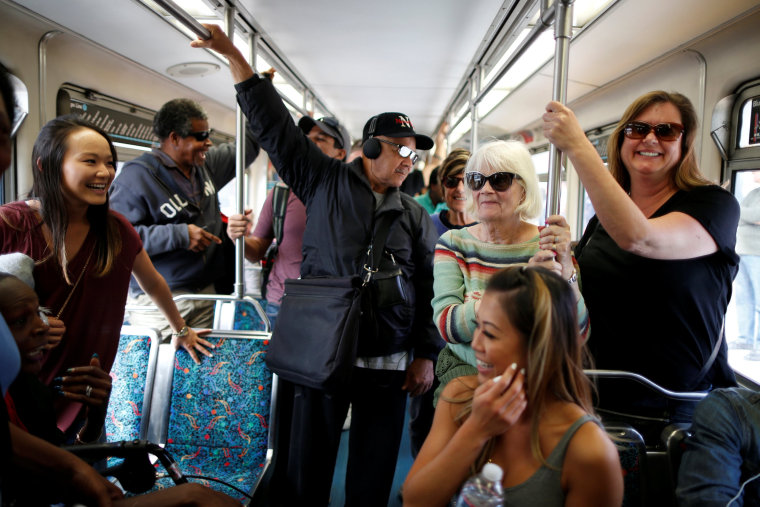 Metro is also currently working with the city of Inglewood and the LA Rams to figure out how to collaborate and provide transit service for game-goers in the near future, Tonilas added.
With the addition of six new rail line stations on the Gold Line (11.5 miles) and seven new stations on the Expo Line, Uong said he's happy to see more Angelenos taking advantage of public transportation and joining a movement to reduce the carbon footprint and avoid LA traffic. Most recently, Metro launched its first bike share program in LA, providing 1,000 self-service bikes at 65 stations.
A half-cent tax for Metro transit projects and other rail-related maintenance projects will go into effect if voters approve the measure on the November ballot.
Paul Gonzales, spokesperson for Metro, told NBC News that the transportation agency is currently undergoing three major projects, one of which includes the Purple Line extension to Westwood, which Metro hopes to have completed in 2024, as well as the Crenshaw LAX Line which is under construction and is currently at its halfway point.
Gonzales added that, in recent years, there's been a dramatic shift as millennials are more willing to adapt public transportation into their everyday lifestyles.
"There's no rush on buying a car as for people in order generations. They seem much more acceptant of public transit as a way to get around as their personal lifestyle," Gonzales said.
For now, Uong says he's planning to spend his last few months of summer to explore and go on more travel adventures with friends and family, and using the opportunity to bond more with his family. "Thanks to Metro I was able to have more conversations with my parents," he said.
Uong says he can't imagine a day without using Metro and says he hopes to ride Metro for the long run.
"I'll stick with using Metro for the rest of my life until I have dentures," he said.