A new web series featuring celebrities, including actor Daniel Dae Kim and "Crazy Rich Asians" director Jon M. Chu, aims to explore the history and the cultural impact of Asian food, from night markets to how food is shared on social media.
"Family Style" is a 12-episode unscripted series from production company YOMYOMF, founded by director Justin Lin, and content studio Stage 13. Executive producer Philip W. Chung said he hopes viewers can connect with the series because its celebrity guests and hosts — the "Foodie Fam," made up of eight friends, including actors Sujata Day and Anthony Ma — bring diverse perspectives to a traditional food show.
"I haven't seen something like this where it feels like you're hanging out with Asian Americans and Asians from all different backgrounds and sharing your own knowledge and experience of food together, and that was something we wanted to capture especially with different points of view in the community," Chung said.
Each episode focuses on a different cuisine or different food-related topic, such as noodles or sweets, and a combination of segments featuring sit-down interviews with celebrity guests or the "Foodie Fam" partaking in cooking lessons or games.
Day, one of the hosts, said that similar to Chung, she was drawn to the show's premise of bringing together people who shared a common interest. The "Foodie Fam," she added, felt like a real family, even though she'd only met one of the other hosts, Ma, before.
"None of us are professional cooks in the food industry and we all just love food, and I think that's a great way for audience members to get into the show and say 'They're just like us!' since we're all learning together," Day said. "We're regular people who love food and love spreading that love to one another."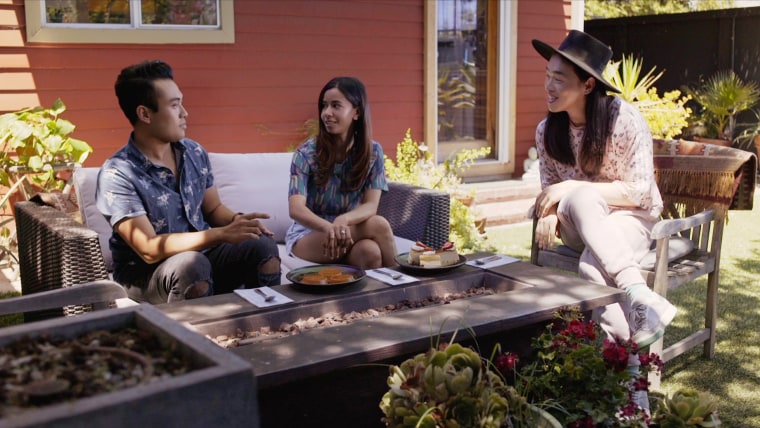 Ma said that one of the highlights of the show was sharing the screen with his mother, where the two visit the 626 Night Market in Arcadia, California.
"It's cool to see the passing from one generation and how it affects the next generation and you see that with me and my mom," he said.
"Family Style" premieres May 13 on the Stage 13 website, YouTube, and Facebook Watch, with new episodes publishing every Monday and Thursday until the week of June 17. It's also one of several food-related shows announced recently hosted by or featuring Asian and Asian-American chefs and celebrities. Kogi founder Roy Choi's series "Broken Bread" is scheduled to premiere this month, and Hulu also announced in May that Chrissy Teigen and Momofuku mogul David Chang will also co-host a food-centric show for their platform.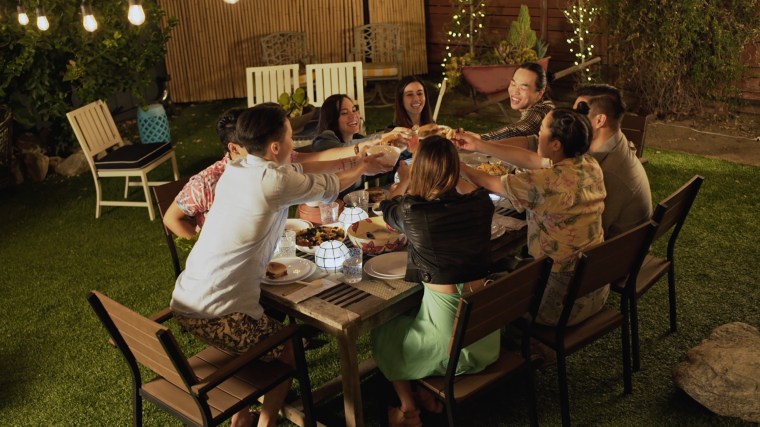 The uptick in shows like "Family Style" is a contrast to recent stories about non-Asian chefs trying to redefine Asian cuisine, including Gordon Ramsay's Lucky Cat restaurant and the New York City-based Lucky Lee's, which marketed itself as producing "healthified" Chinese-American food.
Chung, the "Family Style" executive producer, said he hopes their series will not only entertain audiences, but also educate.
"For someone like me who is Asian American and who describes myself as somewhat of a foodie, I try to learn as much about food as possible, and it's amazing how much I learned from this show that I thought I knew and didn't really," he said. "I want people to see how food and eating is what connects families in Asian cultures. In a lot of cultures, saying, 'Have you eaten?' is almost like saying, 'I love you.' And so much revolves around family and food, and we wanted to capture the importance of that."
Follow NBC Asian America on Facebook, Twitter, Instagram and Tumblr.