While she was growing up in the Midwest, Fawzia Mirza and her family devoured Bollywood movies and shows that came out of the Subcontinent.
"For my parents it was a part of our culture and where we came from," Mirza, an actor and screenwriter living in Chicago told NBC News. "Bollywood was what we had in the background on our TV all of the time."
Many of the films the Mirzas watched in the '90s starred Shabana Azmi, the Indian film and theater star who was known for her progressive and powerful roles, Mirza said. "Here was this woman who was portraying these strong female characters and who had been portraying these characters for a long time," she said.
Those films had such an impact on Mirza that she knew immediately she wanted to cast Azmi as her mother in her upcoming movie "Signature Move." The story follows Zaynab, who like Mirza is a Pakistani-American lesbian living in Chicago, as she navigates a burgeoning new relationship and a newfound fascination with wrestling, while also caring for her television-obsessed mother Parveen.
"I thought 'Oh my God, would she ever do this," Mirza said. "My friend gave me an email address and said 'here you go, take it from here.'"
"India's audiences are not a monolith and I knew people would react in different ways — some with shock, some with surprise, some completely denying it, and others feeling grateful."
The pair met in person earlier this year while Azmi was performing in a play in Chicago. Azmi agreed to play the role in the film. "I think what I liked about Parveen was that is that while she first appears to be a typical Asian woman cast in the traditional mold and under the garb of being a traditional mother, there are bits of it that are very funny," Azmi told NBC News. "The mother and daughter relationship is integral to the film and it brings a lot of complexities out."
While "Signature Move" is about a young South Asian American woman who falls for a Mexican-American woman, both Mirza and Azmi stress that they are making more than what the Indian tabloids are calling a "lesbian drama." The film, which is currently being shot in Chicago, also tells the often-complicated story of a mother and a daughter.
RELATED: Muslim Actress to Play Trump's 'Illegitimate Muslim Daughter' in Web Series
"In this case, Zaynab the daughter is the caregiver and she gets into this kind of groove where she gives and the mother takes," Azmi said. "Then when the daughter least expects it there is a turn that happens.
"When two people live together there is always a lot of friction, some of it overt, some of it not," she continued. "Especially in the case of parents who have migrated to another country, Parveen loses her husband, and then she has nothing to go back to Pakistan. As for her daughter, she can barely live her life completely because she is so cognizant of the responsibility she holds towards her mother."
A big part of the reason Mirza wanted to cast Azmi in her film was because of the impact the 1997 Deepa Mehta film "Fire" had on her. Azmi was one of the stars of the film, which told the story of two isolated, married women who fell in love and became instantly controversial upon its release.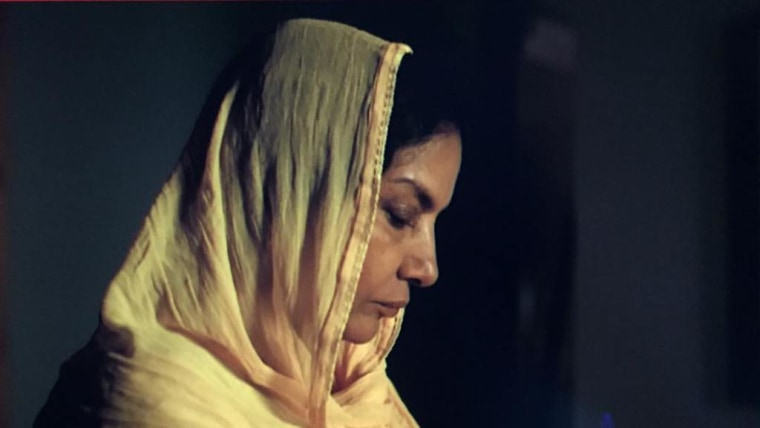 Azmi notes that fans still want to talk to her about "Fire," even after all of these years. "Because the issue hadn't been spoken about a lot of lesbians came up to me and gave them courage to be more open," Azmi said. "India's audiences are not a monolith and I knew people would react in different ways — some with shock, some with surprise, some completely denying it, and others feeling grateful. And that would start a process of questioning."
"Fire" continues to resonate with Mirza because of the strength of its female characters. "For me, [it] portrayed the beauty of the connection between women," Mirza said. "I think that whether you are queer or not, lesbian or not, there is a beauty in the stories and the connections between women. I think that 'Fire' celebrated that."
RELATED: 'Family Is Still Family': Bilingual PSAs Bring Support, Community to LGBT Families
Like "Fire," Mirza says her film is more about relationships and family than a traditional coming out story. While it's clear that the gay rights movement has made considerable progress in the 19 years since the release of "Fire," Mirza said she hopes her own work will continue to open minds.
"If you look at my Twitter feed, you'll see there are so many people who tell me that you can't be a Muslim and a lesbian at the same time," she said. "There is so much ignorance out there. Since I started creating my own work, I've been working to break down stereotypes of race and religion and using comedy as a tool to do it."
"I want people to be able to watch this and see stories about women and women of color," Mirza continued. "And to see the strength of who we are and how much we matter."
Follow NBC Asian America on Facebook, Twitter, Instagram, and Tumblr.