The Asian Lunar New Year and the Vietnamese Tet celebrations begin on the same day, which means the buildup to Feb. 19 is a busy time for Thomas Chin Dam.
Based in Little Saigon in Westminster, Calif.—the oldest and largest Vietnamese community in the country—Dam, 52, can tell the New Year is here by watching his sales.
"Everyone buys duck eggs," said Dam, who told NBC News, he's likely to move more than 200,000 fresh duck eggs to people who use them in the comfort foods of the Lunar New Year.
"Everybody calls me Duck Man," Dam said with a laugh.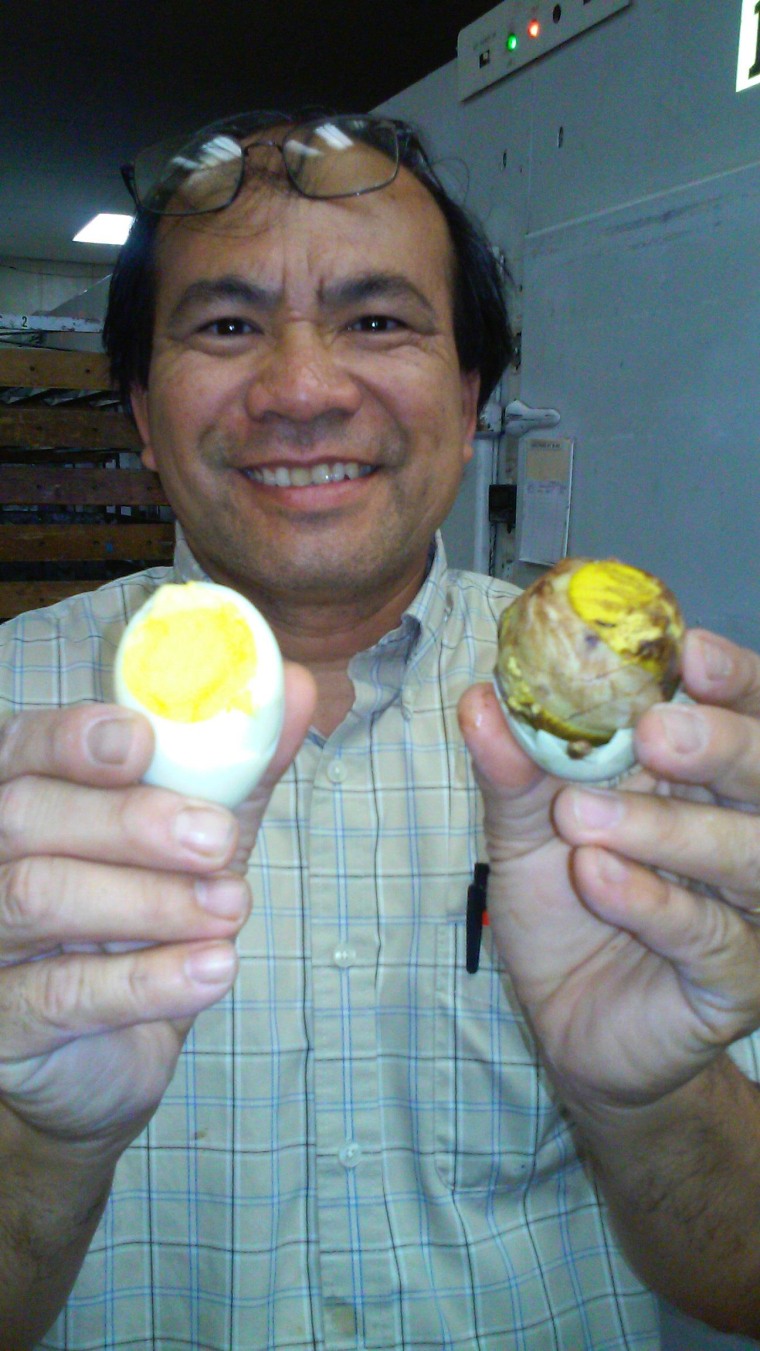 It's more like Duck King, for Dam, who loves to see the seasonal spike around the Lunar New Year.
Most of the year, Dam sells about 500,000 eggs a month, but the majority of those eggs aren't the fresh unfertilized duck eggs, prized during the Lunar New Year for the yolks which - when boiled - turn jelly-ish and not dry like chicken eggs.
In Vietnamese cuisine, the eggs are a key ingredient in a meat dish that consists of braised pork in a coconut milk broth mixed with the whole ducks eggs, peeled and boiled and presented in a bowl. For many families, the dish, Thit Kho is a key part of the first three days of the Lunar New Year. The dish is prepared ahead of time, and simply warmed and served during the hectic first three days of the Lunar New Year when people don't have time to cook.
Dam said on the first day people go to temple. On the second day they pay homage to the husband's family. On the third day, they do the same to the wife's family.
"All we do is eat, give lucky money in red envelopes and gamble," said Dam. "There's no time to cook. It's all done before."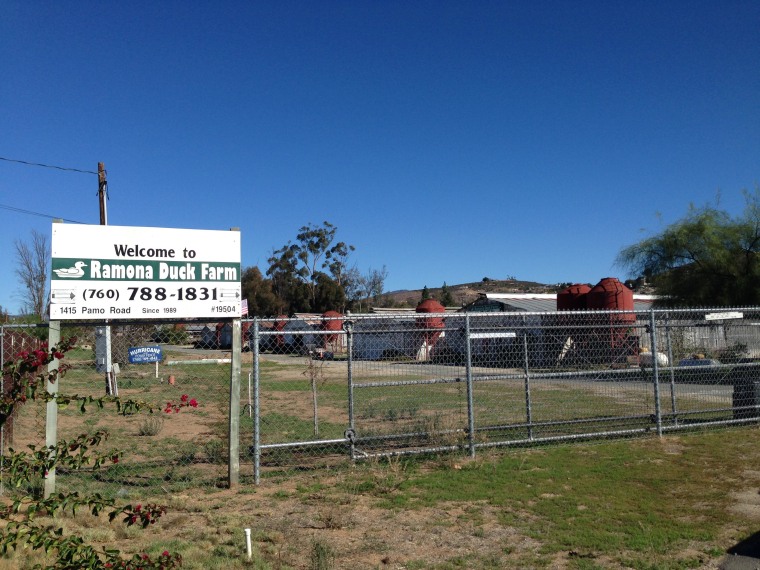 Dam compares his Lunar New Year celebration to America's Thanksgiving and all its seasonal foods and emphasis on family. "People have to have fresh duck eggs," said Dam, who definitely has the capacity to fill the need.
The rest of the year, the heart and soul of Dam's business is that infamous street food delicacy craved by a number of Asian ethnic groups and exotic food aficionados —the fertilized duck egg, or duck embryos.
No ordinary egg, the fertilized duck eggs are known in Vietnam as hot vin lon. In the Philippines, it's known as balut. Over the years, Dam has build a multi-milion dollar duck operation in Southern California, where his headquarters take up nearly an entire city block, serving those communities and many more.
"I'm just a farmer," he said modestly. His headquarters is just the cornerstone for a mini-empire that includes a retail shop in Westminster, and a duck ranch in nearby San Diego County. The 4,000 square foot main facility houses more than 30 incubators, each holding nearly 11,000 eggs.
It all makes up Dam's Long An brand, named for his wife's home town.
"My mom always taught us to have gratitude and give thanks...And not to be proud because it will be your downfall."
The demand for the fertilized duck embryos is high enough to keep most operations busy. But Dam, an ambitious entrepreneur at heart, didn't stop at one product.
When he won a $1 million government contract, what he needed most was a dedicated source of eggs. He used to funds to purchase a ranch from a Filipino family, the Hortinellas, who still manage that part of the operation for Dam at the source. With about 6,000 birds, the ranch produces all kinds of eggs: sixty percent duck eggs, thirty percent chicken eggs, and ten percent quail eggs.
While the duck eggs are for human consumption, his chicken and quail eggs are provided to vaccine makers to fight diseases like chicken pox. Laboratory grade eggs are one of Dam's specialties. Dam said the vaccine business has a particularly high profit margin. He said for every dollar spent, he makes $30. Along with the military and college market, where he supplies more than 1,000 universities with eggs used in research, his business stays healthy year round.
"I learned from my sponsors," Dam said of his American "family," Helen Polhovsky and David Congleton, who acted as Dam's parents when he first came to America as a refugee. Polhovsky, a refugee herself from Yugoslavia could easily relate to the young Dam's situation. Congleton, a businessman, shared his entrepreneurial acumen.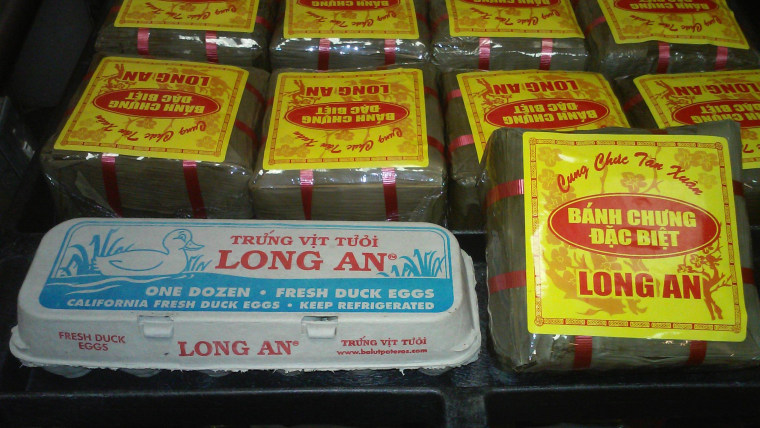 Dam was one of the lucky ones. In 1975, he was just 12 when he left Vietnam with the help of the U.S. military along with his older brother and his sister-in-law. After stops in refugee camps in the Philippines and Guam, they made it to California, where they settled in Orange County.
One of five brothers and three sisters, Dam lost two brothers at sea after they escaped Vietnam. Another brother was killed by a land mine.
Dam said his father, Bang Dam, an undercover policeman who fought the communists, was placed in a concentration camp and died there in 1978. The rest of the family was left behind.
In the ensuing years, Dam petitioned for his remaining sisters and his mother, Phen Dam, 93, the one who supplied all the original eggs.
"My mom always taught us to have gratitude and give thanks," he said. "And not to be proud because it will be your downfall."
It makes for an emotional time for Dam, who with his wife and four boys, now cherishes how his family can be together for the Lunar New Year.
"It's a blessing," said Dam. "Coming here to America was like having a second life."