Right after January 1st of each year, my parents spent almost every weekend preparing for Chinese New Year. My parents bought extra food, cleaned the house, and withdrew newly minted crisp dollar bills from the bank to fill red envelopes with "lucky money." My cumulative memories include vases of beautiful pink quince blossoms on otherwise bare branches, tangerines with little red envelopes next to them, lots of candy and sweetened dried fruits, festive fire crackers and lively dragon dances. One of the best parts as a child was greeting our elders with "Gung Hay Fat Choy" which means "May You Be Happy and Prosperous" in Cantonese, and then receiving those "lucky money" envelopes. I definitely felt lucky to grow up with a huge extended family with many family friends, rich with tradition and fond memories.
My mom always made a New Year cake, also known as nian gao. Even though the words nian gao mean "year cake," the words sound like "year higher" and symbolize prosperity or promotion, or children growing taller. My mom stirred a brown sugar syrup into sweet rice flour, plopped the gooey mass into a stainless steel bowl lined with bamboo leaves, and steamed it until the windows fogged up with condensation. She made it a day or two before Chinese New Year but we couldn't eat it until then, which was just as well because the nian gao was way too sticky to cut, serve, touch or eat on the first day. Each day the cake became a little less sticky and a little more firm, until it was too dry and too hard, at which point my mom would either steam the cake again, pan fry slices in oil, or dip slices in egg and pan fry them like french toast.
My Chinese New Year Cake "nian gao" recipe (http://goo.gl/PskCFa) is a vegan, gluten free, and top 8 allergen free (no peanuts, tree nuts, egg, milk, soy, wheat, shellfish, and fish) recipe, that has been approved by both my mother and my mother-in-law so you can count on it to be delicious. I use Koda Farms sweet rice flour that is made in a rice only facility. A traditional recipe uses Chinese brown sugar bricks called pian tang but brown sugar is an acceptable substitute that is readily available.
People with food allergies need to be aware that if you are ever offered a piece of nian gao that is store bought or made by someone else, be sure to ask what are the ingredients as nian gao could be made with peanut oil, almond extract, red bean paste, stewed pork belly, lotus seeds, egg yolk, milk, coconut, etc. and it's best not to assume that all nian gao is top 8 allergen free or vegan.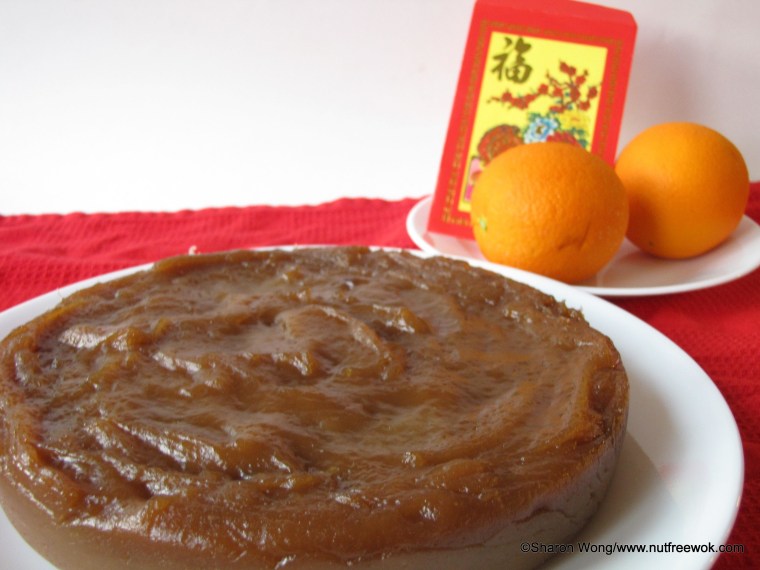 Enjoy the Chinese New Year Cake "nian gao" recipe and "Gung Hay Fat Choy!" May you and your loved ones be blessed with good health, peace, and overflowing joy.
Ingredients
1 1/2 cup dark brown sugar
1 1/2 cup water (divided)
1 box sweet rice flour (I use Koda Farms)
2 tablespoons canola oil (or other mild flavored vegetable oil) plus 1/2 teaspoon to oil a pie plate or a round cake pan
1 teaspoon vanilla extract
Instructions
Oil a pie plate or round cake pan with 1/2 teaspoon of oil.
Add 1 1/2 inch of water to a large pot with a tight fitting lid and a steamer rack and bring water to boil.
Measure 3/4 cup water in a glass measuring cup, add brown sugar, and microwave for 1 minute until the sugar is dissolved.
Pour sweet rice flour into a large bowl, add the brown sugar water, 3/4 cup of water, oil and vanilla extract.
Stir to combine until the rice mixture is smooth and free of lumps.
Transfer the rice mixture into the prepared pie plate and smooth out the top.
Set the cake inside the pot and steam for 1 1/2 hours.
Check the water level of the pot periodically (avoid letting the condensation from the lid drip on the cake when lifting the lid) and replenish with hot water as necessary.
Allow the cake to cool completely, cover with plastic wrap, and the cake will be ready to serve the next day.