For Wajahat Ali, a playwright and essayist of Pakistani descent, this year's election is all about Muslims.
"We've never been more popular in our entire existence in America," Ali told NBC News. "Everyone seems to be talking about us. People can't stop talking about us."
Beginning this fall, Muslim-American writers and cultural figures like Ali will have a platform to steer that conversation on their own terms, thanks to a program launched by PEN America, a literary nonprofit, that seeks to "elevate, amplify, and celebrate the voices of Muslim Americans in popular discourse," according to a news release.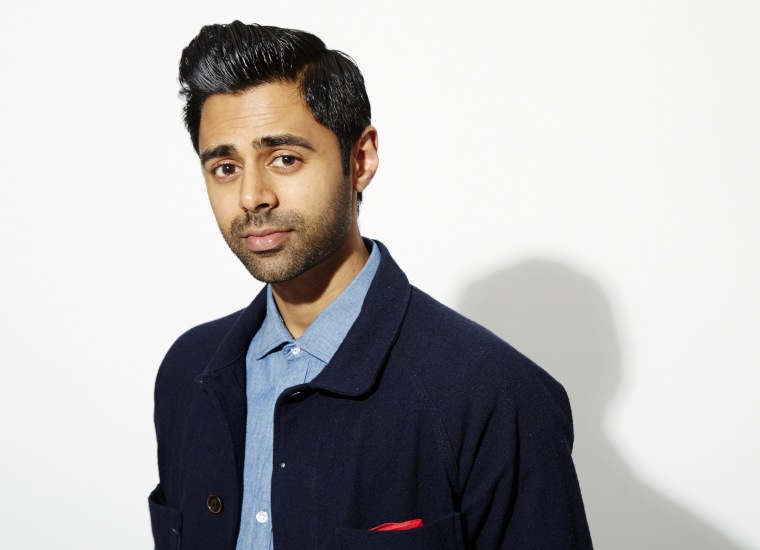 Over the next two years, "The M Word," as it is billed, will assemble thinkers and creators from the Muslim and non-Muslim communities to discuss the challenges of self-identification and self-expression during a time of heightened Islamophobia.
Ali will moderate the first two-hour event on Sept. 21, entitled "The M Word: Muslim-American Comedians on the Right to Joke," at Joe's Pub at the Public Theater in Manhattan. It is open to the public and begins at 7:30 p.m.
"It's interesting because everyone is talking about Muslims, but no one's talking to Muslims," Ali said. "Muslims have not emerged as the protagonist of their own narratives. They end up being either the villains of an us-versus-them narrative, or token sidekicks, each being used to propel someone else's agenda."
"You don't want it to be comfort-food theater. You want them to walk away a little bit offended, a little bit enlightened, and mostly hopeful about America's future."
Slated to participate are Hasan Minhaj of "The Daily Show" and "Homecoming King"; Negin Farsad, documentary director of "The Muslims Are Coming!" and author of "How To Make White People Laugh"; and Mo Amer of the Muslim comedy troupe Allah Made Me Funny. Stand-up comedian Phoebe Robinson, of WNYC Studios "2 Dope Queens," will also join the group.
Ali said he'll lead the comedians in a conversation exploring topics like the pressures they face from inside their own communities — such as always being given a "litmus test" of whether you're Islamic enough — and those from the outside, which asks Muslim Americans to be mainstream, a "codeword for appealing to white people," he said.
Additionally, they will discuss how these challenges and opportunities intersect with race, religion, identity, and representation, Ali said.
"And also, we're going to do a lot of jokes and have a lot of fun and be immature, and maybe someone can crack a fart joke, and we'll laugh," Ali added.
RELATED: Ads For Film About Muslim Comedians Go Up After Months-Long Court Fight
Farsad, one of the Muslim comedians expected to perform at Joe's Pub, made headlines in March when comedic ads she and fellow Muslim comedian Dean Obeidallah designed about Muslim Americans went up in New York City subway stations. The ads promoted the 2013 film "The Muslims Are Coming!" which Farsad and Obeidallah co-directed.
A federal judge originally blocked the ads, saying they contained political speech.
With "The M Word" series, PEN America said it aims to give voice to Muslim-American writers and artists, who it says are often boxed into explaining or defending their faith instead of being recognized for their own creativity and contributions to American culture.
In addition to New York, "The M Word" will visit Boston and Washington with events focused on different writing genres, including fiction, comedy, script writing, and punditry.
Pulitzer Prize-winning playwright Ayad Akhtar, "Ms. Marvel: Kamala Khan" creator Sana Amanat, author Zia Haider Rahman, and religious scholar and media commentator Reza Aslan are among those, including Ali, advising PEN America on the series, underwritten by the Doris Duke Foundation for Islamic Art's Building Bridges Program.
RELATED: 'He's Doing Such Irreparable Damage': Marvel's Director of Content Reacts to Trump
Asked about what he hopes the audience takes away from the discussion and comedic performances, Ali replied, "At the very least, we were entertained, and if they put Muslims in the camps, you know, maybe we'll go visit them."
Speaking more seriously, Ali added, "You don't want it to be comfort-food theater. You want them to walk away a little bit offended, a little bit enlightened, and mostly hopeful about America's future."
Follow NBC Asian America on Facebook, Twitter, Instagram, and Tumblr.