When Quan Tran learned that public opinion on refugees was negative — not just in modern day, but also often times in the past — he knew he needed to do something to change that.
With his creative partner Jillian Young, Tran printed small white stickers and began to stick them to various products around New York City, photographing the results. The stickers, which read "Made by Refugee," have turned into a guerrilla art project that seeks to draw attention to the contributions made by refugees.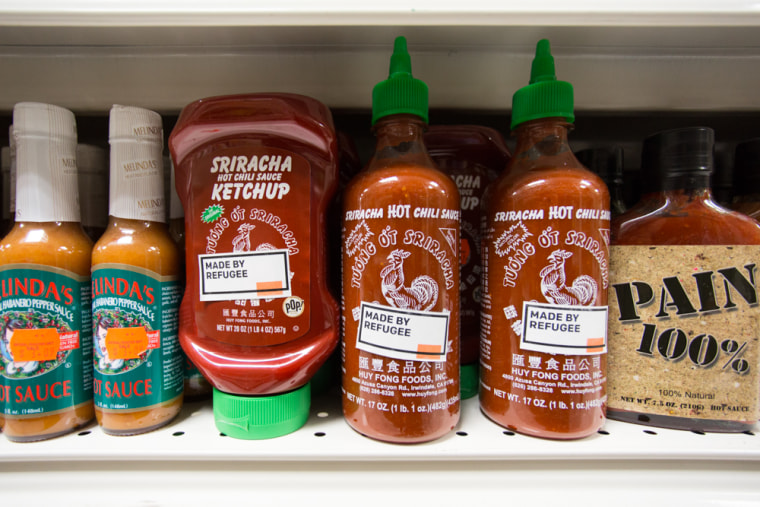 "Whether it was the Irish during the potato famine, Jewish during World War II, or Vietnamese during the Vietnam War, I realized that there has to be someone in that mix of refugees that made positive contributions to society," Tran told NBC News.
Tran and Young have quietly placed and photographed stickers on products such as Sriracha hot sauce made Huy Fong Foods, which was founded by Vietnam War refugee David Tran; Patak's hot mango chutney made by Patak's, which was founded by Laxmishanker Pathak, a refugee from Uganda; oral birth control pills invented by World War II refugee Carl Djerassi; and the Mini automobile, designed by World War I Alec Issigonis. Stickers have also found their way onto music albums by Freddie Mercury and Bob Marley, and books by Sigmund Freud, Albert Einstein, Anne Frank, and the Dalai Lama.
The design of the sticker is simple: A white rectangle with a thick black border and an small orange rectangle that evokes a flag by The Refugee Nation, an organization that supports refugees.
The duo have also created a mural in Bushwick, Brooklyn, and they have made a downloadable file of the stickers available online so that anyone can "download and stick."
The response has been mostly positive, according to Tran, with only a few threats online.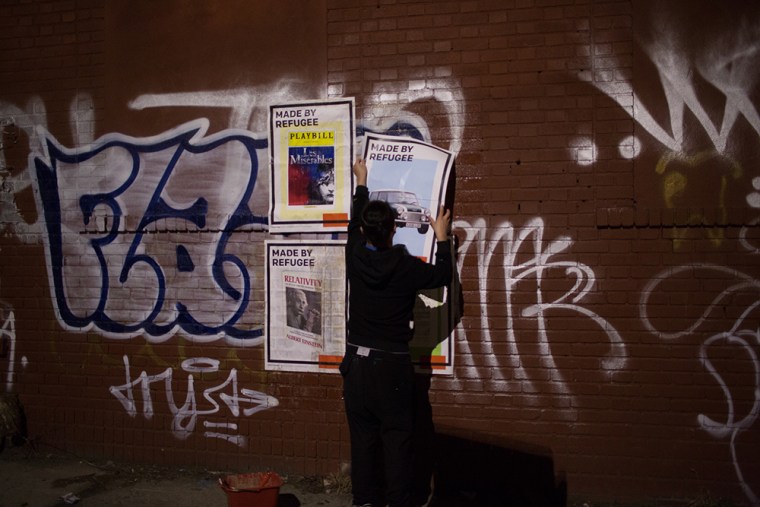 "I had plenty of immigrants and refugees personally thank me and message me," he said. "Most of them thank me for the same reason why I started this: too many negative stereotypes and almost no positive ways [that] people see refugees in the limelight.
"The word spread pretty far: [a] friend [even] told me his professor in Montreal has spoken about this project for a whole week," he added. "I've been written up in German, Italian, Spanish, Chinese, English, and French outlets. So it's been a pretty global conversation."
Follow NBC Asian America on Facebook, Twitter, Instagram and Tumblr.