Following the news that Rep. Mark Takai had died at age 49 from pancreatic cancer on Wednesday, colleagues, community members, and constituents — from President Obama to Democratic Leader Nancy Pelosi — expressed their grief and condolences, and recalled Takai's kindness and generosity as well as his achievements.
RELATED: U.S. Congressman Mark Takai of Hawaii Dies at 49
Many also shared photos, stories, and thoughts on Twitter with the hashtag #MahaloMark to thank the congressman for his service and friendship.
"Mark humbly and effectively served the people of his state House and [U.S.] Congressional districts." Hawaii Governor David Ige said in a statement. "In the often tumultuous world of politics, he has been a shining example of what it means to be a public servant."
Addressing Takai's family directly, Ige continued, "Your husband and father was a man of principle and goodwill. Thank you for sharing him with the citizens of Hawai'i."
Remembering Takai as "a friend, ally, and member of the Japanese Cultural Center of Hawai'i ohana," Carole Hayashino, president and executive director of Japanese Cultural Center of Hawai'i, expressed gratitude for Takai's friendship and service.
"As a member of the Hawai'i State Legislature, Rep. Takai supported our efforts to preserve the Honouliuli Internment Camp site and helped establish the Honouliuli State Advisory Board. He took a leadership role in creating the Fred Korematsu Civil Liberties and the Constitution Day in Hawai'i. As a member of Congress, [U.S.] Congressman Takai continued to advocate for the preservation of Honouliuli, and together, we celebrated President Obama's recognition of the Honouliuli National Monument," Hayashino told NBC News.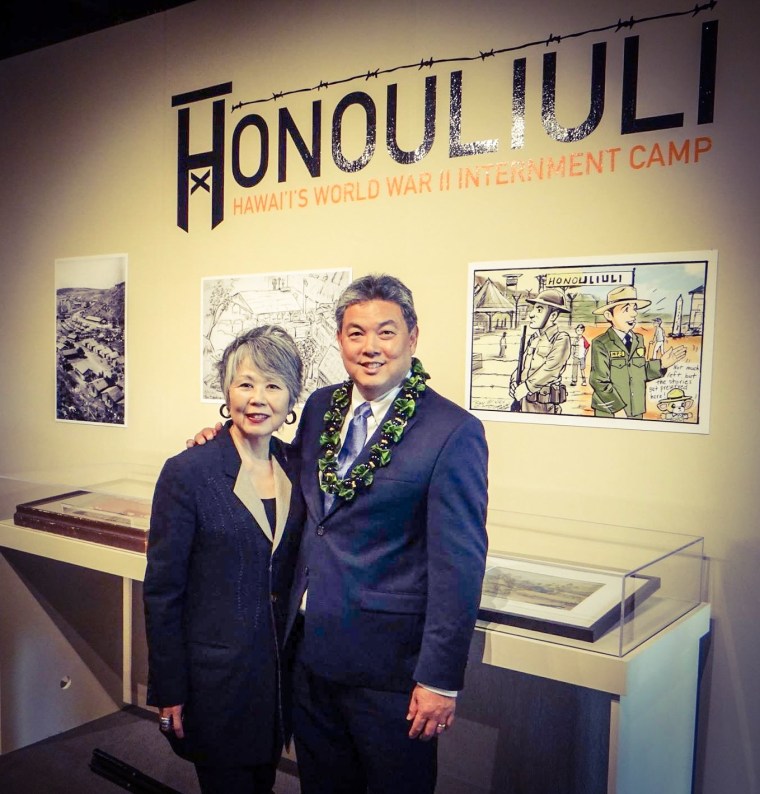 Remembering Takai's days as a swimmer for University of Hawaii, Hawaii County Mayor Billy Kenoi said in a statement, "Congressman Mark Takai was a good, kind, gentle man. He was an admirable father and husband, and a humble servant leader. Mark was a champion athlete and a champion for the people of Hawai'i."
University of Hawaiʻi President David Lassner recalled Takai's support of the university as a student, an alum, and as chair of the Hawaii State Legislature's committee on higher education.
"Mark was a championship swimmer for UH Mānoa, ASUH student government president, and editor-in-chief of the Ka Leo student newspaper. Everyone who knew him on the Mānoa campus knew he was destined for great things," Lassner said in a statement. "Representative Takai was a role model for many, and all of us will miss him personally and professionally."
According to the Honolulu Star Advertiser, when news of Takai's death first broke Wednesday morning, Honolulu City Council's Budget committee was in session, and the visibly shaken and tearful budget chairperson Ann Kobayashi stopped the meeting to call for a moment of silence.
National Asian American and Pacific Islander (AAPI) organizations also remembered Takai's achievements, and his service to the broader AAPI community.
The National Council of Asian Pacific Americans (NCAPA) described Takai in a statement as "a lifelong public servant, a courageous veteran, and a champion of Asian American and Pacific Islander communities. He helped preserve the Affordable Care Act and advocated for the rights of Filipino World War II veterans. He spread the aloha spirit everywhere he went and truly dedicated himself to serving the people of Hawaii."
"In the often tumultuous world of politics, he has been a shining example of what it means to be a public servant."
The Japanese American Citizen's League also expressed gratitude in a statement for Takai's support for issues that affect AAPI communities and for taking the time to educate AAPI youth: "In 2015, during the 50th anniversary commemoration of the passage of the Voting Rights Act, a group of JACL youth gathered in Selma to be part of the re-enactment of the crossing of the Edmund Pettus Bridge. During the ceremonies, Rep. Takai took the time to meet with the JACL youth delegation to relate the story of how Dr. Martin Luther King and others came to wear leis during the Selma to Montgomery march in 1965. The presence of the leis affirmed the participation of Asian Americans in this important civil rights milestone, and it conveyed the message of peace and brotherhood during those tumultuous times. We are grateful for the way Rep. Takai inspired our youth and provided reflection for imagining a brighter future."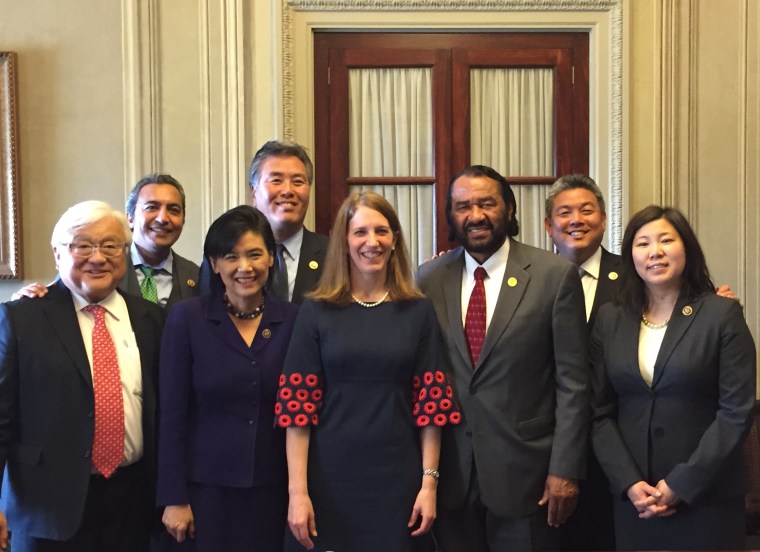 Many of Takai's colleagues said they were heartbroken and devastated at the news of his death, and many of his colleagues from Hawaii relayed stories and gratitude from their long friendship with him.
"With a servant's heart, full of aloha, he dedicated his life to serving the people of Hawaiʻi and our nation, in the Hawaiʻi State Legislature, in the Hawaiʻi Army National Guard, and in Congress," Rep. Tulsi Gabbard (D-HI) said in a statement. "I had the good fortune of serving with Mark in all three of these capacities, and saw firsthand that no matter where he was, he always kept his service to Hawaii's people at the forefront of his actions. Mark's smiling face and ready laugh will truly be missed, but the impact that he made through his life of service to the people of Hawaiʻi will always be remembered."
"I had the privilege of working with Congressman Takai during my first term in the State House, and I will always be grateful for his kindness, as he was one of the first people to welcome me to the Legislature," Rep. Beth Fukumoto Chang, Minority Floor Leader of the Hawaii State House of Representatives, told NBC News. "Last summer, I had the opportunity to visit him at his office in Washington D.C. where he took me on a personal tour of the Capitol building."
She added, "Hawaii has lost a dedicated advocate and a truly great man."
"He loved his wife and kids, and was so happy every time they came to be with him in Washington," U.S. Rep. Grace Meng (D-NY) said in a statement. "He would always tell me how thrilled he was that they were coming."
Democratic Caucus Chairman Xavier Becerra (D-CA) also expressed his grief in a statement: "Heartbroken. No other way to say it right now. Mark was so positive and hopeful — that's what he would show us every day, even under the hardest of circumstances ... We have all lost a wonderful friend, a determined leader and a believer in the dream of America."
"I am saddened by the passing of our colleague, Mark Takai," House Speaker Paul Ryan (R-WI) said in a statement. "He was an exemplary soldier, public servant and beloved member of the House of Representatives. His love for Hawaii and the people he represented was evident every day."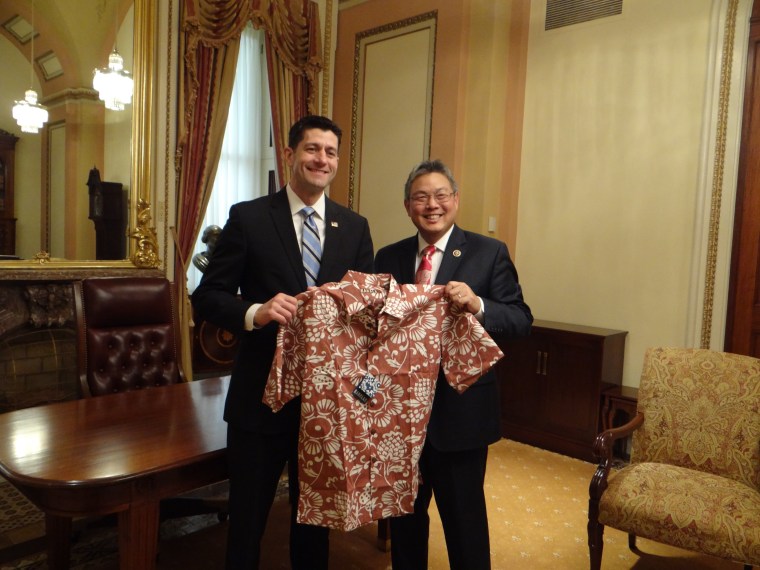 Democratic presidential candidate Hillary Clinton also issued a statement praising Takai's life of service, thanking him for his friendship and support: "The loss of Congressman Mark Takai will be felt keenly from Washington to Honolulu. Mark was everything a public servant should be. He spent his entire life in service of his state and his country—from the Hawaii Army National Guard to the Hawaii State House to the House of Representatives—fighting to make sure veterans and their families are supported, supporting ambitious steps to protect his state and our planet from the perils of climate change, and championing the rights of Asian American, Pacific Islander, and Native Hawaiian communities."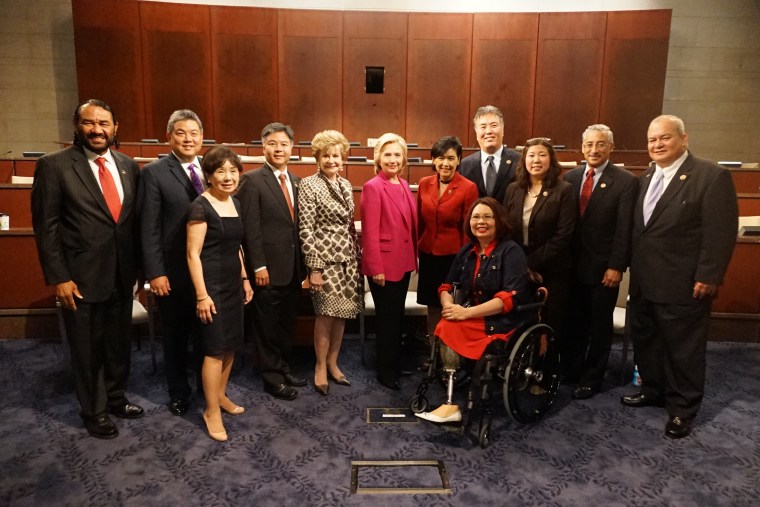 At the Republican National Convention in Cleveland Wednesday night, members of the Hawaii Republican delegation told NBC News they were saddened by Takai's passing.
"He was a rising star for Hawaii," Lorraine Shin, Hawaii delegation aide, said. "I've listened to him speak, to what he stood for, his values. He only wanted to do the best for the Hawaiian people."
Nathan Paikai, a delegate and head of the Hawaii Republican delegation, said their thoughts and prayers are with Takai's family.
"Whether he was a Democrat or a Republican, he was a man who loved the lord and his country," said Paikai, adding that he had ministered with Takai a day before the Hawaii caucus.
Judy Franklin, another delegate from the district Takai represented, said she particularly respected the congressman's military service.
"We thank God for his life and send our condolences to his family," she said.
Although Takai had been serving his first term in the U.S. House of Representatives, Takai had previously served in the Hawaii State House of Representatives for 20 years, since the age of 27. According to his office, Takai was born and raised on the island of Oahu in Hawaii. He served in the Hawaii National Guard for 17 years, was deployed to the Middle East during Operation Iraqi Freedom in 2009, and was a Lieutenant Colonel who worked as a Preventive Medical Officer. He also served as the President of the Hawaii National Guard Association from 2012-2013.
Takai was diagnosed and treated for pancreatic cancer last October. In February, he announced that he had been cleared by his doctor to campaign for re-election, but later withdrew from his race when the cancer returned. He had been planning to serve out the remainder of his term until January 2017.
Hawaii's primary election for Takai's congressional seat will be on August 13. Former U.S. Representative Colleen Hanabusa, who Takai endorsed, is currently the frontrunner.
Chris Fuchs contributed to this report.
Follow NBC Asian America on Facebook, Twitter, Instagram, and Tumblr.