Pooja Bavishi first realized that she loved making desserts after watching a cooking show as an elementary school student.
"Mrs. Fields' Cookies had a show and one day they made a white chocolate cheesecake," Bavishi told NBC News. "I made it completely from scratch, and it looked very much like a 10-year-old's cheesecake, but when I gave my parents and sister a slice of this cake, I instantly made the simple connection that desserts make people happy."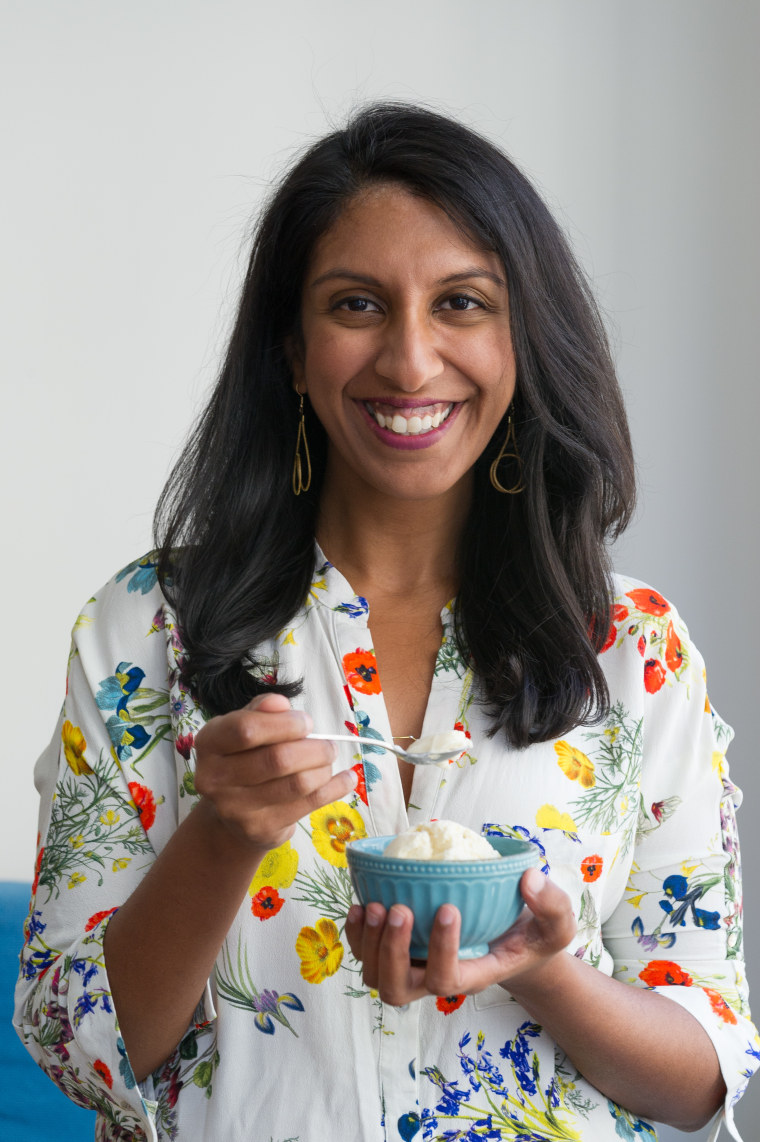 Bavishi carried her love of cooking from that point forward, making desserts for friends and family and maintaining a cooking blog even as she went on to work in urban planning and later began an MBA at New York University's Stern School of Business.
It was while she was still a student that she began seriously thinking about starting a dessert business. A dinner party she hosted lead her to the idea that would become Malai Ice Cream — her current project, which produces ice cream flavors including masala chai, ginger root, and golden turmeric.
"I was applying for jobs but nothing was really sticking," Bavishi said. "Then I was hosting my annual 'Friendsgiving,' and I thought to make some ice cream that would go along with the desserts that I already had made."
"I was just looking at my spice cabinet, which my mom had stocked with all of these Indian spices, and I decided to use ginger and star anise in the ice cream," she added. The unconventional flavors were an instant hit among her guests, Bavishi said.
"My friends always had liked what I made, but this time they were saying, 'We would buy this,'" she said.
With encouragement from her parents, Bavishi began Malai Ice Cream in April 2015, shortly before she completed her MBA. To further hone her skills, she enrolled in a week-long course in ice cream production at Penn State University. It was there that she also began perfecting her ice cream base and flavorings.
Bavishi said she finds ice cream particularly interesting to work with because starts off neutral and can take on flavors easily.
"I wanted it to be eggless, because eggs have a flavor, and light but rich and decadent," she said. "I didn't have that much ice cream experience so it was really through trial and error in the beginning."
"My friends always had liked what I made, but this time they were saying 'We would buy this.'"
Since her company's founding, Bavishi has been making her ice creams at Brooklyn FoodWorks, a food startup incubator in New York. Earlier this month, the company celebrated another milestone when it opened its first storefront at the Gotham Market at the Ashland in Downtown Brooklyn, where it is scheduled to be through Nov. 1.
In creating Malai's flavors, Bavishi says she wanted to embrace the spices and other ingredients she grew up eating as the child of Indian immigrants from Gujarat. "I wanted to elevate these flavors. Rose is a very common flavor in Indian desserts, but that's obviously something that is new to other audiences," she said. "It says something that everyone is willing to try something new."
Currently, Bavishi says Malai's most popular flavor is the rose ice cream with cinnamon roasted almonds. Other popular flavors include orange fennel and star anise. As an entrepreneur working in the world of desserts, Bavishi noted that she enjoyed bringing her childhood memories and recipes into her creations and seeing how they were interpreted by others.
"I am coming from a place of nostalgia when it comes to the flavors, whereas a customer's reference point may be different," said Bavishi. "We take classics and we put a twist on it and it's very much from my memories. I don't know if that's fusion [cuisine] or just bringing back old traditions to make something new."
Follow NBC Asian America on Facebook, Twitter, Instagram and Tumblr.