Chef Christina Arokiasamy is a fifth-generation descendant of a family of spice merchants. She grew up in Kuala Lumpur, trained in Bali and Thailand, and today makes her home in Seattle, Washington. Arokiasamy says she is now on a mission to introduce the melting-pot style of Malaysian food to Americans.
In The Spice Merchant's Daughter -- her part-memoir, part-cookbook -- Arokiasamy pulls together some of her favorite recipes and memories, including the ones she shares below.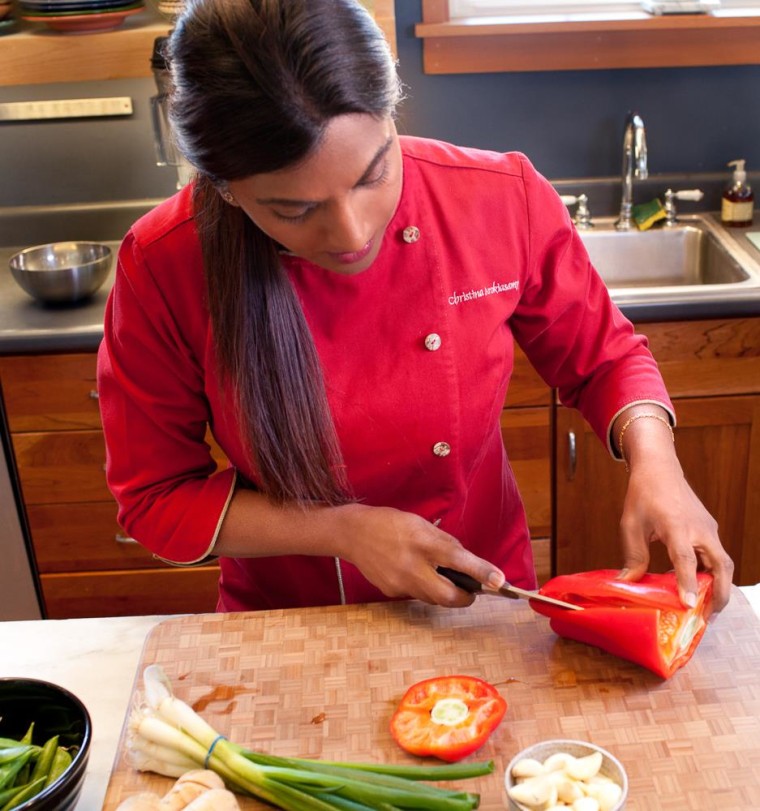 Growing up in Kuala Lumpur, my home was always filled with the perfume of herbs and spices that wafted from my mother's kitchen. Coming from a family of five generations of spice merchants, I was exposed to the world of spices at an early age. I could always smell scents of Laos ginger, cardamom, coriander, fennel, chili, star anise and cinnamon wafting from my house before it was within eyesight.
Some of my earliest memories are of the bustle of the central market, of women shopping accompanied by the shimmering colors of their saris, and the rich aromas of my mother's hand-mixed masalas. As a girl, I would help my mother prepare spices for grinding at the mill, my hands were constantly stained with turmeric, earning me the nickname "girl with the yellow hands" at school.
Just like my hands as a child, this Cardamom Butter Pilaf rice dish is bright yellow in color, and reminds me of all that I learned by my mother's side. This recipe is quick and easy to prepare and has been passed down for generations in my family. The cardamom-scented butter is one of my favorite scents in the kitchen, and I love to serve it with fried chicken or fish and curried dishes.
--Christina Arokiasamy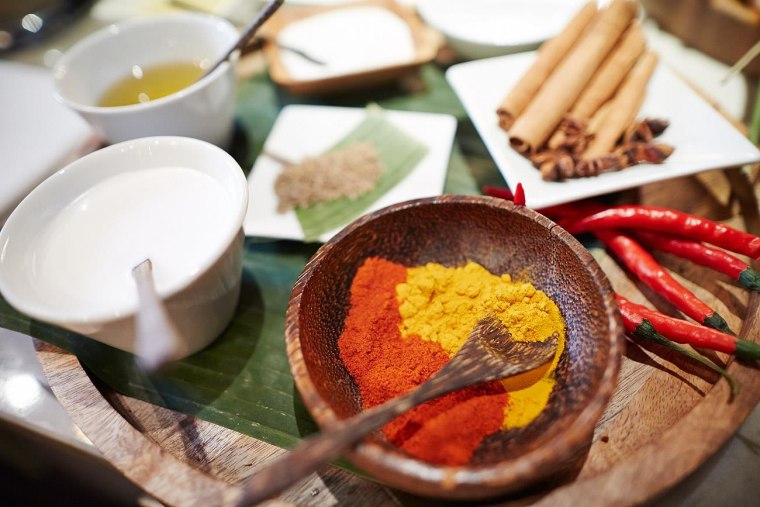 Cardamom Butter Pilaf with Cashews and Raisins
Serves 4
Ingredients:
3 ½ cups long grain white basmati rice
4 tablespoons unsalted butter
1 tablespoon ginger garlic paste (blend ¼ cup ginger with ¼ cup garlic)
3 sprigs onions, chopped
8 whole green cardamom pods, crushed
3 cloves
1 cinnamon stick
2 star anise
½ cup raisins
½ cup cashews
½ teaspoon ground turmeric
4 cups good quality vegetable broth
Preparation:
Wash the rice by gently rubbing it with your fingers in a bowl filled with water. When the water becomes cloudy, drain the water and keep repeating the process until the water is clear. Drain and set the rice aside.
Heat the butter in a large sauce pan over medium heat. Add the ginger garlic paste, green onions, cardamom, cloves, cinnamon, star anise and sauté until fragrant, about 3 minutes. Add the raisins and cashews and cook until raisins are golden. Add the washed rice and turmeric.
Sauté until the grains turn a little whitish in color, about 3 minutes. Pour in the chicken stock and gently stir for 30 seconds. Reduce the heat to low, cover with a tight fitting lid, and cook without stirring, for 20 minutes, or until all the broth is absorbed and the grains are tender and fluffy.
Remove the rice from the heat. Discard the bay leaves and gently fluff the rice with a fork. Serve warm.