LOS ANGELES — A Los Angeles man found with multiple weapons and hundreds of pounds of ammunition in his home was charged with making terrorist threats to the Islamic Center of Southern California, authorities announced Tuesday.
Mark Lucian Feigin was arrested last week on the charge, which has been designated as a hate crime, according to the Los Angeles Police Department.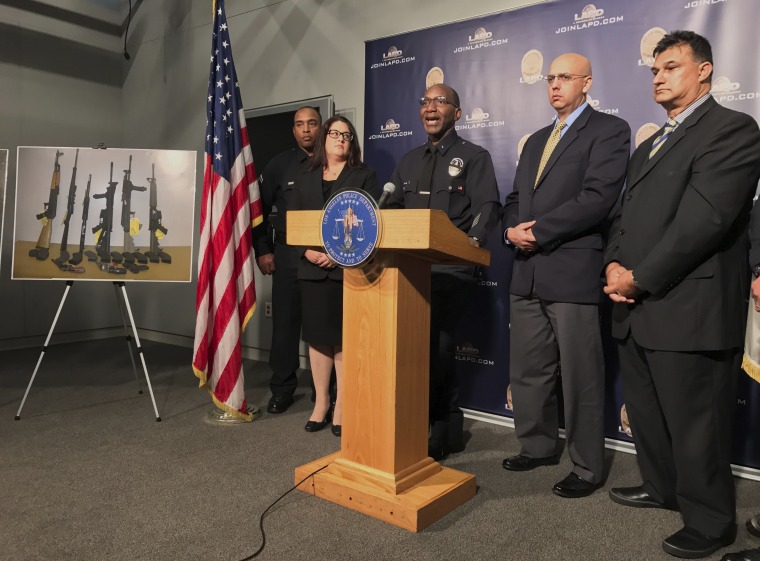 Feigin, 40, has been released on bail. A message left at a number listed under his name was not returned Tuesday and it was unclear if he has an attorney.
RELATED: Anti-Muslim Hate Crimes Reach 'Levels Not Surpassed' Since 9/11: Analysis
Feigin first called the Islamic center Sept. 19 and left a hate-filled voicemail, police said. The next day, they said, he called and threatened to kill people at the center.
Police also believe Feigin was posting threatening and hate-filled posts on his social media pages.
"This guy called multiple times, the vitriol in his voice, and the hate in how he was saying things — he was really, really in a rage."
When police served a search warrant at Feigin's home last week, they found at least nine guns and 250 pounds of ammunition, LAPD Cmdr. Horace Frank said at a news conference.
Some of the weapons are registered to Feigin while some are registered to others, Feigin said, adding that some of the ammunition clips had been modified to shoot at high capacity.
He declined to say whether police believe Feigin was planning an attack or making empty threats.
"When people make threats of this nature and they have the means to carry out those threats, it's a very serious matter," Frank said.
Frank acknowledged that the Islamic center regularly gets negative phone calls, but said Feigin's threats stood out.
"When he crossed the line is when he threatened to kill them," Frank said. "That's where free speech ends."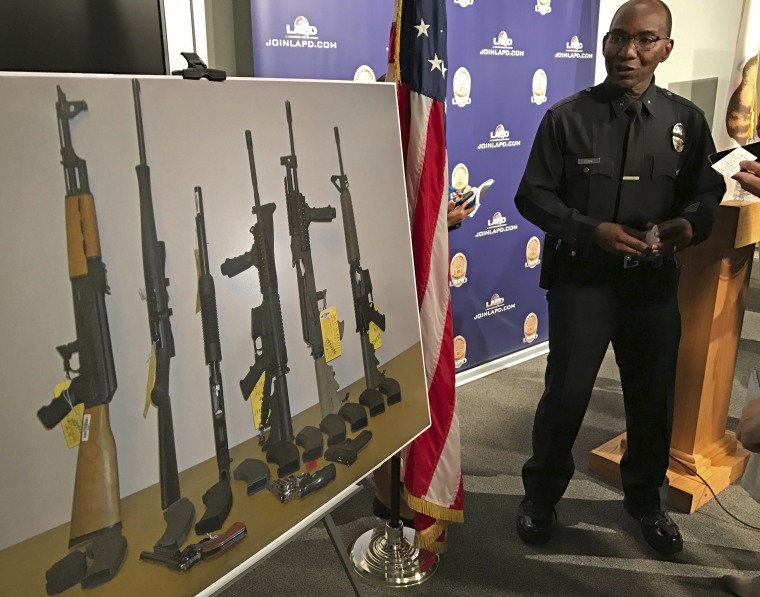 The Islamic center has obtained a restraining order against Feigin.
Omar Ricci, a spokesman for the center, said Feigin's first call was filled with expletives, and included calling its members "rats" and telling them to leave their religion. The second one included death threats, he said.
He said the center was pleased with Feigin's arrest but concerned that he had been released on bail, so much so that they've increased the number armed security guards who protect the facility, which includes an elementary school.
Ricci said the center typically gets an increase in angry phone calls after a high-profile terrorist attack, including San Bernardino and Orlando.
"People call and hang up or get out what they have to say and don't bother to engage in conversation," Ricci said. "This guy called multiple times, the vitriol in his voice, and the hate in how he was saying things — he was really, really in a rage."
Follow NBC Asian America on Facebook, Twitter, Instagram, and Tumblr.