A Pennsylvania man was extradited to Queens, New York, this week and arraigned in connection with the December 2015 slashing of a Chinese exchange student in an alleged case of mistaken identity.
Devon Berkley, 38, appeared Wednesday in Queens Supreme Court on charges of assault, conspiracy, criminal possession of a weapon, and endangering the welfare of a child, the Queens district attorney's office said in a statement.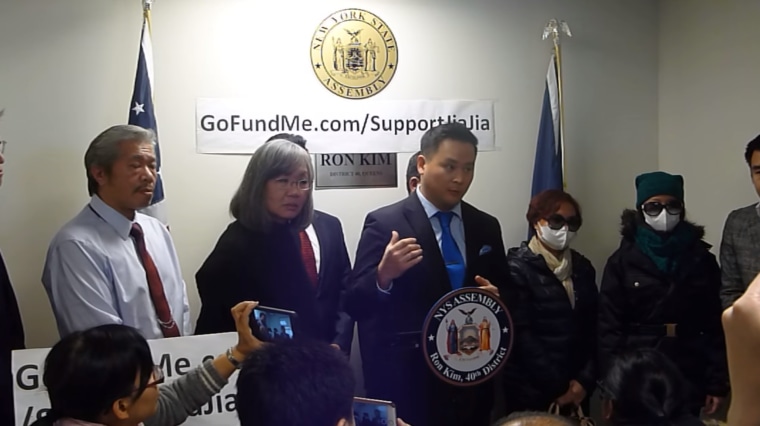 Berkley is accused of conspiring with Wilson Lai, 25, to attack a 14-year-old girl that Lai allegedly had a one-year sexual relationship with, prosecutors said. But Berkley instead slashed Jia Jia Liang, an exchange student on her way to school, after he mistook her for his intended target, the district attorney's office alleges.
The two girls were the same age and lived in the same house, prosecutors said.
"Now, for the rest of her life, the victim must bear the physical and emotional scars brought about by the defendants' alleged mistaken actions," Queens District Attorney Richard A. Brown said.
RELATED: Arrests Made in Case of Student Slashed in Face, Neck
Justice Gregory L. Lasak ordered Berkley, of Allentown, Pennsylvania, held without bail. His next court date is June 6.
Berkley's attorney, Andrew Worgan, did not immediately return a voicemail requesting comment.
Lai was arraigned in May on a dozen charges, including assault, conspiracy, and rape, according to the Queens DA. He is also being held without bail.
Reached by phone Friday morning, Lai's attorney, Daniel Gotlin, declined to comment to NBC News.
Berkley faces up to 25 years in prison and Lai up to 32 years if convicted, according to the Queens district attorney.
The Dec. 16, 2015, attack left Liang with more than 200 stitches and two scars that run along the left side of her face. A few weeks after the slashing, Lai and two other unindicted co-conspirators allegedly vandalized a car belonging to the family of the girl with whom Lai had had the relationship, prosecutors said.
A note was left on the car saying the wrong girl had been attacked and that the intended target was next, according to the Queens district attorney.
RELATED:Fund Started to Help Exchange Student in New York Slashed in Face, Neck
Last January, New York state Assemblyman Ron Kim and community leaders began fundraising efforts to help defray the cost of Liang's medical bills. Kim's district, which is heavily Asian, covers the neighborhood where Liang was injured.
Kim told NBC News Friday that around $20,000 had been raised for Liang through an online GoFundMe page and individual contributions. Most of it, he said, has been depleted.
As a state lawmaker, Kim said what mostly concerns him is whether an assault like this could've been avoided. Kim said he's seeking to add host families to a bill he sponsored that would impose regulation and oversight on private learning centers and programs.
Such a measure would possibly require host parents to register with the state Education Department and be vetted, Kim said.
The family of the girl who was the intended target of the alleged attacker was hosting Liang while she studied as an exchange student, according to Kim.
"I think that would send a strong signal to individuals who are interested in making a profit by hosting a student to do a better job in protecting them," he said.
Follow NBC Asian America on Facebook, Twitter, Instagram and Tumblr.