A man who was charged Monday with a felony hate crime after allegedly smashing the windows of an Asian American art and history museum in Seattle and issuing a racial slur was arrested for a hate crime a decade ago, new charging documents show. 
Craig Day Milne, accused of smashing the windows at the Wing Luke Museum in Seattle's Chinatown-International district, was arrested in 2013 on charges of physically attacking an Asian man in a locker room, repeatedly punching him at a Shoreline, Washington, recreation center, according to the charging documents. 
Deputies who responded at the time heard Milne yell that his only regret was not hitting the "Or---tal harder"  before fighting them and calling an Asian officer racial slurs. This earlier hate crime was dismissed, "under unknown circumstances" in 2015, according to the charging documents.
Asian American leaders, residents and others have been fearful for the community's safety since the  incident at the museum last Thursday. The suspect yelled racial slurs while smashing windows with a sledgehammer, according to the Seattle Police Department.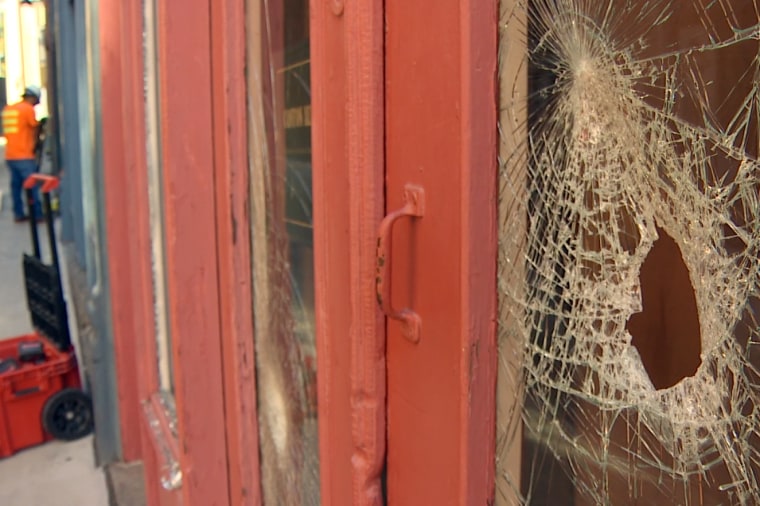 Milne, who was also charged with malicious mischief in the first degree, allegedly continued rambling anti-Chinese statements following the attack, which took place as a retreat for the Japanese American organization Tsuru For Solidarity was being held inside, said Stanley Shikuma, a member of the group's leadership council who was present during the attack. Museum staff disarmed the man themselves, before police arrived. The King County Department of Public Defense, declined to comment. An attorney from that office represented Milne on the day of his hearing.  Efforts to find Milne's current representation were not immediately successful Tuesday."He was saying, 'The Chinese have ruined my life. It's all because of the Chinese,'" Shikuma, who's also co-president of the Seattle chapter of the Japanese American Citizens League, said. "He was also saying: 'I've lost two houses. My car was stolen. I've been tortured. And that's all because of the Chinese. Something has to be done, and that's why I came to Chinatown.'" 
While police were called about the window smashing at 5:22 pm on Thursday, they were not dispatched until roughly 45 minutes later because of "staffing constraints and call volume," according to a police press release. Officers arrived almost an hour after the incident, prompting criticisms over police response and concerns over the Asian American community's safety. 
And given footage released last week of a Seattle police officer saying the life of a 23-year-old  college student from India, Jaahnavi Kandula, "had limited value" after she was struck and killed by a police cruiser as she was crossing the street, Shikuma said that many in the Asian American community feel that the museum incident serves as a further example of the police department's failure to value Asian lives. 
The Seattle Police Department declined to comment on the museum attack  beyond its press release.
"I think we need a radical rethinking of how we guarantee safety and security to everybody," Shikuma said, adding that he feels greater police presence doesn't ensure safety.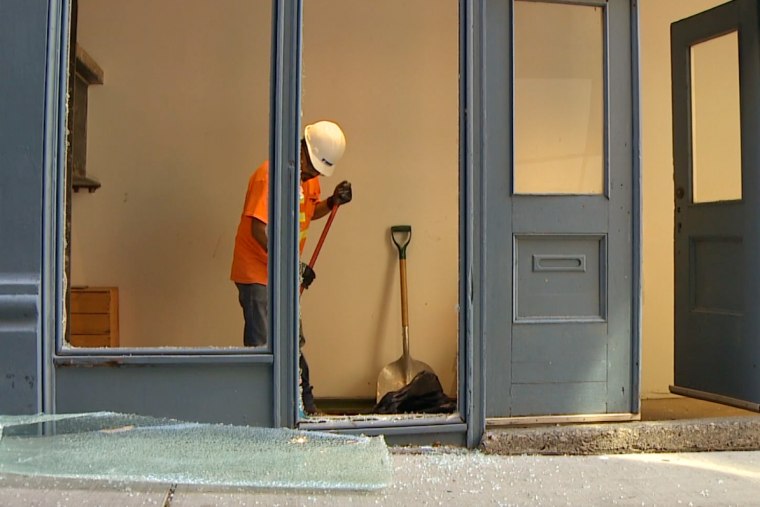 Shikuma said that he and other members of Tsuru For Solidarity had just begun their retreat Thursday with a viewing of the museum's "Resisters" exhibit, dedicated to Japanese American resistance movements, when their seats began to tremble. 
"We were all seated in the theater, which is right above the glass windows that this guy was hammering on and breaking," Shikuma said. "Five minutes into the welcoming program, all of a sudden we heard this breaking glass, and it kept getting louder and it was hard enough that seats in the theater were literally shaking." 
The organization's members and museum staff were able to surround the suspect, who was still holding the sledgehammer, Shikuma said. A museum security guard  was able to disarm the suspect before authorities arrived. 
According to court documents, Milne told police that his briefcase had been stolen for the third time and "he had to do something." When asked by police if an Asian individual had taken the briefcase, Milne said he didn't know, adding that the "Chinese ruined his life." 
"We are grateful to those members, Wing Luke staff, and community neighbors who immediately addressed the situation," Tsuru for Solidarity said in a statement. "We are grateful to our members, experts in community trauma, who created space, in the moment and over the weekend, for vulnerability, processing, and healing. We were the first responders." 
Seattle Mayor Bruce Harrell's office is reviewing how the initial call to police was prioritized and dispatched, the city's director of communications, Jamie Housen, said in an email. Harrell said in a statement Friday that he was "appalled" by the incident.
"The targeting of our AAPI community is unacceptable, and I condemn the attack — and the hate-fueled motivations of the suspect who was arrested — in the strongest possible terms," Harrell said. 
Greg Wong, deputy mayor, said in a statement that the incident "underscores the importance of recruiting and retaining officers." 
Shikuma said that he feels the attack is "symptomatic of a larger malady within American society," adding that there's a fear that the undercurrent of anti-Asian sentiment will only continue to materialize as violence. 
"I don't think this is one crazy individual who just went nuts. I think it's a reflection of the political climate, targeting and anger and hate that's being spread," he said, adding that politicians, particularly former President Donald Trump, "talking about things like 'Kung Flu' and the China virus set the tone of all social ills to be traced to China and Chinese people." 
While the attack has left many Asian Americans in the area rattled, Shikuma said that his organization had received an influx of messages, emails and texts from those across Seattle, showing their unity with the community. Major League Soccer's Seattle Sounders and the Pacific Northwest chapter of the Anti-Defamation League, among others, expressed their solidarity on social media. 
And a coalition serving those across the Asian American diaspora, including Chinese, Japanese, Filipino and Korean groups, are drafting a letter to the city expressing safety concerns and demanding support, Shikuma said. 
"The community response has been pretty immediate as soon as people learn about what happened," Shikuma said. "The positive thing is that there is this pulling together and feeling of community."
Steve McLean, strategic communications officer at the Wing Luke Museum, said in a statement that the organization is "grateful" for the overwhelming support from the community. 
"As the museum works to support its staff and the community we serve, it is heartening to know we are surrounded by those who believe in our work," McLean said. "Despite the clear racial motivation of the attack, and the delayed 911 response, we will not be deterred in our mission's work, and holding space for our staff and our community to make sense of the attack on the Museum."