For years, the estate of Vincent Chin — the man whose death in 1982 galvanized Asian-American activism in the United States — has been seeking payment in a wrongful death claim against Ronald Ebens, the man responsible for the fatal beating of Chin.
Now Ebens, 76, whose prison sentence was overturned on appeal, wants the lien the Chin family's representatives have placed on his residence in Nevada removed, despite still owing the estate more than $8 million.
Ebens' attorneys filed the motion to remove the lien in November in Nevada, where Ebens now resides, stating the lien on Ebens' home is prohibited by Nevada's Homestead Act and was placed "with malice…to annoy and harass" him. In court documents, Ebens claims he's been harmed by his inability to sell or refinance his home. The motion also asks for attorney's fees.
NBC News reached Ebens by phone Friday, but Ebens hung up when asked about the lien.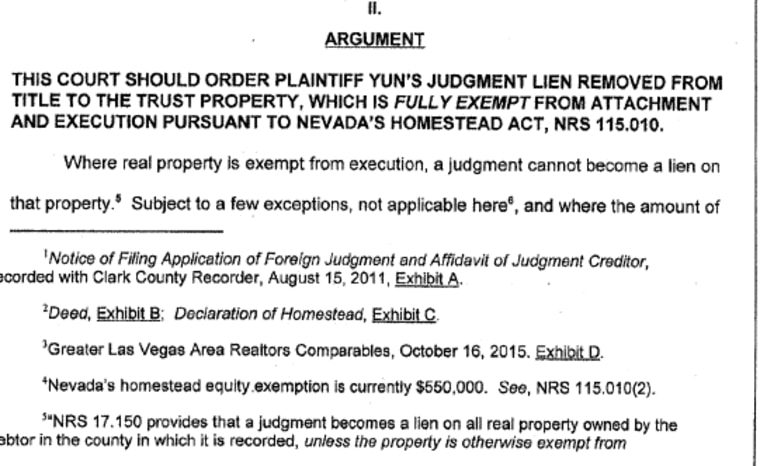 Journalist and activist Helen Zia, who serves as the executor of the Chin estate, told NBC News Ebens' request was upsetting.
"It is beyond outrageous that this unremorseful killer is suing for attorney's fees that would allow him to continue evading payment for beating Vincent Chin to death 23 years ago," Zia said.
Zia said the Chin estate's pro bono attorneys will challenge the claim in court. "For the estate, it means we will at least be able to get on the record why he has this $8 million judgment for taking a life and never taking full responsibility by even attempting to pay his debt to society," she said.
Zia added that it will be another opportunity to remind Ebens "of the crime he committed as he continues to thumb his nose at Asian Americans and the value of human life."
Ebens' attorney Kenneth Roberts told NBC News that Ebens has wanted the lien removed for years.
"I don't know precisely why he chose to do it now. The only issue in Nevada is the lien, it has nothing to do with the original judgment," Roberts said. "If [the lien] was done improperly and without legal authority, it clouds the title to the house and is a form of harassment."
Ebens and his stepson Michael Nitz pleaded guilty to manslaughter in 1983 for the beating death of 27-year-old Chin in Detroit. Accounts have suggested that Ebens and Nitz targeted Chin, who was Chinese, because they were angry about the success of the Japanese auto industry.
Neither Ebens nor Nitz served time in prison, but were sentenced to three years of probation. Ebens received a fine of $3,000 and $780 in court costs.
In 1987, Ebens and Nitz settled a civil suit out of court over Chin's death. Nitz was ordered to pay $50,000 over the following 10 years, which he did in $30 weekly installments. Ebens was ordered to pay $1.5 million to make up the projected loss of income from Chin's engineering position and the loss of Chin's personal assistance to his mother, Lily Chin, who died in 2002.
According to a Detroit Free Press article by filmmaker Michael Moore, Ebens agreed to the settlement "under which he would pay $200 a month for two years, beginning Sept. 1. Then he would start paying $200 a month or 25 percent of his net income, whichever is more."
RELATED: Vincent Chin's Estate Still Seeking Millions in Settlement Funds
But, according to Moore, Ebens had not held a job at that point in five years since Chin's death, and told Moore that the Chin family "can't get blood from a stone," after which Moore said Ebens deadpanned, "It is my fervent wish that I live long enough to pay off the entire amount. That'll be when I'm 672 years old."
After making only a few payments, Ebens moved out of Michigan to Nevada, which has a particularly high homestead exemption, allowing individuals to protect up to $550,000 of assets from creditors in their homes.
The amount that Ebens owes the Chin estate is now estimated to exceed $8 million due to accrued interest.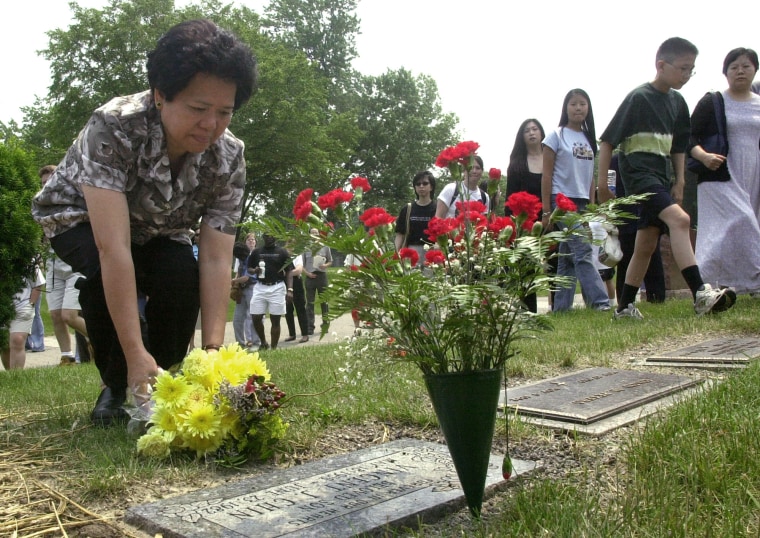 According to county property tax records, Ebens purchased his 1,080 square-foot home in April 1996 for $55,000. The house's 2016-2017 total taxable value is $66,374, which in Nevada is the market value of the land and the current replacement cost of improvements. Real estate website Trulia.com estimates the market value of his house at $130,000 — both estimates putting the value of Ebens' home below the $550,000 homestead exemption.
The current lien on Ebens' home secures payment for the judgment and indicates that the Chin estate has an interest in the property. Ebens cannot sell his house until the lien is released.
In a 2012 interview, 30 years after Chin's death, Ebens said killing Chin was "the only wrong thing I ever done in my life."
But the estate's representatives say they do not acknowledge Ebens' words as a full apology, especially considering the outstanding debt from the civil case.
"I think it's a cautionary lesson for those who think that getting a civil judgment when a hate crime takes place offers some justice," Zia said. "We still need community vigilance to keep an eye on this killer and hold him accountable."