A march is scheduled to be held in Brooklyn on Friday evening to mark the one-year anniversary of the death of Akai Gurley, an unarmed black man, as two new attorneys take over the defense of Peter Liang, the New York Police Department officer charged in Gurley's death.
Gurley was fatally shot in a Brooklyn housing project when the gun that Liang, a Chinese-American police officer, had drawn went off.
"We have been, in the last year, working and supporting the family of Akai Gurley to ensure that we win justice for the family."
Hertencia Petersen, Gurley's aunt, told NBC News that the march will begin at 6:30 p.m. in front of the Louis H. Pink Houses, where Gurley was shot last November. From there, she said, participants will walk to the nearby 75th Precinct in East New York and then to Police Service Area 2, the division to which Liang was assigned and that patrols the Pink Houses.
Between 100 and 150 members of CAAAV Organizing Asian Communities, a group that addresses police and hate violence toward Asian immigrants, are among those expected to attend, according to Cathy Dang, executive director of CAAAV.
"We have been, in the last year, working and supporting the family of Akai Gurley to ensure that we win justice for the family," Dang told NBC News.
Dang added it was important for CAAAV to join Friday's march in order to show that the Asian-American community supports Gurley's family, and to show they are united in holding the city, the judicial system, the NYPD, and the New York City Housing Authority—which administers the Pink Houses—accountable in Gurley's death.
Liang, an NYPD officer for less than two years, and his partner, Shaun Landau, were patrolling a darkened stairwell that Gurley and his girlfriend had entered last Nov. 20 when Liang's gun, which was unholstered, went off, police have said. The single bullet was said to have ricocheted off the wall, striking Gurley.
New York Police Commissioner William Bratton said last November that the fatal shot "appears to be an accidental discharge" of Liang's gun.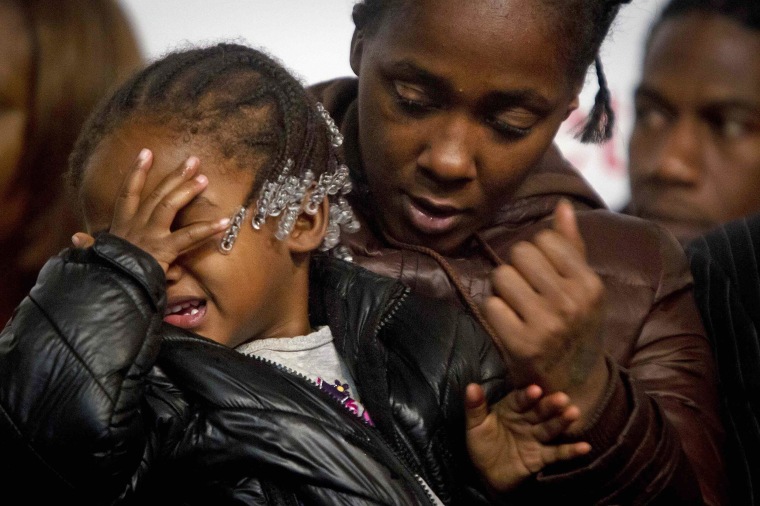 Liang pleaded not guilty in February to second-degree manslaughter and other charges. Prosecution court documents said that Liang, 27, and Landau argued for two minutes over who should report the shooting to their superiors, and that the officers waited almost 20 minutes before radioing in to report an "accidental fire."
Liang, who was released without bail and whose trial begins Jan. 7, appeared publicly for the first time with his mother at a Nov. 9 press conference in Chinatown, organized by the Chinese Action Network, a community group that has spearheaded an online fundraising campaign to help Liang pay for new legal representation. As of Wednesday night, the GoFundMe campaign was removed.
RELATED: Chinese Community Divided Over NYPD Officer's Indictment
According to the World Journal, a Chinese-language newspaper, Liang's mother expressed concern that her son's criminal defense attorney, Stephen C. Worth, could not help Liang with his "entire heart." Karlin Chan of the Chinese Action Network told NBC News that Liang, with whom he said he's been in touch since the February indictment, has already hired two new attorneys to replace Worth: Robert E. Brown and Rae Downes Koshetz.
Brown is a former police officer who retired as a captain from the Fifth Precinct in Manhattan's Chinatown after a 16-year career. Koshetz served for 14 years as a deputy commissioner with the NYPD, supervising and presiding over disciplinary trials of civilian and uniformed members of the police department on everything from rules violations to homicides.
Worth is managing partner of Worth, Longworth and London, a firm founded in 1998 whose primary client is the New York City Patrolmen's Benevolent Association, the union for NYPD officers. As of Thursday morning, a phone message left on Wednesday with Worth's law firm seeking comment was not returned.
Chan said he's aiming to raise between $90,000 and $100,000 for Liang. Originally, Chan set up a GoFundMe page to crowdfund contributions for Liang, but said he received an email from the site saying the page would be taken down because it does not permit raising funds for legal fees.
RELATED: Trial Date Set for NYPD Officer Indicted in Fatal Shooting
Chan said he had raised $2,000 through the page on Nov. 17 alone before it was removed, and added that he was exploring other online platforms to continue fundraising. Some contributions raised through the Chinese FreeMasons Athletic Club, for which Chan also established a page on GoFundMe, will go toward helping Liang, Chan said. As of Wednesday, the page had collected $4,940 in donations.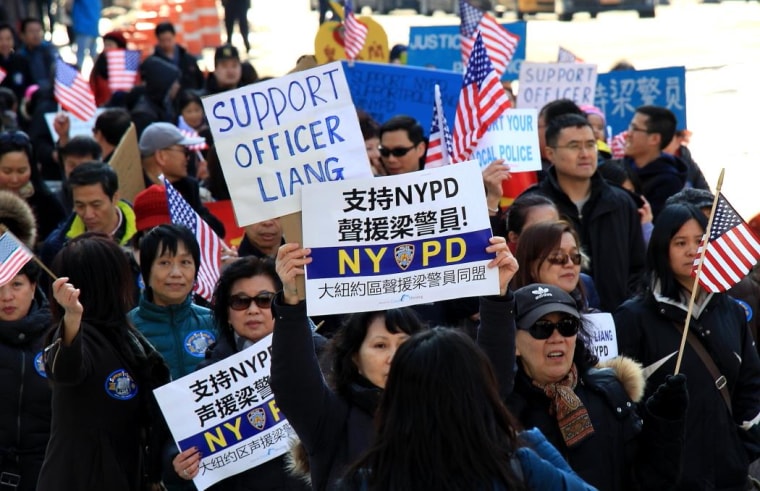 Since Liang's indictment in February, Asian Americans have been thrust into a wider national debate about the role police officers have played in recent incidents involving civilian deaths, many of them black men. Some, including Dang and New York City council member Margaret Chin, who represents Chinatown, have been outspoken in supporting charges against Liang.
RELATED: 'Their Struggles Are Our Struggles': Protests Outside Peter Liang Hearing
But others in New York's Chinese-American community take an opposing view, arguing that Liang has been made a scapegoat to compensate for a lack of indictments in other fatal incidents involving police officers, including the chokehold death of Eric Garner last summer in Staten Island.
"We all want law and order, and this selected enforcement of the law makes a mockery of justice," Doug Lee, who has organized large-scale rallies in support of Liang, told NBC News in September.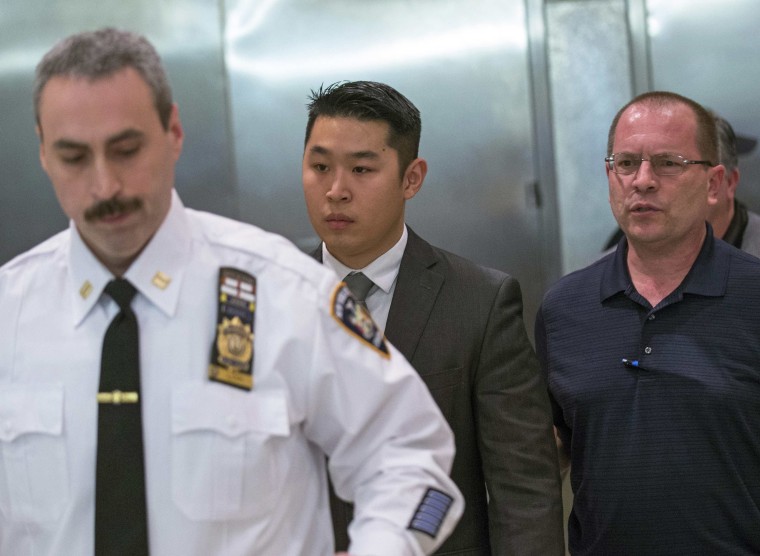 In late May, Gurley's family filed a civil lawsuit on behalf of Gurley's daughter and mother, naming Liang, Liang's partner Landau, and the New York City Housing Authority. For the criminal trial, Petersen said she and Gurley's family members plan to be at court every day.
"I just want the community to know that it takes a village," Petersen said. "This could happen to their family members, their loved ones, or even to a visitor that's coming to see them. And as a community, we must stand together, to have one voice."